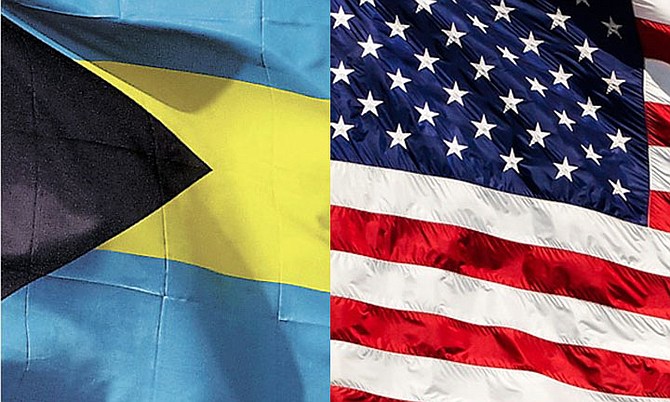 By LAMECH JOHNSON
Tribune Staff Reporter
ljohnson@tribunemedia.net
ARMED robberies remain one of the most common crimes perpetrated against tourists, according to The Bahamas 2015 Crime and Safety Report compiled by the US government.
Last week's release of the Department of State's annual report, which rated New Providence's crime threat as "critical", comes a little more than a month before the scheduled opening of Baha Mar.
The $3.5 billion mega-resort is on track to open its doors to guests on March 27 and is projected to attract an additional 400,000 annual visitors to New Providence.
On Friday, the Crime Safety Report 2015 for The Bahamas noted that "armed robberies, property theft, purse snatchings and general theft of personal property remain the most common crimes perpetrated against tourists".
"Home break-ins, theft and robbery are not confined to any specific part of The Bahamas. The upsurge in criminal activity has also led to incidents that could place innocent bystanders at risk," the report added.
"In 2014, there was an increase of reported armed robberies using a knife and gun where the assailant assaulted the victim after the victim fought back and resisted. Many of these armed robberies were snatch-and-grabs involving purses, jewellery and gold necklaces or home invasions."
The report went on to say that "while there has been a very slight reduction in some crime classifications reported in 2014 by the Royal Bahamas Police Force (RBPF), violent crime remains above the 2013 level".
"New Providence Island has sustained remarkably high levels of violent, armed crimes. The RBPF continued enforcing particularly dynamic policing methods, which included indiscriminate armed-checkpoints and a crime reduction plan in tourist areas. The majority of violent crimes reported were perpetrated against local Bahamians, and these occurred in areas of inundated criminality not typically frequented by tourists.
"Nevertheless, despite arduous government anti-crime incentives, during the past several months New Providence has witnessed a significant increase of violent armed crimes in locations heavily patronised by US citizens. In many instances, these incidents have resulted in fatalities."
The Crime Safety Report further noted  that the US Embassy had received numerous complaints of assaults – including sexual assaults – at residences, hotel rooms, casinos, outside hotels and on cruise ships.
"In some sexual assault incidents, the victim had reportedly been drugged," the report highlighted.
The report said that while there is no evidence to suggest that US citizens were being targeted, criminals were "more brazen and creative in their methods". It pointed to three armed robberies of US citizens in daylight hours in heavily frequented tourists areas, three embassy staff being injured in robberies and a member of the US military being injured during "an altercation at a popular lounge and restaurant heavily frequented by tourists".
In January, Police Commissioner Ellison Greenslade released crime statistics and said that serious crimes in The Bahamas decreased by 18 per cent in 2014 compared to 2013.
The decrease, he said, was influenced by decreases in manslaughter, rape, attempted rape, unlawful sexual intercourse, armed robbery and robbery, which all decreased by 25 per cent, 29 per cent, 45 per cent, 33 per cent, 10 per cent and four per cent respectively.
The Commissioner said despite the best efforts of the police, The Bahamas still recorded 123 murders, an increase of three per cent over 2013.
The statistics also showed that crimes against property decreased overall by 20 per cent. Mr Greenslade said this was influenced by decreases in burglary, housebreaking, shopbreaking, stealing, stealing from vehicle and stolen vehicle categories which all showed decreases of 32 per cent, 22 per cent, 14 per cent, 20 per cent, 16 per cent and 24 per cent respectively.