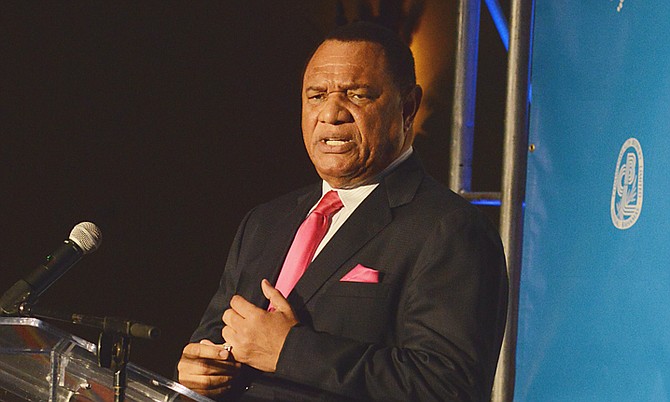 Prime Minister Perry Christie, has dismissed as "absolute nonsense" Baha Mar's suggestion that the Government's initiation of winding-up proceedings amounts to a seizure of private assets.
Mr Christie said that it was disappointing that the principals of Baha Mar "would not only utter such untruths" but that they would do so in a way "transparently calculated to damage the economic interests of The Bahamas".
The Prime Minister added that "the nationalisation of private property is not only unconstitutional, it is completely repugnant to my personal political philosophy and ethos of governance and that of my government. I therefore reject, in the strongest possible terms, any suggestion to the contrary."   
Also addressing the matter, the Attorney General, Allyson Gibson QC said that it is unfortunate that Baha Mar has "mischaracterized" the winding-up proceedings in the way that it has.     
"If appointed by the court, a provisional liquidator would be wholly independent and would be subject to the control and oversight not of the government but of the Bahamas Supreme Court", she said.
"There is no truth whatsoever in the suggestion that this is an attempt by the Government to nationalize Baha Mar's private assets, something that is not only constitutionally unlawful but completely contrary to the policies of successive governments of The Bahamas. That is most certainly not the purpose nor the effect of any order that might be made for provisional winding-up of anything in The Bahamas."
The Prime Minister also repudiated as "egregiously insulting and verifiably false" Baha Mar's statement that he had misled the Bahamian people in his national address on Thursday past. In fact, he said, "my version of events, as related in my address, is supported in every material particular by China Exim Bank. In particular, China Exim Bank has expressed its disappointment to me today over Baha Mar's lack of flexibility in this matter and their unwillingness to accept the sensible solutions offered to them in Beijing."
• In other Baha Mar news, a spokesperson for CCA Bahamas has said:
"CCA Bahamas, Ltd. remains committed to working with the Bahamian government to arrive at a viable plan that results in the expedited opening of this landmark project."