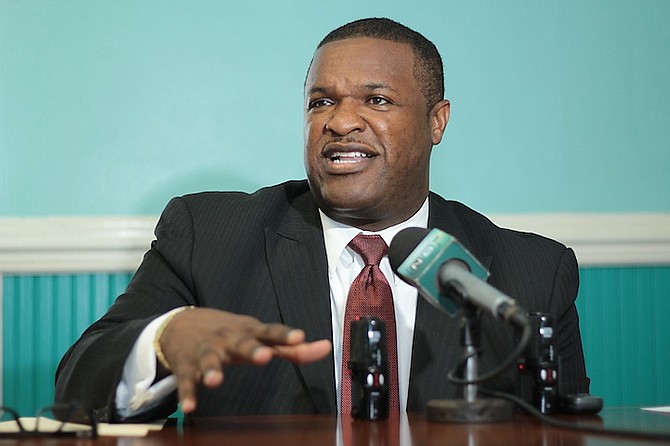 By NICO SCAVELLA
Tribune Staff Reporter
nscavella@tribunemedia.net
CHRISTIAN Council President Rev Dr Ranford Patterson yesterday defended himself from previous criticism that suggested he was out of touch for saying that Bahamas Junkanoo Carnival would encourage "promiscuity, fornication, rape, incest and other sins of the flesh."
Rev Patterson said that "time will tell" whether he and the council were correct in their assessments of Bahamas Junkanoo Carnival. He further claimed that the work of the church in bringing relief to underprivileged persons surpasses that of the government and its respective agencies designed specifically for that purpose.
In January, Dr Patterson said the promotion of "scantily clad" women as a part of Junkanoo Carnival would encourage a host of social ills.
However, PLP Chairman Bradley Roberts subsequently bashed this argument, suggesting Rev Patterson was out of touch in making his statements.
"We (the church) feed more people I believe than Social Services, we house more people than Social Services, I believe, we help more people who have issues and problems in this country than any other government agency in this country," Rev Patterson said yesterday.
"So you tell me how could we be irrelevant? What people think about us doesn't really matter. We have a job to do. And we're going to do it. If you don't listen, we'll be around. I think I'll be around to see some stuff, to see whether or not what we say, what we've said will come to pass."
He added: "Whatever (Mr Roberts) thinks is relevant or not, is not relevant at all. I think we have a role to play and we play our role. Like I said before, we do what we believe we ought to do."
In January, during the run up to Junkanoo Carnival, Rev Patterson said the council had observed a "dethroning and dismissal of what is right and wrong regarding feminine modesty in particular."
At the time, he said the Bahamas National Festival Commission (BNFC) should have been focused on "promoting our women for their dignity, grace and class and not as mere objects of lust".
Mr Roberts shot back, however, suggesting that Dr Patterson was out of touch for his remarks.
"With all due respect, we are obliged to ask whether President Dr Ranford Patterson has ever attended the Boxing Day and New Year's Day Junkanoo parades that have been held for well over one century in our fair Bahamas," Mr Roberts said earlier this year.
"Is President Patterson suggesting that other similar cultural festivals celebrated in many countries in this region and around the world for literally centuries are the cause for the instances of rape, incest and sexual immorality occurring in those countries?"
Carnival was staged over two days in Grand Bahama in April and from May 7-9 in New Providence, and has generally been hailed as a success.
However, the official economic impact report has not been released.