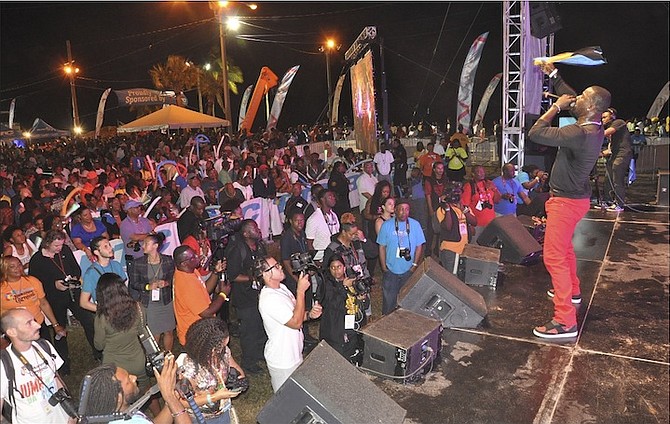 By DENISE MAYCOCK
Tribune Freeport Reporter
dmaycock@tribunemedia.net
AN estimated 16,000 people attended this year's Bahamas Junkanoo Carnival in Grand Bahama, resulting in a significant decline compared to last year's turnout of 30,000.

In a press statement issued by carnival officials, police estimated that approximately 4,000 spectators turned out on Friday and 12,000 on Saturday.
It is believed that inclement weather on Friday may have resulted in the lower turnout for the opening day.
Carnival officials were satisfied with the overall outcome of the event. There were no incidents of violence as police and security teams were out in full force at the Cultural Village.
"Anytime we have such a mega and major event as this, we always prepare for any and every eventuality, but we were prepared, weather or not. So because of our preparation and the execution of those preparations it contributed to a successful weekend," said Assistant Commissioner of Police Emrick Seymour.
An air show, which was a new component this year, drew persons of all ages to the Cultural Village.
Nuvolari Chootosingh, Ministry of Tourism manager of sports tourism, was pleased with the turnout.
"The air show was absolutely phenomenal. I think the crowd was really excited about it, even with the weather it did not deter them whatsoever. Next year is going to be bigger and more exciting," he said.
Carnival officials were also pleased with the support and participation the event received from corporate Grand Bahama in the Beach Olympics, despite the rain.
Officials also commended the local artists, including Stileet, Geno D, Julien Believe, D-Mac, Visage, Ronnie Butler, and Jay Mitchell and guest artists Jack Nasty, Olatunji, King Bubba, Ricardo Drue, Fadda Fox, and Shurwayne Winchester, for the great concert performances.
Ginger Moxey, event coordinator, said: "It was an awesome weekend. We could not ask for anything more. Grand Bahama did it again, proving that we are a community that is prepared to come together for the economic benefit of [the] island."
Eight finalists, and ten songs, will be moving on to the final round of the 2016 Music Masters competition in Nassau, where contestants will battle for the $20,000 grand prize and a chance of a lifetime, to go on a local and international promotional tour.
They will share the grand stage with Bahamian acts D Mac and Visage, along with Grammy Award winner Wyclef Jean and Trinidadian soca artist Destra.
Carnival is scheduled for May 5-7 in Nassau.