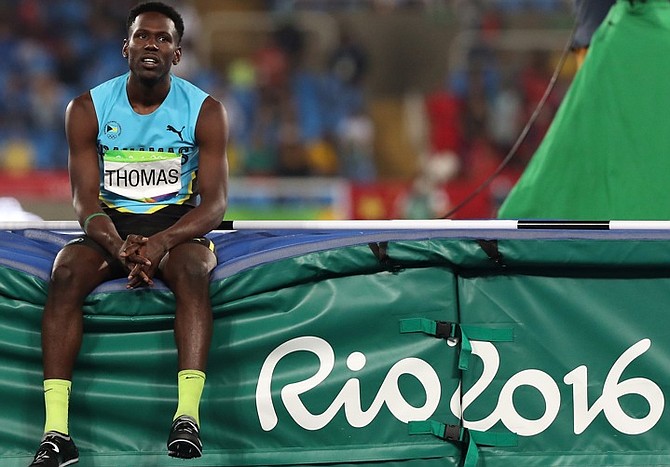 10.15pm: Shaunae Miller speaks to Brent Stubbs after receiving her gold medal:
http://youtu.be/Hx_pXzFxm20
10.10pm: So no medals for Trevor Barry or Donald Thomas in the high jump. Ty'Nia Gaither bows out in the 200m semis and Bianca Stuart doesn't advance in the long jump.
But on Wednesday, Pedrya Seymour takes to the track in the women's 100m hurdles semi-final one at 7.45pm.
9.05pm: An eighth place finish for Ty'Nia Gaither in the 200m semi-final one - with a time of 23.45.
9.00pm: Ty'Nia Gaither is now up in lane one in the women's 200m semi-final.
8.50pm: Bianca Stuart's third attempt in the long jump reaches 6.39. Her best jump of 6.45 won't be enough to qualify. And Donald Thomas hasn't managed to clear 2.33 on his third attempt in the high jump final. So no medals or qualification from Thomas, Barry or Stuart tonight.
8.45pm: Donald Thomas has now had two attempts at 2.33 without success. Meanwhile, in the women's long jump, Bianca Stuart's second attempt stands at 5.40. Her first leap was 6.45.
8.40pm: Donald Thomas doesn't manage to clear 2.33 on his first attempt.
8.25pm: Donald Thomas has cleared 2.29 - but Trevor Barry hasn't managed to in three attempts. And in the women's long jump qualifying group A - Bianca Stuart has jumped 6.45 and is currently sitting seventh in the group.
7.55pm: Both high jumpers have now cleared 2.25.
7.45pm: Donald Thomas has also cleared 2.20 in the men's high jump final - so far, so good for Team Bahamas tonight.
7.38pm: The men's high jump final is now underway with two members of Team Bahamas - Trevor Barry and Donald Thomas – taking part. Trevor Barry has cleared 2.20 at his first attempt.
7.28pm: The 400m champion is all smiles as the Bahamian national anthem plays in the Olympic stadium.
7.25pm: Shaunae Miller is now on the podium and has received her gold medal from fellow Bahamian golden girl Pauline Davis-Thompson.
3.10pm: The full story of Pedrya Seymour's 100m hurdles qualification is now online HERE.
And Brent Stubbs speaks to the men's 200m competitors HERE.
12.05pm: After last night's triumph in the 400m final - Shaunae Miller spoke to The Tribune's Brent Stubbs:
http://youtu.be/ZrBsi1hs4bw
11.15am: Teray Smith finishes sixth in heat four with 20.66.
11.00am: Not a great start for Team Bahamas in the men's 200m heats. Demetrius Pinder was disqualified in heat one and Shavez Hart finished seventh in heat two with a time of 20.74. Teray Smith still to run.
10.30am: Pedrya Seymour has qualified for the women's 100m hurdles semifinal. She finished third in heat two with a time of 12.85 - behind the USA's Nia Ali (12.76) and Canada's Phylicia George (12.76).
9.25am: If you've managed to catch your breath after all of last night's drama, here is the schedule for Team Bahamas at the Olympic Games today:
10:05 am EST - Pedrya Seymour, women's 100m hurdles heats.
10:50 am EST - Shavez Hart, Demetrius Pinder and Teray Smith, men's 200m heats.
7:30 pm EST - Trevor and Donald Thomas at No.10 and No.13 respectively in the men's high jump final.
8:05 pm EST - Bianca Stuart - Women's long jump qualifying.
9 pm - Ty'Nia Gaither, women's 200m semi-final.
And HERE, gold medal winner Shaunae Miller reflects on that thrilling 400m final.