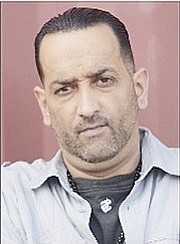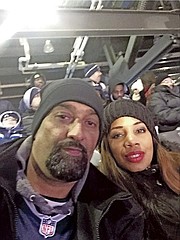 By Inigo 'Naughty' Zenicazelaya
OKAY, let's get this one out of the way. Despite my Cowboys losing for only the second time this season, again to the Giants, my trip to New York was far from being in vain!
Sorry to disappoint all you 'haters', but the Cowboys' loss didn't stop my show.
I found it most amusing how masses of 'haters' took to Facebook 'trolling' me with their 'pathetic' Cowboys hate memes and weak attempts at 'trash talk,' the only reason I didn't respond is that it was only the second loss of the year for the Cowboys. I've had 11 straight weeks to talk trash to all of you 'haters' so enjoy your fleeting moment while it lasts.
Now since I don't have a 12th straight win by my Cowboys to brag about, and piss you haters off, I will instead share with you the reasons why my trip was a success and well worth it in so many ways, despite the Cowboys 'toting' an 'L'.
That should still irk you haters sufficiently.
FAMILY FIRST
Whenever I get to visit my uncle Nick in New Jersey it's always a must. Apart from connecting with my father's side of the family which is important, it gives me the opportunity to enjoy some of the best Spanish cuisine on the planet.
Dining in his award winning restaurant, 'Jai Alai', is a delight.
Paella, chicken tarragon, solomillo, not to mention the calamari, fresh chorizo and tortilla. Libations in abundance to please the palate. Priceless!
Not only do I have blood relatives in the New York/ New Jersey area, I have several college teammates and stand up comedians who are like brothers, so seeing them and hanging out in their 'backyard' is quite a good time, on multiple levels.
Yes, there are some things, very few, more important than my Cowboys. FYI!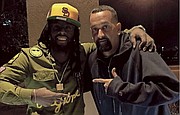 ONLY YOUR FRIENDS
Speaking of friends, and brother from another mother, my boy Dwayne Harris WR/KR/PR for the Giants, and former Cowboy did it again.
Last year, I reminded him that I didn't come all the way from the Bahamas not to see a touchdown from him. So what did he do? Only return the game winning kickoff with 1:02 left in the fourth quarter. Dagger! Game over!
This year, no kickoff returns but numerous dynamic, momentum shifting plays, especially in kick coverage, pinning the Cowboys deep in their own territory multiple times with outstanding special teams tackling at the 'gunner position', the most important on the kick coverage units. Yet another dagger.
Dwayne is truly a gifted athlete and special teams ace, as he plays both ways, returning kicks and punts as well as 'gunner' on coverage.
I'm still upset the Cowboys lost him in free agency last season.
While partying with Dwayne after the game, my wife Jamie and I eluded to the fact that he kills the Cowboys in Met Life Stadium annually now.
Cooly he replied "Bigly....I always want to remind 'Jerry' he spent his money incorrectly in free agency, after another serving of humble pie in NY for the second year in a row, I agree, Jerry Jones missed, and now the Giants are a hit on special teams.
THE GAME
Cold, cold, cold, cold, cold!!
It was snowing the whole game long, which affected both teams.
Not using it as an excuse, but the cold was a factor in the outcome of the game.
(Until you 'Dolfans' travel to see your squad play in Buffalo, New England or New York in December, go stick something in your blow hole and shut up).
It affected me watching in the stands, so I can only imagine the players on the field showing their mettle by playing in short sleeves and no under shirts or warmers whatsoever.
That's why Dez Bryant got 'X' out by Giants CB Jenoris Jenkins, who played big all night. Jenkins wore long sleeves, proofing my point. He was warm, Dez was frozen like a 'white walker.'
It affected Cowboys K Dan Bailey's 55-yard field goal before the half also, the footing was less than desirable.
It's obvious that the Giants are young Dak Prescott's nemesis so far in his rookie season, as were the Eagles to Troy Aikman and the entire NFC East division was to Tony Romo at some point!
This too shall pass.
The Giants won both games by a total of four points. So kill the domination talks etc.
It's just good, old fashioned NFC East football.
Throw records out the window in that division, when it's a division game.
Yes the Giants defence is stout, OBJ is the 'Freddie Mercury' of the NFL.
Colourful, flamboyant and definitely entertaining.
(Yes, he still stares at opponents 'boungies' during pre games. I couldn't look but my wife took one for the team, and confirmed the ogling on OBJ's part.)

Nonetheless his game winning 61-yard catch and run, and subsequent 'moonwalk' in the end zone celebrating his score, was classic.
I tip my hat to the Giants for doing what no one else in the NFL has this season, beat my Cowboys.
In my opinion they did us a favour, it gives the Cowboys the pre-playoff 'wake up call' they needed, time to refocus, work out the kinks and start the playoff run. Since we are the only team to have clinched a playoff berth thus far.
Also, if we meet the Giants in the playoffs we will beat them when it counts, and I will have the last laugh Jeff Albury (JBLN Commissioner and life long Giant fan).
Until then enjoy your moment Giants fans, when it's all said and done you will be able to say your team gave the eventual Super Bowl champions their only two losses of the season.
And besides, you can't spell Dallas without two L's.
Until next week, go hard, or go home!