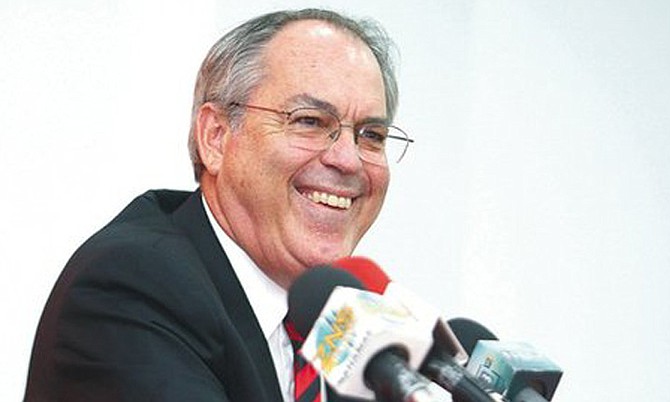 By AVA TURNQUEST
Tribune Chief Reporter
aturnquest@tribunemedia.net
FORMER Deputy Prime Minister Brent Symonette said yesterday that it would be a mistake for FNM Leader Dr Hubert Minnis to block the nomination of the "gang of six" MPs if he successfully defends his post at next month's convention.
Mr Symonette warned Dr Minnis to be careful with his campaign strategy of "victimhood" as he emphasised the value of retaining experienced politicians.
He pointed out that the dissenting MPs represented the party's brand in Parliament, adding that the days of a "one-man" platform have passed.
"I think Dr Minnis' campaign so far has been about being a victim," he said. "He's showing an 'I'm from Bain Town' type of approach. There's nothing wrong with that but if you look at public disclosures, he's the richest FNM MP in Parliament. You can't claim that and live in a gated condominium that you own, you have to be very careful playing that issue.
"He's saying the MPs have revolted against him; well the MPs have tried to talk this matter through for a long time and it hasn't worked. You know what they say, there are three sides to every story."
Mr Symonette added: "I think the days of the one-man (band) has passed and it is a team concept that the electorate wants to see. You see it around the world. The Bahamas really needs to put forward a team that shows a good ability to govern."
Reflecting on the latest party leak of a scathing email from Central Grand Bahama MP Neko Grant to Dr Minnis, Mr Symonette called for a ceasefire on both sides to ensure a smooth convention and a stronger party.
The Tribune exclusively reported on the email, wherein Mr Grant was critical of Dr Minnis' performance during the wrap up of the 2016/2017 budget debate, saying the Killarney MP showed "no interest" in the head-by-head exercise and seemed unprepared. The email was sent to the party leader and other members of the FNM.
Mr Grant, leader of opposition business in the House, said he was sure Dr Minnis had not studied the budget and that his behaviour was "most disturbing" and "disrespectful".
"I think it's an unfortunate issue that private emails are leaked," Mr Symonette said when contacted for comment. "You would have thought that if I had a beef with you, I'd send you an email or call you up say my beef and not expect it to go on further.
"If what was said in the email is correct, I think Mr Grant was obviously echoing his frustration, which he had every right to do. I've been there."
He added: "One year we tried to get Christie to do something, and he wouldn't, so we said ok and we kept them there all night just for the hell of it.
"It's very informative because that's a time that shows if people have really read the budget. The mischief is in the details.
"If this (email) was leaked by the recipient, then of course he's trying to do damage to one of his MPs," he hypothesised. "The problem then is we go into a convention, and in the event that Dr Minnis wins does he then nominate his detractors who are at the moment the holders of the FNM brand in Parliament?
"If he doesn't nominate them he comes out with six vacant seats that have to be filled, that doesn't help. My recommendation to both sides is try to come together and figure out the best way to go into this convention so this thing isn't nasty and create a better party at the end of the day."
"There is only one objective, to be the next government of the Commonwealth of the Bahamas. We should never lose focus on that point. The Christie administration is messing up. There have been murders (nearly) every day since they announced that crime was down. Baha Mar hasn't worked. There is enough fodder for election campaign for the opposition. They don't need infighting."
St Anne's MP Hubert Chipman, Montagu MP Richard Lightbourn, North Eleuthera MP Theo Neilly, Mr Grant, Long Island MP Loretta Butler-Turner, and Fort Charlotte MP Andre Rollins were dubbed the "gang of six" after they threatened to have Dr Minnis removed as leader of the opposition in Parliament by way of a petition to Governor General Dame Marguerite if he did not convene a conclave to decide the date of an early convention.
Dr Rollins has since expressed that he will not seek a constituency nomination from the party if Dr Minnis is re-elected as leader.
Mr Grant's attack on Dr Minnis also comes weeks after the MPs, including Mr Grant, wrote a letter to the party's Central Council outlining Dr Minnis' weaknesses as a leader.
The memo, dated May 31, was used to outline their case to the council as they underscored the need for an early convention, which was later set for July 27 to 29.
Mrs Butler-Turner, the party's former deputy leader, will challenge Dr Minnis for the FNM's top post at that time.
Mr Symonette has publicly endorsed both Mrs Butler-Turner and running mate Duane Sands, who will vie for deputy leader.
"The FNM isn't short of people to nominate but it changes the dynamic," he said yesterday.
"It would be a mistake to go into election without offering the 'gang of six'. They've fought it out for five years. You have to blend the experienced, with the new blood."