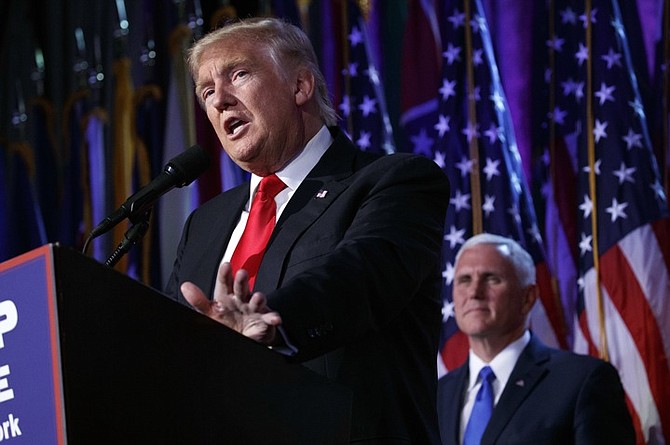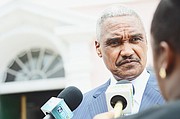 By KHRISNA VIRGIL
Deputy Chief Reporter
kvirgil@tribunemedia.net
TWO veteran Progressive Liberal Party members yesterday told The Tribune that the unexpected results of the United States' presidential election could signal a defeat at the polls for the governing party, with one insisting that the party use this as a "wake-up call" as it prepares to campaign for the impending election.
Reacting to US President-elect Donald Trump's victory over Democratic Secretary of State Hillary Clinton, Tall Pines MP Leslie Miller said he had hoped Mrs Clinton would win, which he said would have boosted the PLP's confidence heading into the 2017 general election.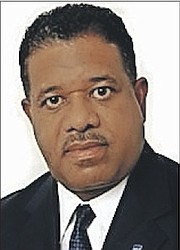 Meanwhile, former PLP MP Philip Galanis said the party needed to wake up as some of its members have become too "arrogant". Both admitted that Bahamians were dissatisfied with the Christie administration and wanted change.
"This should be a wakeup call for the PLP, absolutely," Mr Galanis said. "Unquestionably. We've become too arrogant, some of our members have become too arrogant, they are in denial. There are a lot of people on the streets, in offices, in their homes, who are dissatisfied, and they feel disconnected from MPs.
"And this most recent fiasco with (Agriculture and Marine Resources) Minister (V Alfred) Gray and the possibility or even consideration of giving fishing rights or allowing foreigners to be engaged in the fishing industry, that's a no, no, clearly not a PLP philosophy. The PLP better wake up because if it doesn't, it's going to find itself in exactly the same position as the Democrats."
For his part, Mr Miller said while he thinks a Republican US government has historically done well for the Bahamas' economy, it might not bode well for the PLP's chances of re-election. He said there is a general feeling throughout the county that Bahamians want change.
Mr Miller said: "I think if you go back in history, you will find that in our history anytime the Republicans win, I hate to say it, we (the PLP) normally lose and that's why I was hoping Hillary would have won, but she didn't.
"Most people will tell you that the Republicans do more for us than the Democrats financially. That is because they don't come after us with our tax havens and stuff. To say that I was surprised that he won is an understatement. I was shell-shocked.
"So we could very well find ourselves out of office. From my reading now from going through and through in New Providence, the good MPs will survive and those who are not up to power will not."
And while there may be some in the country who believe that an America led by Mr Trump, who has taken a hardline immigration stance, could be bad for Bahamians travelling to the US, Mr Miller said he doubted there would be any problems there.
Mr Trump claimed his place on Wednesday as America's 45th president.
It was an astonishing victory for the celebrity, businessman and political novice who capitalised on voters' economic anxieties, took advantage of racial tensions and overcame a string of sexual assault allegations on his way to the White House.
His triumph over Mrs Clinton, not declared until well after midnight, will end eight years of Democratic dominance of the White House. He will govern with Congress fully under Republican control and lead a country deeply divided by his rancorous campaign against Mrs Clinton. He faces fractures within his own party, too, given the numerous Republicans who either tepidly supported his nomination or never backed him at all.
As he claimed victory, Mr Trump urged Americans to "come together as one united people".