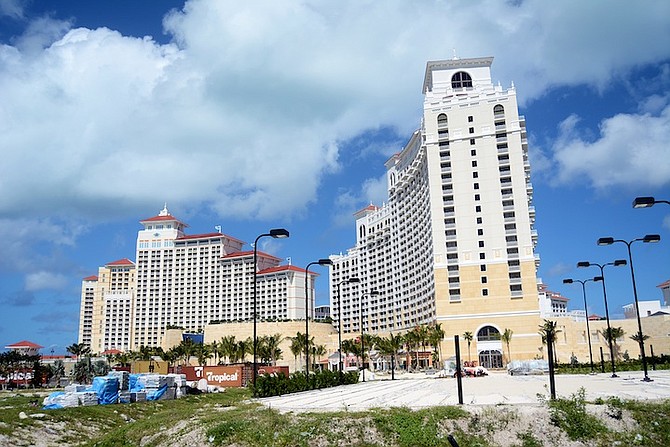 By RASHAD ROLLE
Tribune Staff Reporter
rrolle@tribunemedia.net
THE Baha Mar Claims Committee, headed by former State Minister for Finance James Smith, has made payments to 1,900 or so former employees and is still considering how to address the claims of other Bahamians who were associated with the resort but were not included on its official list of employees.
Hurricane Matthew and the restoration efforts that are continuing won't affect the committee's timetable for action, Mr Smith told The Tribune yesterday, since members and workers will make up for lost time by working longer during weekdays.
And although the committee set September 30 as the deadline to deal with the claims of former Bahamian employees of Baha Mar, the door for people who fall into this category is not shut, and they could still participate in the process and potentially receive a payment by reaching out to the committee.
Additionally, employees who complained about discrepancies between what Baha Mar's Human Resources Department told them they were owed when they were terminated last year and what they were ultimately given by the Claims Committee have also largely had their concerns addressed, Mr Smith said.
"We've settled the issue with about 90 per cent of them," he said, noting that the queries required, in some instances, only minor adjustments.
This part of the process involved between "80 to 120 people." He referred to the result as causing a "high satisfaction rate."
In most instances, the committee only had to explain to workers why they were paid a certain amount.
In other instances, additional money was paid out to workers, although the variance between what they received before and after complaining was never high.
"Most complaints were calculations, like why was I being paid for 'x' days versus being paid for 'y' days," he said. "A couple involved a question of classification. Some casino workers who were transferred to Baha Mar and held a supervisory or managerial post, for instance, but that didn't show up that way in the Baha Mar' system so they were initially dealt with as line staff. So that required an adjustment."
Information from creditors owed money by Baha Mar is trickling in to the committee, but that process won't be completed until late December.
Meanwhile, the committee is deliberating about what to do for the nearly 200 people who have stepped forward with claims even though they were not on Baha Mar's official employee list.
This includes people who were once enrolled in the Baha Mar Academy and were therefore guaranteed a job upon competition, and people who were sent to work at the Baha Mar affiliate, The Hobby Horse Company, until they could be placed in one of Baha Mar's resort properties.
While such people would be especially unlikely to receive money from a normal, court mandated claims process, the committee's mandate is to "take care of Bahamians." This means, Mr Smith said, that even those who were enrolled in the Baha Mar Academy but dropped out before completion could end up receiving some money from the committee––even as former foreign employees of Baha Mar have yet to be paid.
"We haven't settled on these things," Mr Smith said. "But this is like a will. There's no entitlement anywhere along the line. The key is that many of these people will eventually be employed and the China Export-Import Bank probably doesn't want them to feel like they weren't fairly treated."