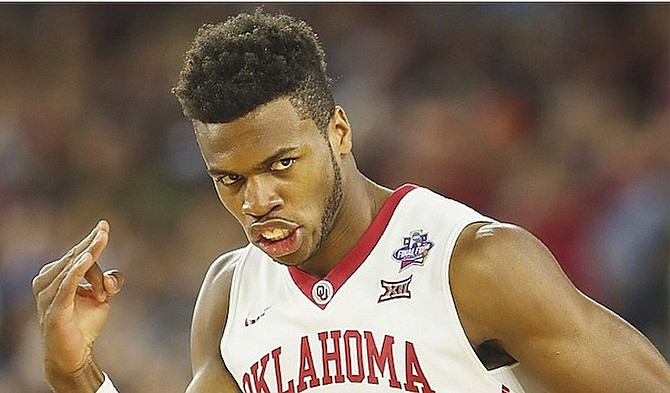 By RENALDO DORSETT
Sports Reporter
rdorsett@tribunemedia.net
ACCORDING to one of NBA.com's most decorated writers of the past two decades, expect Buddy Hield to have a major impact on the New Orleans Pelicans this season and lead the 2016 rookie class.
Scott Howard-Cooper's "NBA Rookie Ladder" projects Hield to begin the season as his early season favourite to win the Kia Rookie of the Year Award.
"This sets up perfectly for Hield. He is a shooter who arrived just before the Pelicans parted with Ryan Anderson and Eric Gordon, first and second on the team in 3-point attempts last season. And now Jrue Holiday (taking care of his sick wife, Lauren) and Tyreke Evans (knee surgery, blood clot) will miss at least the start of the season. Meanwhile, Anthony Davis is scheduled to be back sometime around opening night after spraining an ankle in exhibition play, a return that would help Hield get better looks," Howard-Cooper said.
In his first preseason start, Hield finished with 13 points, three rebounds and two assists in the Pelicans' 96-89 loss to the Atlanta Hawks Tuesday at Phillips Arena in Atlanta, Georgia.
It was a bounce back performance for Hield who went scoreless last Wednesday in the Pelicans' final game of the NBA Global Game series in Beijing, China. The 6'4" 215 pound guard opened the preseason with 19 points in his debut, followed by games scoring 18 and 14 respectively. Through three games he shot 6-15 from three-point range and 20-38 from the field.
In the two games since he has shot 0-8 from three-point range and 5-19 from the field.
New Orleans (1-4)  concludes its six-game preseason schedule tonight on the road against the Orlando Magic.
"Experience does not translate. Of the last 10 top newcomers, six were in the NBA after one-and-done college fly-bys and two stuck it out for two seasons while only two stayed the full four, 2012-13 winner Damian Lillard and Brandon Roy from 2006-07. The last two years, Andrew Wiggins and Karl-Anthony Towns both went directly from NCAA freshmen to Rookie of the Year with the Timberwolves, with runaway victories in the ballot box. But it is impossible to ignore that two of the leading contenders for 2016-17, Hield and Kris Dunn in his attempt at a Minnesota three-peat, are arguably the most NBA-ready of the prospects," the article said. "The Hield edge is that he combines background – 22 years old, four seasons at Oklahoma, sixth in the NCAA in three-point percentage as a senior – with present-day opportunity. The Pelicans need air cover if they are to make defences pay for sending extra bodies at Anthony Davis, and they need it just because Hield, the No. 6 pick in June, will have the chance for an immediate impact."
Howard-Cooper has covered the NBA since 1988. His Rookie Ladder column updates power rankings for rookies throughout the season on NBA.com