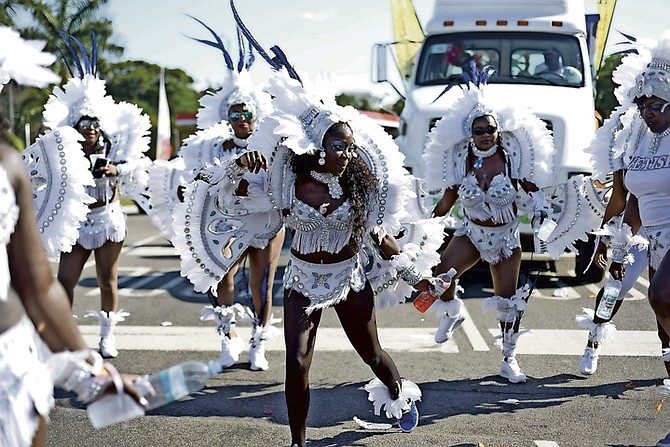 UPDATE:After enraging festival stakeholders and participants with an impromptu date change, the Bahamas Junkanoo Carnival (BJC) is back on for its original date of May 4 to 6, The Tribune understands. FULL STORY HERE.
Reader poll
123 total votes.
By AVA TURNQUEST
Tribune Chief Reporter
aturnquest@tribunemedia.net
AFTER the postponement of Bahamas Junkanoo Carnival by two weeks, angry members of the Bahamas Carnival Band Owners Association (BCBOA) said they still want to forge ahead with the event's Road Fever parade as originally scheduled.
Representatives of the BCBOA told the media yesterday that the group wants to keep the commitment of hosting the street parade on May 6. They also said the group will ask the government for permission so that overseas participants who have already paid for travel arrangements to attend the festival do not lose out.
The Bahamas National Festival Commission (BNFC) and key stakeholders are still in talks over how best they can mitigate the local and international fallout from the impromptu date change for the third annual event, with insiders projecting hundreds of thousands of dollars in losses.
The BNFC met with BCBOA yesterday but the discussions did not broach the topic of reimbursement,
according to one insider, who expressed grave concerns over the future of the event and the industry.
"They're having some level of discussion based upon the potential losses and the options available for either the band owners, other stakeholders, but no one's talking reimbursement," said the insider, who did not want to be named.
"You're looking at hundreds of thousands of dollars in losses, some of the stuff that they can't even quantify because there are so many other auxiliary services being provided for persons travelling to attend carnival.
"We're trying to see how can we balance the situation that Festival Commission has, that the government has, and that we have - so you're dealing with three different sides.
"I work in social media and public relations, I do some travelling for events," the insider said. "If I was put in this position where you (postpone) something couple days in advance, I would never come back. I don't want to make it seem that elections are trivial; I'm saying the reason for (postponing) it is trivial."
In a press statement yesterday, the BNFC explained that it made the "difficult decision" to postpone the event due to conflicts with the general election timetable. While it is expected that the general election will be held in early May, a specific date has not yet been announced.
The commission further advised that the Grand Bahama celebrations, originally set for April 21 and 22, have been cancelled altogether with event downsized to just one island on one weekend.
"You're (delaying) it because of a potential conflict with rallies?" the insider continued. "How stupid is that? The Prime Minister said he wanted to create opportunities for people to make money. If an artist can perform for Bahamas Junkanoo Carnival on Saturday afternoon and then again at other rallies, isn't that a good thing? There are many venues across New Providence, there are many people with sound systems.
"I'm not buying it in the slightest. The commission has to do a better job of convincing people why they recommended that Carnival be postponed. I think chairman (Paul Major) and CEO (Roscoe Dames) have to be honest."
Meanwhile, BCBOA President Dario Tirelli confirmed last night that the association is drafting an email outlining potential losses and alternate plans. He told The Tribune it was important for the bands to be united in their response given the immense international pressure and scrutiny.
Mr Tirelli said: "We promised them to send an email on request for potential loss, what we want to do, and assistance from them on what they want to do. There was some bands with no representation in the meeting and I'm waiting on all of them. We want to make sure everybody has an input and have the same script.
"We're still nationalists, and we have to figure out a way that we can salvage this."
Fury
Infuriated by the sudden date change, scores also flocked to the event's social media pages to demand a full refund and vent their frustrations.
Stephan Rolle, owner of Bluemonkey Bahamas, has been outspoken about the negative impact his business, Bahamas Carnival Cruise, which has booked more than 100 carnival-goers on an all-inclusive weekend cruise from Miami to Nassau. Mr Rolle said he fears the setback will take his company out of the race for future events as travellers are requesting full or partial refunds.
"I have so much money invested in this," Mr Rolle said. "Unlike some of the carnival bands, I don't have sponsors. The only sponsor for me is my bank account at RBC. I told the people (at the BNFC meeting) 'listen, this is nonsense, we can't allow this to happen in this manner'.
"I sent a message to my travellers, we're going to do our endeavour best to give them the experience that they paid for. How exactly we're going to do that is still up in the air. We sent an email out at about 7 (Tuesday) morning and for the most part everybody who has seen the email already has said 'hey I want my money back'.
"Some have said I'm willing to come to the Bahamas and do the cruise, but whatever is the Carnival portion of it I want that money back. It's not only the cruise but also the Carnival experience that they're paying for," Mr Rolle said.
"I think this is going to completely take us out of the race of what we do, but I think it will take Bahamas Junkanoo Carnival out of the race internationally. For BJC to succeed it has to have a large international following, it will not succeed based on this. Other carnivals are capitalising on this; they're saying 'hey come to Jamaica we ain't cancel'."
The BNFC pledged that the event will still deliver "three non-stop nights of cultural activities and performances with a top lineup of Bahamian musicians and regional artists; and revellers will still storm the streets on Saturday afternoon (May 20) for Road Fever."
The statement added: "The commission regrets any inconvenience caused to participants as a result of the change in date and encourages fans of Bahamas Junkanoo Carnival to prepare for a weekend of pure music, culture and vibes from Thursday to Saturday, May 18-20."