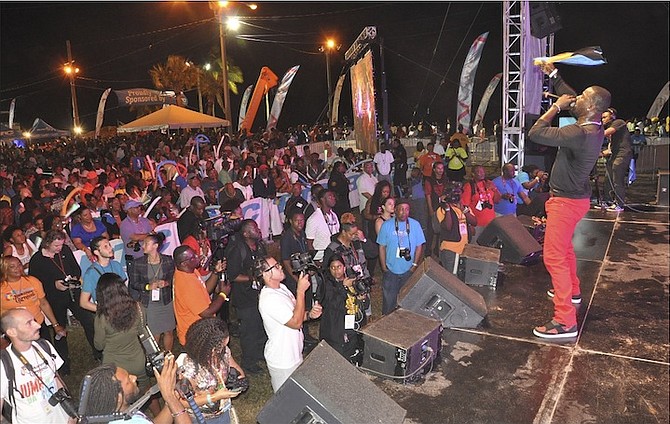 UPDATE:After enraging festival stakeholders and participants with an impromptu date change, the Bahamas Junkanoo Carnival (BJC) is back on for its original date of May 4 to 6, The Tribune understands. FULL STORY HERE.
By DENISE MAYCOCK
Tribune Freeport Reporter
dmaycock@tribunemedia.net
WITH Grand Bahama's economy in the doldrums, the last thing residents expected to happen was the cancellation of Bahamas Junkanoo Carnival (BJC) in Freeport.
For the past two years the BJC kick-off event, featuring the semi-finals of the Music Masters competition, not only provided an economy boost to the island but attracted thousands to the Taino Beach Village for two days of Bahamian music, culture and food.
The Bahamas National Festival Commission (BNFC) announced yesterday that it is dropping the Grand Bahama events, which were originally set for April 21 and 22.
"It is again very unfortunate that the government has seen it fit, in an economy that is almost dying, to cut us out of Bahamas Junkanoo Carnival," said resident Lionel Morley.
He stressed that while he does not disagree with the way in which Junkanoo Carnival is operated, he disagreed with BNFC's decision.
"We disagree at this time, especially in Freeport for anything that has any economic value in Freeport to be taken away especially by those who is supposed to be promoting it. This leaves a very bitter taste in mouths of Grand Bahamians, who have supported the event two years in a row," said Mr Morley.
Vendors, security firms, production companies, Junkanooers, event planners, travel agents, taxi-drivers, artisans, musicians and production crews all benefitted from BJC.
Last year, an estimated 16,000 people attended, and it was reported by a local organiser that some $1m to $2m was injected into the Grand Bahama economy from BJC in 2015.
Mr Morley believes that the cancellation of the Freeport events is indicative of the Christie administration's lack of commitment to Grand Bahama.
"It questions the PLP's commitment to the citizens and residents in Freeport, and its commitment to Freeport on the whole. And we as a people have to ask ourselves the question, who can we trust?
"It is most unfortunate for the vendors that this mainstay once every year for the last couple of years now, have nothing to look forward to this year.

"This is a dying economy in Freeport, there is no questioning about that. There has been no injection of new investors. As much as we complain about the management style of Carnival, we adamantly object and disagree with them taking it away, especially when they are using the purse of the Bahamian people."
Mr Morley said it is sad that Grand Bahama continues to be left out.
"They continually show that they are Nassau-centric; the PLP government has abandoned ship on us twice after winning three seats in Grand Bahama, and now they have decided at the ninth hour we are not going to have it in Freeport. They are saying to us with even with your own money we don't want to do nothing for you, even though you gat to pay the bill."
He is calling on the government to rethink their position.
Since October, Grand Bahama's tourism sector has been experiencing a significant decline in both air and cruise arrivals following the closure of two major hotels and a casino in Lucaya because of hurricane damage.

Some 1,000 jobs have been lost in the sector and unemployment levels are high.

Resident Shane Carey said that Grand Bahama's economy is struggling.
"For them to cancel carnival this year is unwise because we need something to keep our heads above water. We need to get this economy going in Freeport."
Mr Carey claimed that the government has always been unfair to Grand Bahama. "They treated us like an outside child," he commented.
He thinks that BJC is a good thing for the Bahamas; however, he does not agree with the way it being run.
"BJC is running a deficit, but it will soon return a profit. If we continue to build it up, it will pay off," he added. Mr Carey said postponing the event in Nassau was another poor decision by the government.
BNFC officials announced that the event will be pushed back to May 18-20, two weeks later than originally scheduled.
"They should get it out the way so that it does not conflict with the election," said Mr Carey, who predicts that there will be a change in government after votes are cast.

"Last election I got all the seats right and I publicly forecasted it on the radio show. This election, Grand Bahama is going to win four seats for the FNM and eight in the Family Islands; Abaco, Eleuthera, Long Island, one seat in Andros and a win Exuma. The FNM is going to win by 28 seats or more," he said.