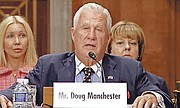 By RICARDO WELLS
Tribune Staff Reporter
rwells@tribunemedia.net
DESPITE "misstatements" made during his confirmation hearing before a United States Senate committee this week, Foreign Affairs Minister Darren Henfield said yesterday he is still "enthused" by the opportunity to work with the nominee for United States ambassador to The Bahamas, Doug Manchester.
In an interview with The Tribune on Thursday, Mr Henfield called for "understanding and reasoning" in the wake of Mr Manchester's controversial comments when he called The Bahamas a "protectorate" of the US earlier this week.
Mr Henfield insisted that while he was "caught off guard" by the comments, he opted to "look at the full specs" during Mr Manchester's extended Senate hearing Wednesday.
Responding to questions by New Jersey Democratic Senator Bob Menendez, a member of the US Senate Foreign Relations Committee, Mr Manchester suggested that the United States views The Bahamas, "for all intents and purposes" as a "protectorate".
Those comments received immediate push back from former Foreign Affairs Minister and current Leader of Opposition Business in the Senate Fred Mitchell, who slammed them as "patently offensive".
Senator Mitchell, in a statement Wednesday evening, demanded Mr Henfield address the comments and clarify whether the FNM minister accepted the claims as a part of the Minnis administration's foreign policy.
"A protectorate is an instrument of colonialism," the former Fox Hill MP affirmed. "Is this now the intention of the United States?"
"We have a moral right to exist and the right to our way of life and to self-determination. Our size and lack of world power does not negative those rights," he added.
However, in response Thursday, Mr Henfield said while he expected reaction to Mr Manchester's hearing, he was somewhat puzzled by the "range" of Mr Mitchell's reaction.
"I truly don't know what influenced his mind or thought process. We have a good relationship with the United States and I expect that to continue.
"Misstatements, I didn't see it as nothing more or nothing less. I didn't see it as an attack or as disrespect to the sovereignty of our nation and I didn't think it required such push back as he offered," Mr Henfield said.
"Look at the work done between our two countries over the years. I don't think the ambassador designate is coming here with the intention of infringing on our rights as a nation.
"Let's all settle down and look at everything else he brought up in his hearing. When you look at the full specs of what he said with a level of understanding and reasoning, you would conclude very quickly that this is a man who has respect for the values and achievement of this great country.
"I am enthused by that," he added. "I am looking forward to his confirmation because I think we will work well together and push the US-Bahamas relationship to the next level."
In addition to his "protectorate" comments, Mr Manchester urged more US investment is needed in The Bahamas, noting that it would be the only way to limit Chinese investment.
He also praised existing links between the two countries.