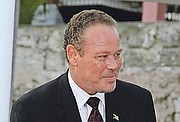 By RASHAD ROLLE
Tribune Staff Reporter
rrolle@tribunemedia.net
EXPRESSING surprise at comments made by a representative of the United Nations on marital rape over the weekend, Attorney General Carl Bethel said yesterday that though the issue was not on the government's radar previously, "now it is".
"Everybody has the right to the integrity of their body," he said. "Marriage was never intended to be a form of servitude. By nature it is a consensual arrangement."
Mr Bethel, acknowledging the controversial nature of the issue, said he hopes a compromise can be made resulting in characterising sex without consent in a marriage as sexual spousal abuse as opposed to "rape". This, he said, could be addressed by amending the Matrimonial Causes Act or the Domestic Violence (Protection Orders) Act.
"I've instructed draftspersons to look at those to see where it may fit," he said.
Whereas the Ingraham Administration sought in 2009 to amend the Sexual Offenses and Domestic Violence Act to change the definition of rape so it could encompass an action committed against a spouse without consent, Mr Bethel said he doesn't envision the Minnis Administration taking the same approach.
"There is no social consensus to put it there," he said. "Social consensus is necessary. The intent is not to force the churches hand or to legislate in a way that causes cultural discomfort. This runs right up against some closely held religious views and it's not something the government can just lightly pass a law over. That was the experience in 2009. There has to be some dialogue with the church. It may be fitting to amend the Domestic Violence (Protection Orders) Act because it already contemplates situations where there may be forms of intimidation, be they physical, psychological or otherwise and where finances are used to extort sexual acts even from a spouse without consent in the bonds of marriage. Relief in the form of a protection order could be obtained under that law."
Mr Bethel noted some people object to characterising spousal sexual abuse as a form of rape. He said: "That is the fundamental objection, to characterise an issue that may arise in a marriage with any form of rape. How do we capture situations that are delicate in terms of being issues of sexual abuse of some sort within the bounds of marriage? We need to make it clear we don't want violence in the family life between spouses. When violence is used in a marriage context, violence is and of itself actionable."
Yesterday, former Social Services Minister Loretta Butler-Turner, who tabled the Marital Rape Bill in 2009, told Our News Mr Bethel's thinking on the matter represented "archaic and cave-man views". "Rape is rape is rape," she said.
Dubravka Šimonovic, the United Nations Special Rapporteur on Violence Against Women, addressed the hot-button issue during a press conference last week. She is expected to present her report on the status of human rights in the country when she addresses the UN Human Rights Council in June.
Her comments on Friday caught Mr Bethel off guard, suggesting she did not inform the government she intended to make a controversial statement.
"When the UN Embassy came to see me, that issue was not raised," Mr Bethel said. "I'm not sure it was the same women but I saw someone from the UN and they never raised that issue. I was quite surprised to see all of this stuff on the front page of both papers based on a comment made by the UN. That was not on our radar screen but today I read some comments from Pastor Cedric Moss which perhaps open the possibility of having a broad social consensus for some amendments to some law in order to achieve this. I'm considering whether it would best be placed in the Matrimonial Causes Act or the Domestic Violence (Protection Orders) Act or perhaps in the penal code on sexual assault on spouse."
Mr Bethel suggested losing a potential seat on the UN Human Rights Council for failing to criminalise marital rape is not of paramount concern to the government.
"It's not advisable policy to amend laws simply for the purpose of seeking some form of international blessing if you will," he said. "Laws are enacted because they are necessary and proper in a modern and civilized society. The question of international approval of what we do domestically is secondary to our domestic imperative. We want to live in a society that protects the vulnerable, whether in the context of marriage or not."
Mr Bethel also said the government may amend the Matrimonial Causes Act to make sexual violence a ground on which a divorce can be granted. At the moment, a couple can only divorce on grounds relating to adultery, cruelty, desertion for a period of time, separation for a period of time or if a spouse has engaged in a homosexual act or had sexual relations with an animal.