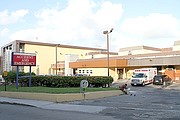 By MORGAN ADDERLEY
A NEW mother is railing against Princess Margaret Hospital (PMH) for the poor treatment she claimed she received while delivering her baby girl.
Rayne Rutherford's litany of complaints include being left to lie in a pool of blood, no hot water in the showers and a backlog of billing which has prevented her from filing an insurance claim.
She told The Tribune her experience was marred by poor communication and substandard facilities at the hospital.
Ms Rutherford underwent a caesarean section and was an in-patient from November 28 to December 1.
She said she faced difficulties upon arrival; although she had paid for a private room in PMH's private ward, she was informed the only accommodation available was a shared room.
Ms Rutherford told The Tribune it wasn't until she checked in that nurses informed her private rooms are distributed on a "first come, first serve basis".
Ms Rutherford said: "Well I was surprised at that, but I had to (accept it). I had to take the shared room, (which had) three beds in it. The nurse said two other patients along with me would be in the room.
"And the room was a mess. It had a sink, no restroom. So to use the restroom and to use the shower, I had to exit my room."
Ms Rutherford also had a difficult experience with the bathroom.
"They had no hot water to bathe with. So I had to ask one of the nurses for hot water and she had to get it from the kettle. I had to put (the hot water) in the little tub they gave me, a little container, and I had to mix it with the cold water. This is me pregnant, the next day, getting ready to go in for surgery. It was just awful."
Although her c-section was successful, Ms Rutherford was disappointed with the treatment she received after she gave birth. She said although "the nurses were nice…the level of professionalism wasn't there".
According to Ms Rutherford, the nurses didn't frequently check on her, and this culminated in her being left to lie in her own blood.
Although a nursing assistant promised to call a nurse, Ms Rutherford had to watch while "another set of persons came in to deal with (my roommates), and I'm still waiting. I'm in a pool of blood, that's number one, trying to get assistance.
"I had to go through five persons to get my nurse to come."
This lack of communication and accommodation extended to care for Ms Rutherford's newborn, as the new mother said she was not given a bottle to feed her baby with. "I asked where the bottle was. You know what they gave me? They gave me the (measuring cap you find on medicines) to feed the baby.
"That was new to me. I have sisters that went to public hospitals in the States, and that was never done. So for me to go through that… I was like 'What? Am I really supposed to feed the baby out of a cup and not a bottle?'
"I'm a new mother. Nobody took the time to explain to me how I should be feeding the baby. The only thing that was said was 'You give the baby an ounce out of this cup'. That's it.
"I tried to feed the baby, but the baby wasn't taking it. Like I said, I'm new to all of this. (After I called for assistance) two nurses came in and said 'Yea you just got to feed it.' Because you're pouring out of a cup into a baby's mouth, so most of it is wasting. And so I did what I could."
Ms Rutherford said she was given her baby at 8am, and it wasn't until 2am that a nurse actually showed her how to feed the baby. Ms Rutherford had been attempting to feed her daughter every two to three hours.
She said the particular nurse who finally assisted her was very nice.
"(The nurse) took the time to show me and say 'Rayne, you should be feeding the baby an ounce and a half'. So I (questioned) why was I told just an ounce? She said that's okay, but she showed me, and I was appreciative of that."
This poor communication extended to the end of her stay, when Ms Rutherford experienced difficulties with her bill and obtaining her receipts.
Ms Rutherford said that there was a lack of communication regarding the total number of charges or bills she would receive. For the payments she made, she was told that she would not receive her receipts to claim until approximately January because there was "a backlog of billing".
Due to these circumstances and the delay, Ms Rutherford said, "I'm basically out of money."
In response to these claims, The Tribune contacted Public Hospitals Authority (PHA) Director of Communications Judy Terrell.
In terms of the additional costs, Ms Terrell said: "It would be an assumption that this particular patient would have been advised by her private physician regarding all associated fees."
Although all patients are advised of the breakdown of the structured fees, Mr Terrell said: "In this particular patient's case, she would have had additional charges related to the operating theatre and the anesthetic fees, (physician's professional fee)."
In response to the backlog claim, Ms Terrell said: "All payments should be concluded by providing the client with a receipt. The staff of the Billing and Collections (Departments). . . should simply state that they are processing the relevant documents. The delays are usually associated with the obtaining of (a) physician's signature, and their service demands."
And regarding the issue of the shared room, she said: "There are situations, due to high occupancy rates, occasions when surgical patients are accommodated on Private Medical (as opposed to Private Surgical). However, obstetric patients are an exception to this accommodation due to the concentration of specific surgical resources at the Private Surgical location. Therefore, it is a patient safety matter, why this patient grouping is not accommodated on Private Medical."
"In the case of obstetric admissions; clients are urged to book and pay a deposit a minimum of four weeks prior to admission. (However) it must be appreciated that patient demand for service is dynamic and there may be instances where the specific room requested cannot be provided. In that instance the client then has the option of seeking admission accommodation at another facility, based on consultation of their obstetrician."
Ms Rutherford said that she chose to have her baby at PMH because of its Neonatal Intensive Care Unit (NICU). However, next time she would "definitely" go to Doctors Hospital.