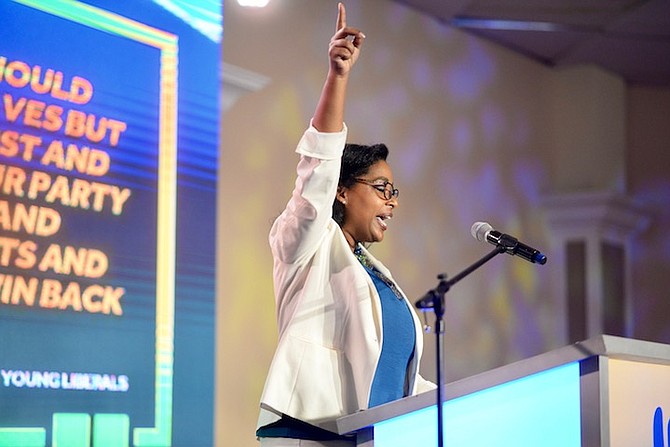 By RASHAD ROLLE
Tribune Staff Reporter
rrolle@tribunemedia.net
THE Progressive Liberal Party  "has become weak" and "dishonest" and allowed the political ambitions of a "few men to dash the aspirations of a whole people," Monique Pindling, the daughter of former Prime Minister Sir Lynden Pindling, said last night.
In the most pointed critique of the PLP made during the opening night of the opposition party's convention, Ms Pindling steered clear of attacking the Free National Movement  as others had done before her and focused her critique on the PLP for "straying" away from the values it once had.
"…Many of us forgot how to treat people," she said. "We made promises we did not keep. Appointments were made and either they didn't show up or they kept us waiting for hours and yet wonder why or how our party suffered its most crushing and humiliating defeat in this past general election.
"Many in the party became overcome with envy, consumed with jealousy and some of us were stung with greed," she added.
"We became too concerned with who became ministers but ignored the taste and values of those who would make good representatives. We became arrogant, petty and thin-skinned. Some in our party even became anti-Pindling but (were) quick to quote or call his name when it was politically expedient to do so. Our party has been broken. Our party has been torn at the seam, torn at the very core of its principles and foundations. Our party has become weak.
"We became dishonest. We lost touch with too many people. We allowed the political ambitions of a few men to dash the aspirations of a whole people. I hope our defeat in the polls was a learning experience. I hope it was a sobering experience. I hope it's a reality check for all of us. I hope we are taking stock of ourselves as a party and people. I hope that when we reflect on what brought us here, we see our faults clearly so that we may correct them."
The daughter of Governor General Dame Marguerite Pindling said despite its setbacks, the PLP will rebuild and improve once past mistakes are not made again.
"Because we have lost so much credibility with the Bahamian people our future success will not only be determined by what we say, but instead and more importantly by what we do. We will move forward because we have sought out our mistakes, confessed them and committed to never making those mistakes again. We will move forward because we will rebuild and revitalise our organisation. We will move forward because we will return to every community that gave us life. And finally we will move forward with a new, fresh and vibrant leadership," she said.
Sir Lynden, who led the PLP for 25 years, died in 2000 and guided the country into independence.
The reaction to Ms Pindling's speech at the Melia Hotel was hardly rousing, though in the room some nodded and cheered her dissection of the party's problems.
It was an analysis some in the party have resisted embracing; after delivering a speech that struck a similar tone several months ago, Exuma and Ragged Island MP Chester Cooper was criticised by some senior party officials.
Outside of Ms Pindling's speech, most of the speakers last night urged PLP supporters to begin turning their attention to the 2022 general election.
The crowd was particularly enthused by the speech of former Senator Robin Lynes, whose own critique of the party centred on its neglect of party branches.
"The first thing we have to do if we are serious about reconnecting to our people, is we have to get back to basics," the former senator said. "In order for us to move forward, we have to take a step backward. Article 5.1 of our constitution, it says that 'the basic and most important unit of the party shall be the branch.' Let me tell you something, it's not our leadership, it's you."