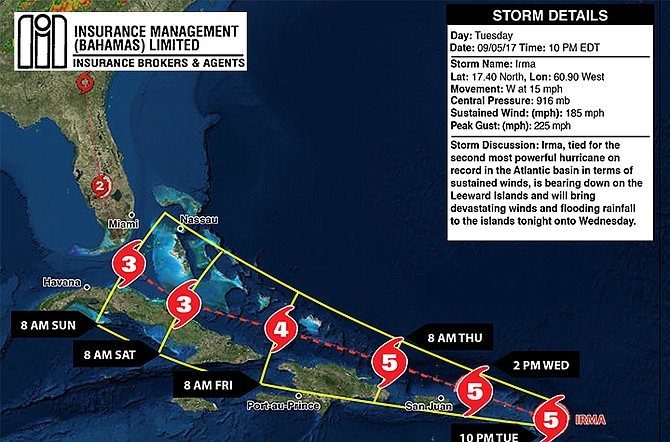 LIVE COVERAGE FOR HURRICANE IRMA CONTINUES - HERE
8.55pm UPDATE: A statement has been released by Bahamasair on evacuations:
Bahamasair wishes to advise the traveling public that due to the movement of Hurricane Irma, the airline has adjusted its regular domestic schedule to assist the National Emergency Management Agency (NEMA) with evacuations from Islands in the Southern Bahamas.
Evacuation flights will commence at 6:00am tomorrow (Wednesday 6th September 2017). In conjunction with NEMA Bahamasair will carry out the evacuations as follows;
ACKLINS/CROOKED ISLAND – Bahamsair will ONLY fly to Acklins on Wednesday. This flight is expected to arrive on island at 9:45am.
In conjunction with NEMA, alternative flights are arranged for the residents of Crooked Island.
MAYAGUANA - Bahamasair will operate two (70 seat aircraft) flights to Mayaguana on Wednesday with both flights arriving at 1:30pm.
INAGUA - Bahamasair will operate five (120 seat aircraft) flights out of Inagua on Wednesday using its 737-500 jets. Flights are scheduled to arrive on the island at 7am, 11am, 3pm, 4:30pm and 5:15pm.
LONG ISLAND & SAN SALVADOR - Flights to these islands will operate separately arriving on each respective island at 1:45pm on Wednesday.
PROVIDENCIALES - Our regularly schedule Thursday flight, has been adjusted and will now operate on Wednesday at 9AM.

Bahamasair asks that all persons wishing to fly out to please be at the respective airport at least 1 hour prior to departure. Passengers are also asked to pack lightly as a one bag limit will be enforced. Bahamasair will provide further updates as necessary.
7.30pm UPDATE: The Prime Minister's national address on Irma can be read in full HERE.
7.00pm UPDATE: Prime Minister Dr Hubert Minnis has announced that emergency evacuation to New Providence from MICAL and Ragged Island by airlift will take place early tomorrow morning.
It will be the largest evacuation in the country's history.
Dr Minnis said he is advising in the strongest possible terms that residents from MICAL and Ragged Island comply with the evacuation. Those who refuse to evacuate place themselves "in potentially great danger from this monster hurricane."
He added that emergency personnel and assistance will be unavailable and rescue and recovery may take an extended period of time for those who do not evacuate.
"Do not put your life and those of your love ones at unnecessary risk," the Prime Minister said. "The price you may pay for not evacuating is your life or serious physical harm."
6.05pm UPDATE: Footage from American weather satellite GOES-16 of Hurricane Irma on Tuesday morning: (LINK for mobile users)
6.00pm UPDATE: This map from the National Oceanic and Atmospheric Administration, released at 5pm, shows some slight changes (main image). New Providence is now on the edge of tracking cone. LINK for mobile users.
3.50pm UPDATE: AS "potentially devastating" category five Hurricane Irma approaches the Bahamas, government officials are in the process of making flight arrangements to evacuate residents from the southeast islands, The Tribune understands - full story HERE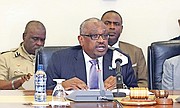 By SANCHESKA DORSETT
Tribune Staff Reporter
Sdorsett@tribunemedia.net
PRIME Minister Dr Hubert Minnis urged Bahamians yesterday to take Hurricane Irma "very seriously" as the category four storm continues to gain strength and barrel toward the Bahamas, with weather officials warning the southern islands are currently on track to take the brunt of the storm with a possible "devastating" impact.
At a press conference with emergency management officials at police headquarters on Monday, Dr Minnis said the government will do all in its power to ensure the country is fully prepared, including organising rescue and recovery efforts if needed.
He said depending on the track of the storm, persons may need to evacuate their homes and seek refuge in shelters.
Local forecaster Jeffery Simmons said on Irma's current track, residents in the southern Bahamas could expect to begin feeling effects of the storm by Thursday. However, he also stressed that the storm's track could change any moment and the entire Bahamas should be carefully monitoring the storm.
"In the path right now, the islands that are looking to be affected would be Inagua, Mayaguana, Acklins, Crooked Island and Ragged Island as it moves toward Cuba but like I said it's a possibility because as we go further out that cone gets a bit wider which means that it can impact the other islands," Mr Simmons said.
"It can go further south as it was moving for the past 24 hours, as well as it can move back toward the north. Right now the diameter of the storm means that the other islands will feel tropical storm force winds, so other islands up the chain in central Bahamas like Exuma, Long Island, Cat Island, and Rum Cay can experience tropical storm force winds as well. "However, we are still a good ways out and there is a possibility that the storm could change. We expect the southern islands to feel the effects Thursday going into Friday," Mr Simmons added.
Dave Samuhel, senior meteorologist at Accuweather, had a similar forecast.
He said Irma currently poses the "greatest threat" to the southern Bahama islands, adding that the core of the hurricane, or the eye, will likely pass over these islands as a "major" storm with "devastating" impact.
"For the Bahamas, the greatest threat is to the southern Bahamas," Mr Samuhel said. "But, nearly everyone in the Bahamas will be looking at impacts. On the forecast track, the outer bands of Hurricane Irma will reach the southern Bahamas late in the day Thursday. The core of the hurricane will pass over the or south of the southern Bahamas as a major, perhaps category four hurricane with devastating impacts along the path of the eye.
"Great Inagua is most at risk for a direct hit. The centre of Irma will pass near the Columbus Bank and over the Bahama Bank south of Andros Island Friday night and Saturday. Over the weekend, it is expected to turn north. This will threaten the northern Bahamas with direct impacts by Sunday. Irma is expected to be at least a category three hurricane at this time.
"In summary, the greatest impacts will likely occur across the southern and western Bahamas. But, all of the islands will likely see at least tropical storm conditions. This is a long-range forecast, so it is very likely to change some as we get closer to the weekend," the Accuweather forecaster added.
Preparation
As he spoke about hurricane preparation yesterday, Dr Minnis also revealed the country is once again insured under the Caribbean Catastrophe Risk Insurance Facility (CCRIF).
The CCRIF is a regional disaster fund for Caribbean governments to quickly access financing to limit the financial impact of devastating hurricanes and earthquakes.
In June, the prime minister told parliamentarians the former government missed out on a more than $31m insurance payout, after Hurricanes Matthew and Joaquin, because it opted not to pay the country's premium to CCRIF.
Dr Minnis said regardless of the storm's current path, residents throughout the country "need to monitor the location and proximity of Irma to the island or cay on which they live."
"Maritime traffic, fishermen and boaters should take all necessary precautions as Hurricane Irma approaches the Bahamas," he said. "As I stated previously, the threat of Irma must be taken seriously. While property must be secured, material possessions can be replaced. The priority is to take precautions to save lives and to minimise the risk of harm and injury," Dr Minnis said.
"Depending on the track of the storm, there may need to be evacuations to shelters or other secure locations. Life is precious. We must make every effort to preserve and protect life, including the elderly, the indigent and other vulnerable individuals. Various agencies will continue to provide the necessary preparedness updates and information. Bahamians and residents throughout the country should ensure that they have the necessary supplies in the event of Hurricane Irma affecting various areas of the country. This includes gathering supplies such as food, water, medicine, gasoline, flashlights, radios, batteries and any other necessary supplies."
According to weather.com, Irma is moving west-southwest at 14 miles an hour. Forecasters said a west-northwestward turn was expected on Tuesday. Tropical storm-force winds could arrive in the eastern Caribbean late Tuesday, and in the British and US Virgin Islands and Puerto Rico by early Wednesday.
The Bahamas and Cuba could see Irma arrive as a dangerous major hurricane later this week, according to the National Hurricane Centre, who also said Irma could strengthen then remain a powerful hurricane over the next five days.
Hurricane-force winds of at least 74 mph extend outward up to 35 miles from the centre and tropical storm-force winds of 39 mph extend outward up to 140 miles.