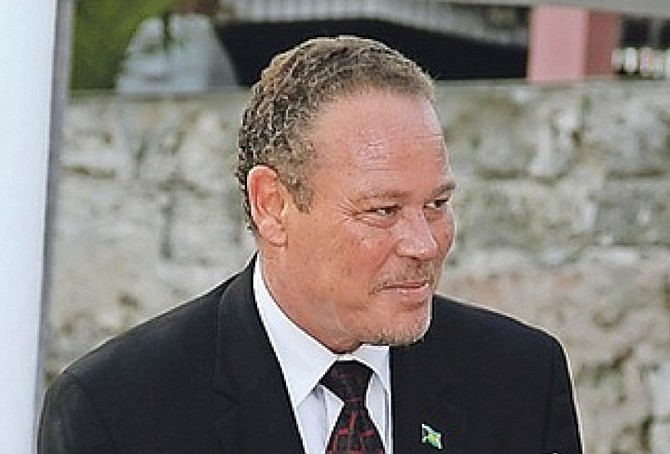 By AVA TURNQUEST
Tribune Chief Reporter
aturnquest@tribunemedia.net
THE Minnis administration has set its sight on the full implementation of the Freedom of Information Act within this upcoming budgetary year.
Attorney General Carl Bethel said yesterday a separate line item will be added to the 2018-2019 Budget to fund intense and widespread training needed at every department, agency or corporation that has a substantial government interest.
He spoke to media on the sidelines of an implementation workshop for Cabinet ministers and senior government officials led by Damian Cox, Jamaica's director of access to information, at police headquarters. Prime Minister Dr Hubert Minnis opened the workshop.
Sessions will run for the next two days, and also include civil society operatives, Mr Bethel said.
"Full implementation is not a one-day experience," Mr Bethel said, "there has to be extensive training at every level in the public service and civil society. Every single government administrator's office, in every Family Island no matter how remote, will have to have an information officer who has to be trained.
"Every single government department, every single government corporation, every single corporation in which the government has a substantial interest, such as BTC, will have to have a trained information officer. The whole process of how an internal review is done, if there is a refusal by an information officer, the whole process by which then the minister would intervene or make a determination, after that there is the referral to the information commissioner, there is a whole process of training that has to be done.
"It can be done at the same time," Mr Bethel added, "but it can't be done overnight…It is our intention as a matter of policy to fully implement the act as soon as possible.
"We have a target we're aiming for some time within the next budgetary year to be able to fully implement."
Protections for whistleblowers, Section 47 in the Freedom of Information Act 2017 (FOIA), were brought into force last month.
The previous Ingraham administration passed a FOIA shortly before the 2012 general election, however there was no date for enactment. The last Christie administration then overhauled the legislation, and conducted an extensive public consultation process.
The Christie administration passed a FOIA in Parliament in February.
However, aside from the whistleblower's protection, only part one and sections of part five and eight of the legislation have been enacted, allowing for the appointment of an information commissioner and repealing the 2012 FOIA.
Yesterday, Mr Bethel said he did not have any indication on who would be appointed as the information commissioner.
Activists have expressed concern over the stalled pace of the legislation and a collective of 20 civil society organisations issued a statement earlier this year calling for the government to consider recommendations for revisions but ultimately move ahead with full enactment.
Yesterday's workshop included an outline/overview of the Bahamas FOIA, and also focused on critical components of successful freedom of information implementation and Jamaica's access to information experience – challenges, successes and opportunities.
In his opening remarks, Dr Minnis said: "The Model Inter-American Law on Access to Public Information states in its preamble that the Inter-American Court of Human Rights formally recognised the right of access to information as part of the fundamental rights to freedom of expression; that access to information is a fundamental right and an essential condition for all democratic societies and that the right of access to information is based on the principle of maximum disclosure.
"I am pleased that we are beginning the full training and implementation phase of the Freedom of Information regime," he said. "We look forward to meaningful and productive workshops with the public sector and civil society groups over the next several days."