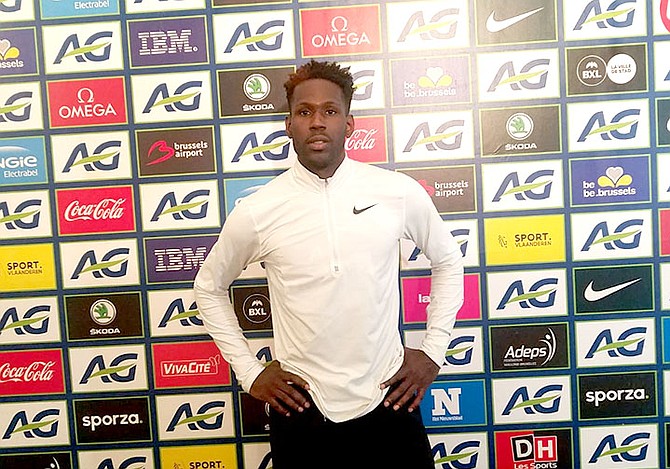 By BRENT STUBBS
Senior Sports Reporter
bstubbs@tribunemedia.net
BRUSSELS, Belgium: It wasn't the performance he anticipated, but Bahamian Donald Thomas was still satisfied with a fifth place finish, leaping 2.29 metres or 7-feet, 6-inches in the men's high jump at the IAAF's 2018 AG Memorial Van Damme Diamond League Final at the King Baudouin Stadium.
Thomas, ranked third going into the final at the culmination of the 12 meets held around the world this year, held or was tied with the lead through the first three heights with a clean slate at 2.15m (7-0 1/2), 2.20m (7-2 1/2) and 2.23m (7-3 3/4) before he got his first knockdown at 7-5 on his first attempt.
He came back and nailed his second attempt for third place.
After clearing 2.29m (7-6) on his first attempt, he reassured first place. But at 2.31m (7-7), he got another knockdown to push him down to fifth. He passed on his next height and went for 2.33m (7-7 3/4). But with only two attempts left, he missed them both and had to settle for fifth.
"It was a very competitive competition. I was a little disappointed. I should have taken the victory," said Thomas, who earned $5,000 for his effort. "It's on to the next one (competition at the IAAF Continental Cup)."
Australia's Brandon Starc won the title with 2.33m (7-7 3/4), beating out Germany's Mateusz, who had to settled for second at the same height on more knockdowns. Third place went to Italy's Gianmarco Tamberi with 2.31m (7-7).
Notably absent was Essa Barshim of Qatar, the Diamond League leader.
Thomas' season is not done yet as he and Shaunae Miller-Uibo, winner of her second straight Diamond League 200m, will head to Ostrava to  represent the Americas team at the IAAF Continental Cup from September 8-9 in Ostrava, Czech Republic.
Thomas said he intends to redeem himself and close out the year on a high note.