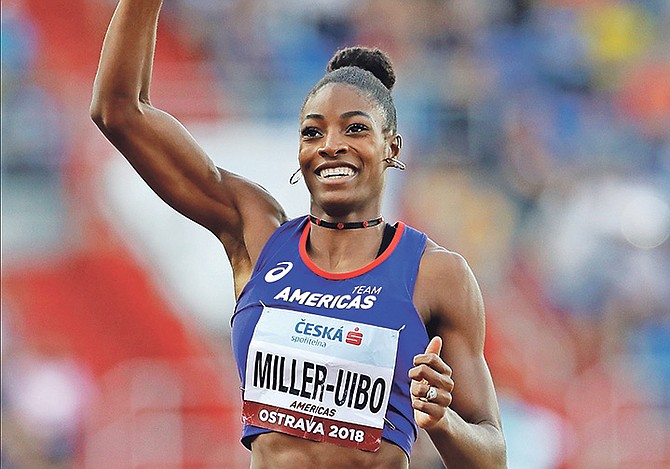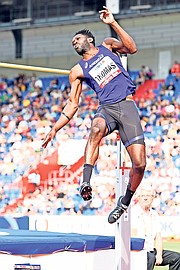 By BRENT STUBBS
Senior Sports Reporter
bstubbs@tribunemedia.net
The Bahamian combo of Shaunae Miller-Uibo and Donald Thomas won all of the events, including two relays, to help the Americas team dethrone Europe at the International Amateur Athletic Federation's Continental Cup Ostrava 2018.
The two-day meet held in the Mestský Stadium in Ostrava, Czech Republic brought the curtain down on a long season for track and field, although many considered this to be an off year with no major competition.
The Americas, captained by non-competing world long jump record holder Mike Powell, accumulated a total of 262 points to snatch the title from Europe, who had to settle for second with 233. Asia-Pacific was third with 188 and Africa got fourth with 142.
After they accepted a spectacular trophy, comprising of 116 crystal relay batons, each member of Team Americas received one of the hand-crafted batons as a memento.
Now in its third edition since the name was changed from the IAAF World Cup, the Continental Cup provided the top athletes to represent four continents in 20 track and field events for men and women, giving a total of 40 events.
Each team was allowed to enter two athletes in each event, except for relays where one team competed, with a maximum of one athlete from each country per event.
On the first day of competition on Saturday, Thomas soared to victory in the men's high jump, while Miller-Uibo ran the second leg of the women's victorious 4 x 100m relay.
Then on the final day, Miller-Uibo had to dig down deep for a comeback win in the women's 200m before she anchored the Americas to the grand finale triumph in the mixed gender 4 x 400m relay.
Thomas successful
After finishing fifth at the IAAF Diamond League Final a week ago, Thomas lived up to his prediction that he would avenge his performance at the Continental Cup.
The 34-year-old Grand Bahamian opened his account with a clean slate at 2.10m, 2.15m, 2.20m and 2.27m. But after he missed his first two attempts at 2.30m, he cleared it.
At 2.32m, Thomas missed his first two attempts, passed on the third and went for it all at 2.34m. But in a similar situation in Brussels, Belgium at the IAAF Diamond League Final, he missed.
Thomas, who won the Central American and Caribbean Games' gold and NACAC Championships silver medal after he failed to get on the podium at the Commonwealth Games, had the better marks posted on the stat sheet and that enabled him to improve on his silver medal at the 2010 Continental Cup in Split, Croatia.
"I feel good. I just want to thank God for the victory," Thomas said. "I just want to thank him for allowing me to stay healthy and just get ready for the next season."
Thomas, a force to reckon with on the global stage since he took the IAAF World Championship crown in 2007, won on fewer knockdowns to take the title and a cash prize of $30,000 over Australia's Brandon Starc, who represented the Asia-Pacific with the same height at 2.30m.
Bulgaria's Maksim Nadasekau, representing Europe, was third with 2.27m. Thomas Americas' team-mate Bryan McBride of the United States of America was sixth with 2.20m.
"It was basically the same competition that was in Brussels," Thomas said. "It was just a fun competition and I'm happy that I got to represent the Bahamas and the Americas team.
"I was just a little more focused. In Brussels, I was in good shape. I know the fifth place didn't really show what transpired in the competition, but I wanted to win in Brussels, but it didn't go my way. I just wanted to come out here and give it my all and just represent."
With the season over and done with now, Thomas admitted that he's going to go home and get some much needed rest before he starts his preparation for the 2019 season and the much anticipated IAAF World Championships in Doha, Qatar.
Miller-Uibo pulls
off extra duties
Showing her versatility as she went back to her natural hairstyle, Olympic Games' 400m and Commonwealth Games and IAAF Diamond League 200m champion Miller-Uibo showed her patriotic colours in three events for the Americas' team.
In the women's 4 x 100m relay on Saturday, Miller-Uibo got the baton on the first exchange from Ecuador's Angela Tenorio with a slight lead and she extended it on the back stretch to pass off to American Jenna Prandini. She connected with Brazil's Vitoria Cristina Rosa and it resulted in a winning time of 42.11 seconds.
"We are very thankful for it," Miller-Uibo said. "We just wanted to come out here and have some fun and get some points for Team Americas. I think we did a pretty good job. I just wanted to start off pretty well and as you can see everyone did a pretty good job."
On Sunday, Miller-Uibo had enough real estate on the home stretch as she reeled in Dutchwoman Dafne Schippers, who led coming off the curve. Miller-Uibo's time of 22.16 kept the 6-foot, 1-inch IAAF Diamond League Final champion unbeaten this year as Schippers had to settle for second in 22.28 for Europe.
Ivory Coast's Marie-Josee Ta Lou, the winner of the 100m the night before, was third in 22.61 for Africa and Miller-Uibo's Americas team-mate Shericka Jackson from Jamaica was fourth in 22.62.
"This last race of the season was a tough one," said Miller-Uibo, whose team will split the $30,000 first place prize. "We were exhausted at the finish line and long after. I must say I felt the pressure competing for the team but the joy this victory brings is significant."
Not done yet, Miller-Uibo was put on the anchor leg for the Americas team in the meet ending event in the mixed gender 4 x 400m relay and she didn't disappoint.
Miller-Uibo, 24, got the baton from Jamaica's Stephenie-Ann McPherson, who took advantage of Europe's blunder on the third leg to move into the lead. Nobody was able to catch Miller-Uibo as she crossed the line in 3:13.01.
With a choice of setting up the team in any position they wanted, the Americas utilised their two male competitors, triple jump champion Christian Taylor from the United States and 400m sixth place finisher Luguelin Santos from the Dominican Republic on the first two legs.
Africa trailed in second in 3:16.19 and Asia-Pacific was third in 3:18.55 as Europe got disqualified. "It was a great experience for each and every one of us," said Miller-Uibo as her team shared another $30,000. "We went out there and we set it up in a really pretty way and we were able to bring it home pretty strong and we had some fun with it. We were able to end it strong in grand style."
Last year, Miller-Uibo got her first taste of victory in the mixed gender relay when she ran the second leg on the team that comprised of Steven Gardiner, Anthonique Strachan and Michael Mathieu as they delighted the home crowd in taking the tape to close out the competition at the IAAF World Relays.
Next year, the mixed gender relay will be added to the IAAF World Relays in Doha, Qatar, and will be the final event contested with the women and men 4 x 400m relays being pushed up. The IAAF, however, has not yet released the new schedule.