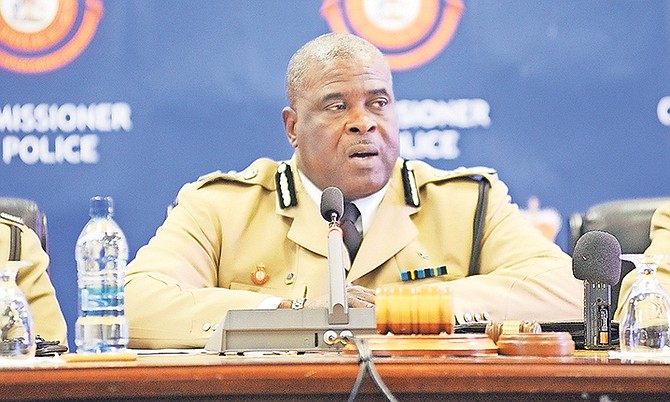 By KHRISNA RUSSELL
Deputy Chief Reporter
krussell@tribunemedia.net
POLICE Commissioner Anthony Ferguson was yesterday noncommittal about rising concerns of increased fatal shootings by the police, insisting the Royal Bahamas Police Force adheres to its mandate to prevent and detect crime.
Less than two months into the year there have been six fatal police-involved shootings, the most recent two incidents occurring within a 24-hour period.
The frequency of these incidents has raised concern, with some questioning whether there is a mandate by the police to shoot criminals with intent to kill.
"Are there any concerns about citizens of the Commonwealth of the Bahamas being robbed (or) being killed? I think once that question is answered then we have a fair position," Commissioner Ferguson said yesterday when he was questioned about the concerns.
Earlier he told The Tribune: "I don't want to comment on matters that are being adjudicated before a constituted court of law. The police mandate is to prevent, detect crime and arrest persons who commit crime and I think that is the other half. Anything else outside of that is in another spectrum. I will not be one of those who crosses over and I am going to be responsible for my mandate."
A senior police official, not authorised to speak publicly, suggested the process which occurs after an officer shoots a suspect may leave the RBPF open to serious problems.
Apart from matters being referred to the Coroner's Court, as is the case with all police shootings, the official said there are no set rules that dictate an officer involved in a fatal shooting be placed on leave pending the outcome of investigations or that those involved be subject to psychological evaluation.
The decision to place an officer on leave is left up to the discretion of the police commissioner who will make such a choice based on the circumstances surrounding an incident.
On Wednesday, former Court of Appeal President Dame Joan Sawyer urged officials to "speed up" coroner's inquests into such cases to foster "the needed peace".
In an interview with The Tribune, Dame Joan expressed concern over the growing length of time between police-involved shootings and the coroner's hearings.
She suggested turmoil is being allowed to fester on both sides of the divide in the absence of "clear-cut facts which only the law can offer."
Since November 2017, there have been 11 fatal police shootings, according to The Tribune's records.
Reflecting on those numbers, Dame Joan said those figures paint a bleak narrative because they are not juxtaposed with statistics of how such matters were resolved.
"How do you say it, justice delayed is justice denied," Dame Joan said.
"I've seen these matters first-hand, so I know the pain involved. So when I speak, that is where I speak from. You can't have the narrative continue as is because the public will get exhausted when they don't see the end results."
She continued: "We need to bring speed to the system so that when we hear (police-involved shootings), we think fair and justice. Not leaning one way or the other, just the thought that no matter what happened or how it happened, that it was resolved and the matters of fact presented.
"To get to it, address it, and allow the resolution to happen; you understand what I'm saying, resolution means a true peace.
"By the time they get to (cases), only the family remembers. The public has already moved on and forgotten.
"I wished the system addressed these cases in a faster fashion. I always operated with the view that you have to clear the deck particularly in these matters because you want to advance the thought of peace on both sides.
"Justice delayed is justice denied."
Earlier this week, National Security Minister Marvin Dames dismissed concerns over a spate of fatal police-involved shootings.
His comments came after two men were shot dead by police in separate incidents Sunday and Monday. 
Mr Dames insisted officers are responding in-kind to what they encounter on the streets. He said the process has always been and continues to be transparent.
He insisted police are not in the business of "arbitrarily taking people's lives," and that whenever someone is wounded or killed by police, it must be justified.
Mr Dames called on Bahamians to recognise that modern-day officers are no longer operating in the Bahamas of the "70s and the 60s," stressing that police now encounter more assailants who are inclined to engage them with firearms.
Mr Dames, a former senior police officer, said the public should avoid getting lost in statistics of police-involved shootings and take a critical look at the circumstances in which they occur.
In the two most recent incidents earlier this week, police shot and killed men said to have a criminal history. Police said a man killed on Sunday was engaged in a drug deal and opened fire on officers, while the man fatally shot Monday produced a knife and advanced towards them.