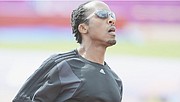 By BRENT STUBBS
Senior Sports Reporter
bstubbs@tribunemedia.net
AFTER deciding to skip the remainder of the outdoor season, including the 16th IAAF World Championships last year, quarter-miler Chris 'Fireman' Brown is preparing to return to the indoor season where he's had a great deal of success.
Undoubtedly, the most decorated Bahamian athlete indoors, Brown has made the podium five out of the past eight trips he's made to the International Amateur Athletic Federation's World Indoor Championships since he started competing at the 9th edition in 2003 in Birmingham, England.
With the World Indoors going back to Birmingham, England from March 2-4, Brown will be hoping to make his ninth appearance and add to the three bronze, a silver and a gold he has on his medal trophy case. "Right now I'm just taking it day by day. The body is in great shape and so I'm going to prepare and get ready for this indoor season," said Brown in an interview with The Tribune from his home in Atlanta, Georgia.
Since he started competing indoors in 2002, ironically in Birmingham, England, Brown claimed his first medal when he secured the bronze in the men's 400 metres until 2006 in Moscow, Russia where the championships were moved to being staged every two years.
The Whymms Bight, Eleuthera native would duplicate that feat two years later in Valencia, Spain in 2008 at the 12th Worlds before he emerged as the champion in Doha, Kota at the 13th Worlds in 2010.
At the 14th Worlds in Istanbul in 2012, Brown again got on the podium, but this time had to settle for another bronze medal. However, in 2016 at the 15th Worlds, he improved on his previous performance as he picked up the silver medal in Sopot, Poland in 2016.
Brown, having ran a lifetime best of 45.58 in Sopot, has not missed a trip indoors and he indicated that it's because of the tremendous success he has accomplished on the 200m track where he has to run two laps to complete the race.
"I think my body is designed to the tight curve on the track and I enjoyed being out there running indoors," he stated. "It's just a special place indoors, so I enjoy running in it."
For this one, which is expected to be the final one for the 39-year-old veteran, the goal is to once again get on the podium.
"As long as I'm healthy, I just want to continue representing the country and giving it my best shot," he insisted. "Whether I get on the podium or I don't get on the podium, I just want to go out there and continue to represent the country.
"I want to make the Bahamas proud and continue to inspire the next generation of athletes coming behind, who want to pursue running indoors, just to let them see that nothing is impossible and so if they can continue running and follow their dreams and their goals, hard work will pay off."
For this one, Brown said it's going to be all about having fun as this might very well be his last appearance at the World's Indoors and if it is, he want to go out in style.
As for the outdoor season, many felt that last year was it after he didn't go to the IAAF World Championships in London, England. But Brown said he only skipped the trip because he wasn't mentally prepared.
"Last year I made the team to go to the World's, but I decided because I wasn't mentally ready to perform, I wouldn't go," said Brown, who was caught up in the fatigue of having his Chris Brown Bahamas Invitational (CBBI) called off and focusing on helping Grenada host their inaugural invitational.
"Having some time off last year and thinking and to rest my body, had definitely given me the momentum and the steam to keep moving forward," he stated. "I definitely needed that rest and now I'm excited and I'm ready to go to Birmingham and put my best foot forward."
Heading to the season, Brown said he's in tip top shape and he feel like he's 28 again.
"I'm excited about the upcoming indoor season and getting to run the individual 400m and possibly the 4 x 4 (relay) with the guys," he projected. "I'm just excited about the new season. My body is well rested and I'm ready to go."
Should the Bahamas Association of Athletic Associations assemble a relay team for Birmingham, Brown said he know that they will be able to give a good account of themselves.
"The guys are hungry to get on the track. The things that they normally would have done, they didn't get to do last year, so I'm looking forward to seeing everyone coming out and giving their 100 percent and getting back on the podium," Brown reflected.
"We got there before and I know that everyone is going to come out and be aggressive and just give it their best. So I'm looking forward to a good season and an exciting season for indoors. It just keeps everyone motivated and ready to go, so I'm definitely looking forward to it."
If everything goes as planned for Brown, he could be competing in his season opener next month in Birmingham, Alabama or in Boston. But whenever he does, Brown said the public can expect to see him explode.
"Everything is going very well. I can't complain," he summed up. "God has been good to me. I'm taking it day by day and just happy to see a new year and a new age. So I'm blessed."
Hopefully, Brown can also be blessed by getting his CBBI back on the calendar again this year.