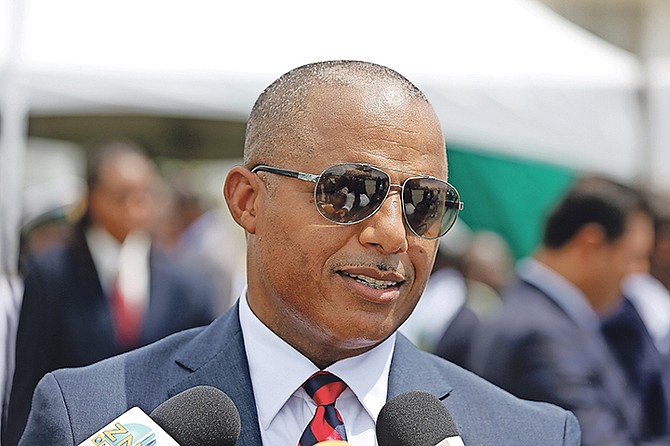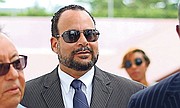 By NICO SCAVELLA
Tribune Staff Reporter
nscavella@tribunemedia.net
NATIONAL Security Minister Marvin Dames yesterday admitted to meeting with the virtual complainant in Frank Smith's bribery and extortion trial ahead of a police investigation into her claims, something counsel for the accused claimed amounted to "political interference".
Mr Dames taking the witness stand before Chief Magistrate Joyann Ferguson-Pratt, said he met with Barbara Hanna at his constituency office between late May/early June of last year, after she was referred to him by Health Minister Dr Duane Sands.
Mr Dames said Dr Sands approached him initially and informed him of Mrs Hanna's desire to speak with him, as well as the nature of her concerns, which involved alleged corruption on Smith's part.
And after meeting with Mrs Hanna, Mr Dames said he "immediately" referred the matter to Assistant Commissioner of Police Paul Rolle, the officer-in-charge of the Anti-Corruption Unit, as he wanted to remove himself from the matter.
However, Smith's lead attorney, Keith Knight, QC, challenged Mr Dames on his actions at the time, stating that from the moment Dr Sands contacted him about Mrs Hanna's concerns, Mr Dames should have told him to tell her to go to the police.
Mr Knight said since Mr Dames still opted to entertain Mrs Hanna's allegations, he knowingly meddled in the investigation and was in breach of certain public statements he made last year.
It was also revealed Mr Dames had called Mrs Hanna more than 10 times in June 2017, about a month before Smith's arraignment.
According to Mr Dames' evidence, he first heard Mrs Hanna's name sometime in the latter part of May or the early part of June 2017. He said the woman was initially referred to him by Dr Sands, who said she wished to speak to Mr Dames.
In response to questions put to him by the Jamaican attorney, Mr Dames admitted that based on the information Dr Sands had given him, the health minister was indeed referring to an allegation of corruption, and that the name of the public official in question, Smith, was given.
Mr Dames said about a week or two had passed after he spoke with Dr Sands, who then contacted him again and told him that Mrs Hanna was really trying to reach him. Mr Dames said it was during the election season and so much was going on, but that he promised Dr Sands he would make an effort to reach out to the woman.
According to the evidence led, Mr Dames subsequently proceeded to call Mrs Hanna 13 times between June 6 and June 23, 2017. Mr Knight submitted that Mr Dames called Mrs Hanna three times on June 6; twice on both June 7 and 8; five times on June 9, and once on June 20.
Mr Dames, in response, stated that the majority of those calls were merely attempts to reach her, and that if a conversation was held between the two, it was very brief.
However, Mr Knight asked: "But why is a minister calling a potential complainant in a criminal matter 13 times in 17 days?"
Mr Dames insisted the majority of those calls were just attempts to reach Mrs Hanna.
"This is one minister who tries his utmost to live up to his promises," he said, referring to his promise to Dr Sands and Mrs Hanna by extension to reach out to her.
Mr Dames further claimed that someone went to BTC and paid down on his personal cell phone bill to ascertain both his and his wife's "personal" information.
"That's a national security matter," Mr Dames said, mentioning a particular receipt that was given to him which he intimated came from Mr Knight's camp.

Nonetheless, Mr Dames said he eventually contacted the woman, and agreed with her to meet at a mutually convenient time and location, which he said ended up being his constituency office.
When the meeting took place, Mr Dames said Mrs Hanna was "visibly shaken" and "afraid," so much so he had to ask her if she was okay.
He said as the meeting progressed, and that as soon as he found out the nature of Mrs Hanna's reasons for wanting to meet with him, he asked her what she wanted to do, to which she said she wanted to lodge an official complaint.
Referral
Mr Dames said as he was desirous to remove himself from the mater, he referred the matter to ACP Rolle.
Mr Dames said he spoke with Mrs Hanna on at least one more occasion after she left his constituency office. However, he said that came after ACP Rolle notified him that he had made several attempts to reach the woman to no avail.
Mr Dames said ACP Rolle later came to his office, and said after he gave the officer certain information, he contacted Mrs Hanna in ACP Rolle's presence.
Mr Dames maintained that Mrs Hanna never made an official complaint to him during their meeting at the Mt Moriah Constituency Office. However, Mr Knight asked the minister that based on what he would have heard from Dr Sands, and what Mrs Hanna told him, wouldn't that amount to a complaint.
"Well, I guess," Mr Dames replied.
Mr Knight then referred to a Tribune article dated July 14, 2017, in which Mr Dames was quoted as saying: "Wherever it is found that public officials, while in office, are committing crimes, then they ought to be held responsible no matter where they sit or who they are connected to. That doesn't come before us. It ought not come before us."
When Mr Knight asked if Mr Dames accepted that statement, the latter replied by saying: "Yes, that's correct. And I stand firm by that statement."
However, Mr Knight charged that in meeting with Mrs Hanna, Mr Dames "breached" what he publicly stated, and that he knowingly "meddled" and interfered in the matter beyond his jurisdiction, assertions Mr Dames denied.
Mr Dames also denied Mr Knight's assertion that he failed to instruct Dr Sands to direct Mrs Hanna to the police at the inception of the matter.
When asked by Mr Knight if he accepted that it is "dangerous" for a politician to "interface" with the sole witness of fact in a court case, Mr Dames replied by saying it depends on the circumstances.
And throughout yesterday's proceedings, Mr Dames insisted that his actions were not tantamount to political interference, as he referred the matter to the police immediately after hearing the particulars from Mrs Hanna herself.
ACP Rolle, when he took the witness stand, said he first met with Mrs Hanna at his office on July 3, 2017 as a result of information he received from Mr Dames. He said at the time, she informed him about things pertaining to her contract with the Public Hospitals Authority and also that when she went to Smith's office to sign a particular cheque, he said she owed him $5,000.
ACP Rolle also said that sometime in June 2017, he received instructions from then-Deputy Commissioner of Police Anthony Ferguson to see Mr Dames.
Upon doing so, he said Mr Dames then gave him certain information about Mrs Hanna. ACP Rolle said he did not know Mrs Hanna at all at the time.
The senior officer said he went to Mr Dames' office, following which Mr Dames contacted Mrs Hanna.
Smith is facing 15 criminal charges concerning his alleged solicitation of $65,000 in bribes from a woman he is said to have assisted in getting a contract. He is currently out on $50,000 bail.
It is alleged that Smith, between April 2016 and April 2017, former PHA chairman, demanded and obtained $5,000 per month from Mrs Hanna, knowing he was not lawfully authorised to do so.
He is also alleged to have attempted to extort another $5,000 from Mrs Hanna.
Concerning the bribery charge, it is alleged that he solicited $5,000 a month from Mrs Hanna for helping her to get a Public Hospital Authority's contract.
Smith pleaded not guilty to all the allegations during his arraignment last July.
The case continues today.