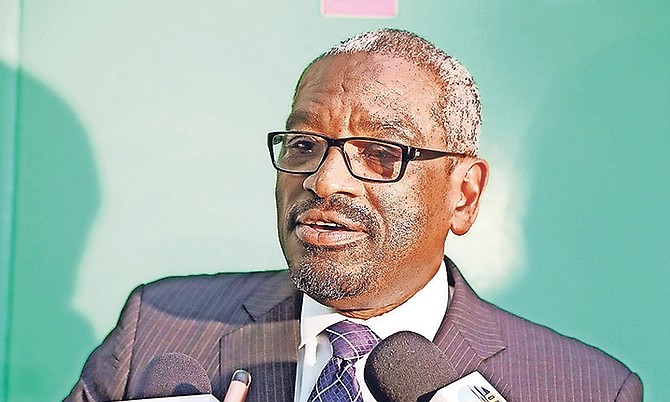 By DENISE MAYCOCK
Tribune Freeport Reporter
dmaycock@tribunemedia.net
PRIME Minister Dr Hubert Minnis said that his decision to revoke the government appointments of three Free National Movement members of Parliament who voted no to an increase in value added tax was not personal, but was based on his responsibility and obligation to follow parliamentary procedure.
While speaking to reporters in Grand Bahama yesterday, Dr Minnis stressed that he will not shirk his responsibility.
"I cannot allow my personal views to get into democracy; we have a parliamentary procedure, and I must adhere, respect, and ensure the procedure lives on, and is honoured, and respected thoroughly," he said on the sidelines of a conference.
Dr Minnis fired Bain and Grants Town MP Travis Robinson and Golden Isles MP Vaughn Miller from their posts as parliamentary secretaries and Pineridge MP Frederick McAlpine from his post as chairman of the Hotel Corporation. Mr Robinson and Mr Miller were cited for breaching the Manual of Cabinet and Ministry Procedure.
On Monday night, the three MPs, with Centreville MP Reece Chipman and three members of the Official Opposition, voted against an amendment to VAT legislation which would increase the tax to 12 percent. 
After addressing a large turnout at the Blockchain and Cryptocurrency Conference, Dr Minnis was asked by a reporter to comment on the firing of Mr McAlpine, who was met by a large crowd of supporters at the airport on his return to Grand Bahama on Tuesday evening.  
He said: "As prime minister I have a responsibility, we are a democratic society and we practice the Westminster system of Parliament procedure, and I have certain obligations and I will ensure that I adhere to my obligation - I am committed to that.
"I must ensure that democracy must be always be in the forefront and democracy must always prevail. I have a responsibility, and I will not shun away from my responsibility." 
Dr Minnis explained that sometimes difficult decisions will have to be made by the government. 
"I concentrate more on the future development and growth of the Bahamas. I do not concentrate on just what is today. Sometimes one (has) to make difficult decisions today so that you can have a better tomorrow," he added. 
Although the economy in Grand Bahama is struggling and many residents are opposed to the increase in VAT, Dr Minnis said that the Bahamas is poised for 2.5 percent growth, and many projects are coming on stream very soon in Grand Bahama. 
"We made some decisions that we think would be better for the Bahamas. You see what is happening in Barbados, and I have said and I will repeat again, I don't want to leave a Bahamas behind where the future prime minister on his first day in office must call some international financial agency for rescue - that is not fair to any future government.
"And, it is my job to place the Bahamas in the best possible footing for future generations, and I will do that," Dr Minnis said. 
The prime minister said that he is committed to the success of Grand Bahama.  
"My commitment to Grand Bahama has always been there and will continue to be there," he said. "I will outline some of the successes of Grand Bahama. We will announce very soon the success with West End project which will be great for Grand Bahama, and others will move along quickly and elevate the economy here in Grand Bahama. 
"I always said that Grand Bahama has been the headwind and it is essential for us to concentrate on Grand Bahama. My energies will be focused on Grand Bahama to ensure that it is successful. Once Grand Bahama is successful, the Bahamas is successful.
"That is why we are moving toward this tech hub, a new branch of the economy that is the future of the world, and the Bahamas must be allowed for the future. We will continue to push Grand Bahama to be the technology hub of this region," he said.