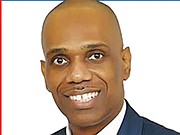 By KHRISNA RUSSELL
Deputy Chief Reporter
krussell@tribunemedia.net
FREE National Movement Chairman Carl Culmer suggested yesterday Pineridge MP Frederick McAlpine should seriously consider his future with the FNM following repeated disparaging remarks about the work of the government over the past year.
Mr Culmer said he and others in the party have continued to reach out to the first-time MP in an attempt to addresses his grievances.
However, according to former Cabinet minister Tennyson Wells, it would appear Mr McAlpine does not respect any of the party's protocols to address issues. He said the MP's conduct recently has been "most inappropriate," adding he should know what to say and when to say it.
While some have called for Prime Minister Dr Hubert Minnis or party executives to reprimand Mr McAlpine, Mr Wells believes the right way to handle the matter is to allow the MP to "hang himself" by speaking negatively about his party. 
Asked about the issue, Press Secretary Anthony Newbold suggested the prime minister's recent comments at a church service on Sunday celebrating the one-year anniversary of the FNM's election victory were directed at Mr McAlpine. At the service, Dr Minnis admonished FNMs not to attack each other in the press or publicly criticise the government's efforts because it would bolster the opposition's agenda.
Days later, the backbench MP was again at centre stage telling the Nassau Guardian he had no regrets about criticising the government. Mr McAlpine said he intended to continue doing so. 
"In an organisation you either support the organisation or (you don't)" Mr Culmer told The Tribune yesterday.
"My thing is I am a disciplined person. If I join an organisation and it's not going the way I want it to go, I have to make some choices for myself. I guess Mr McAlpine needs to do some self-inspection."
He also said: "I have been reaching out McAlpine for quite some time. I have been talking to him trying to find out what he really wants. I will not speak ill of an FNM, (but) my job is to unite the party.
"I will continue to reach out to McAlpine to find out what is going on.
"All day (and) all night, 24/7 whenever he wants to sit down and discuss any challenges (he can) or he can even call me. I have reached out to him. I know several other people have reached out him. His colleagues in Grand Bahama have reached out to him because we want to move away from these instances move the country forward," Mr Culmer added.
For his part Mr Wells maintained Mr McAlpine has a right to speak. However he said the MP should know what to say and when to say it.
Mr Wells said: "He needs to stop contradicting himself on some things. But I don't think they should reprimand him. Let him speak. His constituents will deal with him at the end of the day.
"I wouldn't try to stop him from speaking.
"If I were the prime minister I wouldn't get involved in it," Mr Wells also said.
"He must know what he is doing, but at the end of the day, if he is seen by the council as a detriment to the party the council will deal with him.
"They should give him every leeway and if he wants to speak and hang himself then so be it."
Mr Wells said there is no reason why Mr McAlpine has not addressed his branch, the FNM council or the parliamentary caucus.
"He should go and raise his issues first among his branch people and get their views and then among the council and then the parliamentary group and try and get answers for these things.
"Whether he has done these things I don't know, but I have never heard anyone said he came to the council with it and I have spoken to council members occasionally.
"But it would appear that he doesn't have any respect for the protocols.
"In such a short time after the election he should give the leadership of the party or the Cabinet members some time to perform and I think one year out dealing with a budget the party didn't really put together. I think is most inappropriate of him," Mr Wells said.
On Wednesday, Mr McAlpine was critical of the government's attempts to boost the economy of Grand Bahama.
"Grand Bahama don't need 50 jobs or 100 jobs, Grand Bahama needs economic infusion, and not at the expense of destroying the lives of people," the Pineridge MP said.
"So, we don't need just jobs, we need jobs that's going to get at least 2,000 – 3,000 people to work in order for Grand Bahama to feel the turn around and the economic impact that it needs to have," he said.