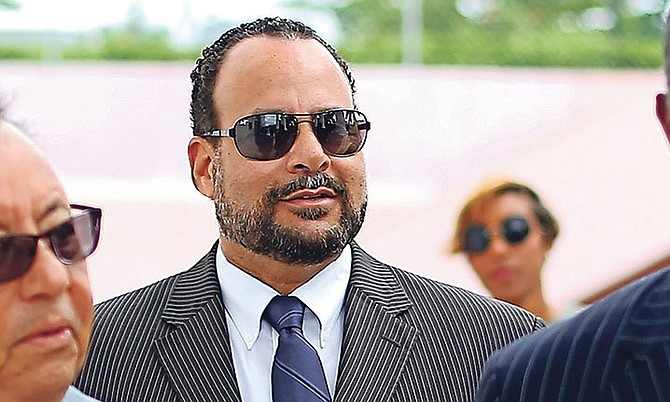 By RICARDO WELLS
Tribune Staff Reporter
rwells@tribunemedia.net
THE trial of former Public Hospitals Authority Chairman Frank Smith was adjourned yesterday due to a delay in the submission of court-ordered documents from unnamed government agencies.
The decision was made by Chief Magistrate Joyann Ferguson-Pratt following declarations by both the defence and The Crown, who up until 2pm yesterday, were still awaiting the arrival of various documents - deemed essential to the case - from several undisclosed government agencies.
The Chief Magistrate had initially stood the matter down from noon to 2pm to allow for the delivery of documents from the Public Hospitals Authority to the defence.
When the matter resumed shortly after 2pm, both sides indicated that in addition to bank documents and Public Hospitals Authority documents handed over yesterday, they were still awaiting the delivery of other vital documents.
Chief Magistrate Ferguson-Pratt asked the side to clarify the source of the documents, seek them out and have them delivered.
Responding to the instructions, English attorney Edward Jenkins, QC, who is leading the Crown's case against Smith, insisted he has made the documents' importance known to all involved and has implored them to have the documents delivered forthwith.
Case proceedings will start at 10am today.
Smith is facing 15 criminal charges concerning his alleged solicitation of $65,000 in bribes from a woman he is said to have assisted in getting a contract. He is currently out on $50,000 bail.
He was initially arraigned before the Chief Magistrate in July charged with 13 counts of extortion and one count of attempted extortion and bribery.
The extortion and attempted extortion charges were brought under section 452(1) of the Penal Code while the bribery charge was brought under Sections 4(2)(a) and 10(b) of the Prevention of Bribery Act.
It is alleged that Smith, between April 2016 and April 2017, in respect of his duties as a public officer, demanded and obtained $5,000 per month from Barbara Hanna, knowing he was not lawfully authorised to do so. He is also alleged to have attempted to extort another $5,000 from Ms Hanna in May.
Concerning the bribery charge, it is alleged that he solicited $5,000 a month from Ms Hanna for aiding her in getting a contract with the Public Hospitals Authority.
Smith pleaded not guilty to all the allegations during his arraignment.