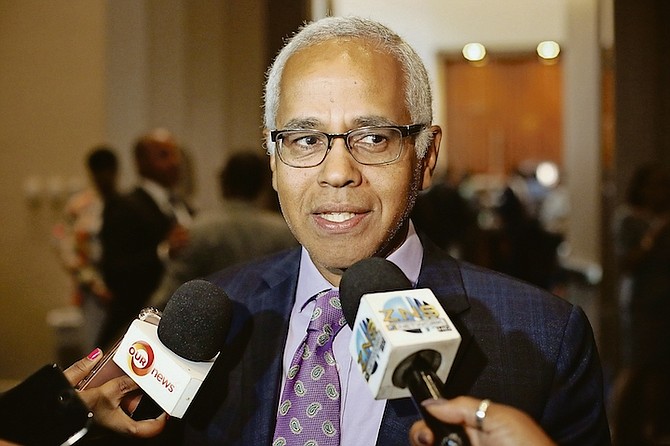 By NEIL HARTNELL
Tribune Business Editor
nhartnell@tribunemedia.net
The Minister of Tourism has hailed an "exceptional" 18 percent air arrivals increase for injecting an extra $100m into the economy during the 2018 first quarter.
Dionisio D'Aguilar told Tribune Business that The Bahamas' "double digit" growth translated into a 63,000 year-over-year increase in stopover visitors for the peak winter season, delivering an economic impact he branded "amazing".
The Freetown MP said similar air arrival growth trends had continued into the second quarter, arguing that the Ministry of Tourism's decision to refocus its resources on online marketing was delivering "staggering results".
While Baha Mar's phased opening will have accounted for a significant portion of the year-over-year growth, Mr D'Aguilar pointed to Atlantis's strong performance and "bullish" future outlook as evidence that the first quarter stopover arrivals surge has grown the market for all properties.
"The refocusing of the Ministry of Tourism on its core mission, which is to spearhead the overseas marketing of the country, has definitely begun to yield exceptional results and that was demonstrated in the first quarter," the Minister told this newspaper.
"Air arrivals to the country rose a staggering 18 percent, and by that I mean a whopping extra 63,000 stopover visitors came to the country in January, February and March. My initial feeling, that our tourism product was beginning to take off, is now being confirmed by the specifics we are seeing.
"For January, air arrivals were up seven percent. In February they were up 16.7 percent, and in March they were up 26.1 percent. Double digit growth. Based on our forward keys (indicators), we're seeing double digit growth continue through the second quarter."
Mr D'Aguilar said he was focused on driving stopover visitor growth because they represented the higher-yielding segment of The Bahamas' tourism market, typically spending 20 times' more in the destination than their cruise passenger counterparts.
Using a conservative estimate of per capita stopover spend, the Minister said: "If I were to take those 63,000 and multiply them by an average spend of $1,500, that gives you between $90-$100 million ($94.5 million) of additional spend and GDP impact."
Mr D'Aguilar conceded that a key driver was Baha Mar's additional room inventory, as both the development's Hyatt and SLS properties were not open during the same period in 2017. And the March figures will have been influenced by Easter falling earlier this year.
He argued, though, that Atlantis's recent revelation of a strong performance on Paradise Island showed that increased air arrivals has delivered growth across-the-board.
"Some of this growth is obviously with the additional inventory brought on stream by Baha Mar, but when I speak to Atlantis - because I was initially fearful there would be some cannibalisation with the opening of Baha Mar - that is definitely not happening at this time," he told Tribune Business.
"They have very strong occupancies, very strong room rates and, for lack of a better word, it's incredible. What is particularly exciting to me is Atlantis is maintaining its occupancies and its room rates. They're very bullish on the future. Their numbers are very robust moving forward."
Fears that Baha Mar may split, rather than grow, the market for high-end visitors with Atlantis have been present ever since the $4.2 billion Cable Beach development was conceived in 2003-2005. Paul O'Neill, Atlantis's former top executive, publicly voiced such concerns during that period at a Bahamas Chamber of Commerce luncheon.
Should such fears come to pass, it would create downward pressure on room rates at both New Providence's mega resorts and, potentially, other hotel properties, with none generating the profits they need to keep Bahamians employed and maintain a sustainable business model.
But Graeme Davis, Baha Mar's president, last week backed Mr D'Aguilar's assertion that the 'market split' fears have proven unfounded to-date. Speaking ahead of the official opening for Baha Mar's last resort property, the Rosewood, he said: "I don't think you're seeing the cannibalisation people expected between Atlantis and ourselves. Both of us are growing the market together.
"I think we'll grow the market together if we work together, the Ministry of Tourism and the Nassau/Paradise Island Promotion Board. If we all grow this market and work together we have a very good opportunity to ensure the market grows instead of being divided."
And Audrey Oswell, Atlantis's president and managing director, told Tribune Business earlier this month that the property had enjoyed "one of the strongest first quarters in many years", revealing that business is "well ahead" of 2017 and 2016 numbers.
Mr D'Aguilar, meanwhile, conceded that the Bahamas' cruise business, which accounts for 75 per cent of tourism industry volume, had been relatively flat year-to-date. And he acknowledged that Baha Mar remains "a work in progress" as it completes its phased opening.
"It's a property coming on stream slowly," the Minister said. "I think they're meeting their projections, and are very encouraged by the projections they are seeing, but it's their first year. Anyone starting a business in the first year would expect occupancies to be in the 50-60 per cent range.
"If you go to 100 per cent straight away it causes strain. I don't expect Baha Mar in the first year to get to the significant occupancy levels Atlantis will have, but they're growing."
Mr D'Aguilar argued that the stopover visitor increase year-to-date had also been influenced by the Ministry of Tourism's decision to focus its marketing resources online, research having shown that 67 per cent - some two-thirds - of all travellers to the Bahamas book their vacations via the Internet.
"The refocusing of the Ministry of Tourism on its core mission, which is to spearhead the overseas marketing of the country, has definitely begun to yield exceptional results, and that was demonstrated in the first quarter," he told Tribune Business.
"Our focus on looking at the way people book their vacations, and directing resources into the online space, is bearing fruit. All that is coming together to yield the amazing first quarter we have experienced."