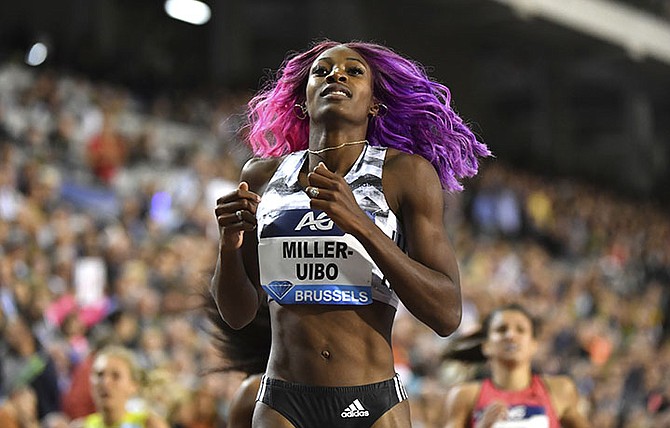 By BRENT STUBBS
Senior Sports Reporter
bstubbs@tribunemedia.net
Shaunae Miller-Uibo can best be remembered as the star track athlete at St Augustine's College who grew in stature as a CARIFTA Games champion right before our eyes. We've watched as she has excelled as an IAAF Youth and Junior, Commonwealth Games and Olympic Games gold medallist.
Over the last two years, she has taken the Bahamas national record in the 200 metres (21.88 seconds on August 24, 2017 in Zurich, Switzerland) and the 400m (48.97 on July 20, 2018 in Monaco) to unprecedented heights. Over the weekend, she had an opportunity to become the first woman to win both the IAAF Diamond League Finals 200 and 400m for a consecutive year.
But in Brussels, Belgium, she opted to go for just the 200m title and did it in grand style with her purple and lilac hairstyle flashing as the rest of the field could only watch in awe.
Immediately following her triumph at the King Baudouin Stadium, where she was greeted by a number of fans who waited patiently either to take selfies or get her autograph, Miller-Uibo gave an up close and personal interview with The Tribune.
With her parents May and Shaun Miller along with her husband, Maicel from Estonia, joining her for the much anticipated performance, Miller-Uibo talked candidly about a little of everything.
When asked what inspires or motivates her to succeed, Miller-Uibo said it's definitely the love of the sport.
"I always tell myself that when I fall out of love with it or I am not having fun with it, I will hang it up," she stated. "But I'm having so much fun with it and I'm learning so much about it. It's something that I always wanted to do as a young kid and now I'm living out my dream, so I'm really happy with it."
During the five years that she has been competing as a pro after completing just her freshman year indoors at the University of Georgia, Miller-Uibo has been fortunate to travel all around the world to compete. Out of all the places she has visited, she admits that she really can't pinpoint the best. "One of my favourite places, would you believe it, has been Jamaica and back at home in the Bahamas," she stated. "I have a lot of favourites, but I really enjoy those two places. Maybe, it's because of my upbringing in that environment, but there's no place like home or in the Caribbean."
And while she has enjoyed an undefeated season so far this year in both the 200 and 400m, Miller-Uibo has indicated that none of her successes will top the thrill she experienced in 2016 in Rio de Janeiro, Brazil where she emerged as the 400m champion, four years after she was forced to quit coming off the first curve in her debut in 2012 in London, England.
"The Olympic experience was great. It was an exciting moment for me," she insisted. "I won my very first Olympic gold medal. So I'm very sure that not too many people will forget that performance."
Nor will they do what happened the year after in 2017 in London again when she attempted the 200/400m double, only to stumble and eventually fall or dive across the finish line for fourth place, but rebounded for her first medal in the 200m with a bronze in the second biggest global event on the planet.
But not withstanding would occurred, Miller-Uibo pointed out that it wasn't even her worse year.
"I would say it had to be 2014. That's the year where I would say I was at my lowest point," she reflected. "Every year I tried to get better, but that was probably the first year that I was way below my full potential. That entire year was quite disappointing for me."
Turn the clock ahead to 2019 and Miller-Uibo is riding the momentum to what has been an incredible career, highlighted by the fact that she come out with a colorful hairstyle every time.
This time it's the purple and lilac, but one year she was doned in charcoal gray and red, which proclaim was reminiscent of her days as a Big Red Machine athlete at SAC.
And while she's done countless interviews with reporters around the world, Miller-Uibo said there's one question that she could not escape and it's been what is her favorite food.
"I guess I have to say chocolate. I guess I'm addicted to it," she stressed. "I like to eat it whenever I can sneak in a treat."
In her spare time when she's not competing, Miller-Uibo could find herself enjoying the movie Dream Girl" or listening to her favorite artist Jennifer Hudson, noting that "anytime she puts out, I listen too."
Having said that, Miller-Uibo surprisingly indicated that she doesn't have any idols or role models who have competed or are still competing whom she look up too. She's just delighted to know, on the other hand, that there are so many who regard her as their idol or role model.
She chuckled when asked, if she wasn't running track, what would she be doing right now?
"I guess I would be in business," she revealed. "A lot of my family own businesses, so I would probably be doing that. But thank God for track. I don't have to worry about that right now."
Realizing the fact that she may not run or be on top of her game forever, Miller-Uibo took a preview into the future and relished in the thought of being "the best female athlete ever" before it's all said and done.
She said she got the inspiration from watching Jamaica's Veronica Campbell-Brown compete.
"I was watching from she was a little girl and being a Caribbean girl, it was an amazing feeling," Miller-Uibo pointed out.
The future is now in her hands, or her legs to be more precise, and and with the full support of her husband, her family, friends and Church members, Miller-Uibo said she intent to ride her wave of success for as long as she could. Coming off her triumph in Brussels on Saturday, she will have to Ostrava, Czech Republic to close out this season at the IAAF Continental Cup.
Miller-Uibo, 24, will compete in the women'a 200m along with Jamaican Shericka Jackson. She will be one of two Bahamians participating in the two-day event. The other is Donald Thomas, who is entered in the men's high jump with American Bryan McBride.
The IAAF Continental Cup, scheduled for Saturday and Sunday, is a four continent competition between Africa, the Americas, Asia/Pacific and Europe. The Continental Cup title will be awarded to the continent with the highest collective point total of both men and women teams.
The Americas team will be composed of athletes from NACAC (North American, Central America and Caribbean track and field federations) and South America.
And Miller-Uibo summed up that she's just excited to be participating in another team competition as she's been doing in her individual pursuits. Hopefully, she will also get to keep her winning streak going as she completes another chapter in her storybook that could be written at the end of her career.
For now, Miller-Uibo said she is just having fun competing from one meet to the next.