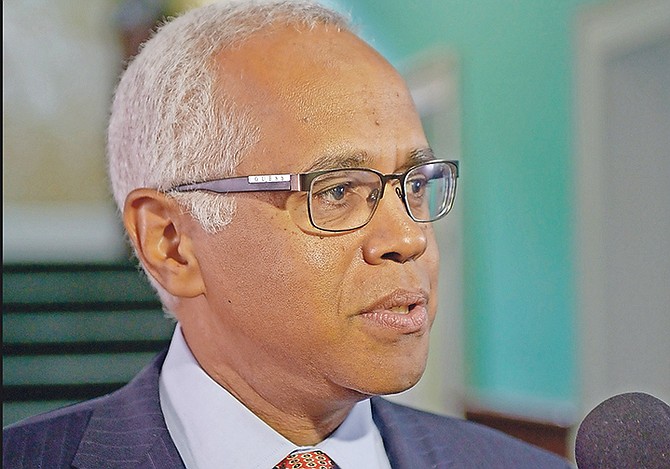 By RICARDO WELLS
Tribune Staff Reporter
rwells@tribunemedia.net
THERE is no way to justify spending money on the refurbishment of the Arthur's Town Airport, Tourism and Aviation Minister Dionisio D'Aguilar has said, as he suggested Cat Island residents could "comfortably get by" with one airport.
The comments came in response to questions put to him by The Tribune over the Minnis administration's long-term plans for the property.
He said: "No, we have (not) made any determinations yet, but I don't think one can justify the allocation of limited resources to an airport that has been ranked and ruled to be non-essential to services."
Mr D'Aguilar said several options have been considered in recent months, with none showing "any real reason to put money into such an undeserving" location.
He contended: "There is significant work needed there. We're talking millions of dollars' worth of improvements just to bring (the Arthur's Town Airport) up to the mark.
"There is no way to justify spending that money there, when just up the street there is another airport that is fully operational and capable of servicing the entire island. We simply cannot. And honestly, I don't want to because we have more critical airports on other Family Islands that need tremendous repairs; airports that are critical to our economy."
Last September, Mr D'Aguilar said the government was at a "crossroads," admitting that plans to either repair or permanently close the airport were being considered.
His comments came in response to an announcement by Sky Bahamas that it would suspend its flights to the Arthur's Town Airport over safety concerns with the runway there.
The airline said it would be rerouting all of its scheduled flights into New Bight, Cat Island, adding the resumption of flights hinged on the completion of all repair work to the runway and apron.
Addressing the Sky Bahamas statement, Mr D'Aguilar told The Tribune the government was still weighing its options with the struggling property.
At the time he pointed to a 2013 Christie administration report, which assessed the economic viability of all 28 Family Island airports and recommended the Arthur's Town Airport not be refurbished or repaired.
Mr D'Aguilar said the report concluded the airport be permanently closed and the New Bight Airport be operated as the primary airport for the island.
Restating that position during an interview last week, Mr D'Aguilar insisted residents take advantage of the New Bight Airport, saying the facility "adequately services the entire island."
"I've said it before and I will continue to say it, just up the street, I think it's about 35 or 45 minutes by car, there is full-service airport that can sustain Cat Island.
"We are working on government efficiency now. We are not going to waste money. Residents in Cat Island can comfortably get by with one airport. We have to be realistic and responsible with how we spend the country's money."
When contacted about the matter last week, Official Opposition Leader Philip "Brave" Davis went on the defensive, calling the claims "insensitive" and "unloving".
"This decision shouldn't come down to money," the Cat Island, Rum Cay and San Salvador MP said. "This is about caring for the people of a community."
Mr Davis also urged the government to speak with Arthur's Town residents before making any firm decisions.
Mr Davis said the airport, when operational, serves as a lifeline for community of Arthur's Town.
"I don't know where he's getting his information. I don't know where he's getting his statistics. When operational, that airport sustains an entire arm of the Arthur's Town community. That's what the report doesn't speak to."
He said the Christie administration, upon reviewing the 2013 report, opted to only adopt it in part after recognising that the report nullified the importance of many of the properties to their surrounding communities.
Prime Minister Dr Hubert Minnis has noted that $30 million to $33 million allotted for airport repairs would be earmarked for airports in big markets such as Eleuthera and Exuma.
He has called the move "more beneficial".