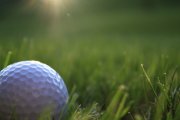 THE race has heated up and golfers are fine tuning their clubs as they enter the second to last round of an exciting 2019 Bahamas Professional Golf Tour (BPGT) Signature Series.
The BPGT Signature Golf Classics is in its second year.
The showdown will be at the Royal Blue Golf Course, Baha Mar Resort on Friday, November 22. Tee-off starts at 1pm.
The year 2019 began in May with the Bahamas Waste Open.
Since then, passionate local professional golfers have showcased their skills. Joining them on the course were also local amateurs who will look to jump into that professional category in the future.
Plans are already underway to draw more foreign professionals to play some rounds of golf on the scenic Bahamian golf courses.
Now down to the final two rounds and with the professional standings in the money purse and points, the race to the top will be decided by a slim margin.
In the last round, the Auto H&L Classic in October, Greg Maycock pulled off the win.
He shot one-over par 73 to come out on top in that round despite a slow start to the round.
"My round got off slow. I was just hanging in there trying to make things happen. It wasn't happening as much as I wanted it to, but I was hanging in all day.
"I had about two or three birdies. It wasn't anything exciting - the golf course was playing tough today," Maycock said.
Finishing two strokes behind Maycock for second place was David Harris. He shot a three-over par 75.
He had four birdies in the round but his double bogeys on holes seven and 15 hurt him.
Lemon Gorospe, who is behind Maycock in the money purse standings, was third with a score of five-over par 77.
Maycock is looking to separate himself from Gorospe and Riccardo Davis, the tournament organiser, who sit in second and third respectively in the money purse standings.
Maycock has amassed $3,650. Gorospe and Davis have accumulated $2,400 and $2,000 respectively.
However, things can change between this round and next round.
"There isn't any shaking off. David, Lemon, Keno, Riccardo - it isn't any shaking off. It is just being in the mix. If you can run with those guys, they must shake themselves off as far as I am concerned. I'll just hang with them," Maycock added.
On the amateur table in the last round, University of The Bahamas' (UB) John Hall III got his first win of the series. He shot six-over par 78.
The BPGT Signature Golf Classics has been accommodating to UB golfers, providing them with another avenue in the university's young golf programme with more competition.
Up next on the exciting BPGT calendar is the Tour Championship that will result in movements in the standings. That round will be sponsored by Lunn Gold Organisation and will get underway December 29 at the Royal Blue at Baha Mar. Golfers interested in playing in this round can register online at www.bpgt.org or drop off applications to Riccardo Davis at Baha Mar golf club.
Interested persons can follow the event and like our page on Instagram, Facebook and Twitter.
Fans are asked to check out the website at www.bpgt.org for the latest scores and standings and more information about the BPGT Signature Golf Classics, or send an e-mail to the organisers at:
Bahamasprofessionalgolftour@gmail.com