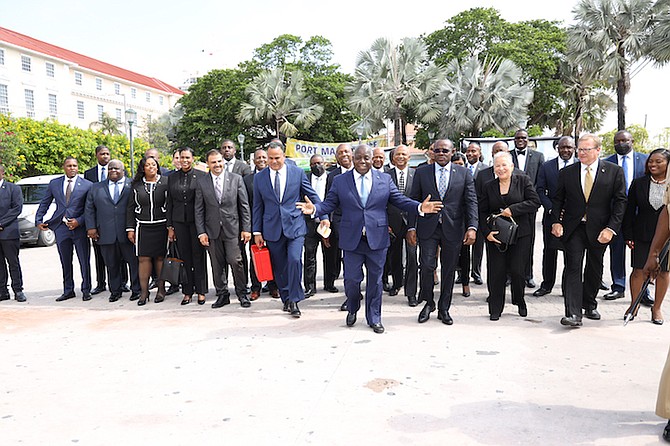 • Proposals to raise civil servant pay
• New fund aims to boost Family Islands
• 50 percent more to social service budget
• FNM: What about growth of economy?
By LEANDRA ROLLE
Tribune Staff Reporter
lrolle@tribunemedia.net
PRIME Minister Phillip "Brave" Davis yesterday predicted additional revenue growth for The Bahamas, adding that $2.8bn is projected in total revenue for the upcoming fiscal year.
This, he said, represented a 19.9 percent increase over the prior fiscal year.
Mr Davis said during the first nine months of the 2021/22 fiscal year, the country's revenue performance had increased by $617.6m or 50.2 percent to $1,847.3m when compared to the previous year.
According to Mr Davis, "this largely reflected improvements in tax revenue of $526.4m or 50.9 percent, and non-tax revenue increases of $90.9m or 46.5 percent." 
Now with the 2022/23 fiscal year set to begin soon, the Prime Minister said more revenue growth is expected, signalling further rebound of the country's economy.
 "The current budget projects a significant rebound in the Bahamian economy," Mr Davis said during his budget contribution in the House of Assembly yesterday.
 "Total revenue is projected at $2,804.4bn, a 19.9 percent increase over the prior fiscal year when the economy was in the early stages of an economic rebound from the COVID-19 pandemic. It incorporates many of our revenue enhancing strategies and outcomes such as, increasing real property tax collections and compliance; an improved VAT performance based on the economic rebound; and growth in other fees as a result of improved revenue administration."
 Mr Davis also forecast total expenditure at $3,368.4m, with recurrent expenditure projected at $2,997.2m, and capital expenditure estimated at $371.1m.
 "As a result of these operations which incorporate prudent fiscal management principles, the fiscal deficit under the current budget is estimated at $564.3 m or 4.3 percent of GDP. I wish to remind this Honourable House that this projected outturn does not include potential revenues from asset sales, such as receipts from the sale of the Grand Lucayan Hotel in Grand Bahama."
 Yesterday, Mr Davis also touted the efforts of his administration to pay down on the country's arrears and unpaid bills it met upon assuming office last year.
 He had previously claimed that nearly $1bn in liabilities and unfunded obligations were left behind by the previous Minnis administration. 
 The prime minister said yesterday: "Madam Speaker: A few short weeks ago, during my mid-term budget contribution, I reported to the House that, upon coming to office, we encountered an estimated $1bn in unsettled claims, unpaid bills and arrears. 
 "I am now happy to report that, over as many months, we have conducted an extensive exercise to pay down arrears, and reconcile outstanding balances.
 "However, we still have a number of inherited arrears which we believe it is important to liquidate. In this regard, we will be seeking Parliamentary approval for a Supplementary Budget for additional recurrent expenditure of $216,928,017 and capital expenditure of $34,491,123."
"These balances are owed to hardworking women and men, who have given their time, energy and resources, to contribute to the development of this nation, and months later, still haven't been paid. This harmful practice cannot be allowed to continue," he said.
 He also gave a breakdown of monies owed by the government.
 "These outstanding balances include: $56.7m owed on insurance for public servants; $45m in arrears owed to the Water & Sewerage Corporation to settle balances with vendors; $30m for the completion of the Andre Rodgers Baseball Stadium; $19.0m in outstanding payments owed to Doctor's Hospital for COVID-19 emergency support; $6.4m in outstanding rent payments; $6.0m in outstanding legal claims; and $4m for the restoration and refurbishment of public clinics."
 He continued: "Just as our recently established credit bureau encourages citizens to make timely payments, so too must we in government be timely in paying our bills. In short order, Madam Speaker, we will bring to this House amendments to the Public Financial Management Act that will help to address these challenges. Going forward, the new PFM Act will allow all tax arrears collected to be deposited directly into the Sinking Fund."
 "These funds will be directly earmarked to the settlement of debt, because in many cases we have already borrowed to settle the arrears. This amendment would increase fiscal discipline, as future governments would not be able to rely on arrears to fund current expenditure. Madam Speaker, as a result of operations, the resultant deficit in FY2021/22 is estimated at $756.6m or 6 percent of GDP. This represents a $100m reduction in the projected deficit for the fiscal year."
 Yesterday, Prime Minister Davis tabled two resolutions in the House of Assembly that would authorise the government to borrow $690,702,027 for the next fiscal year once approved.