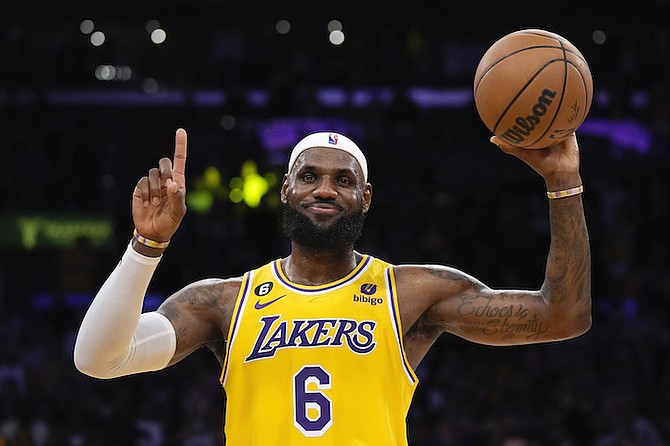 By TIM REYNOLDS
AP Basketball Writer
LeBron James is the NBA's new career scoring leader.
With a stepback jump shot with 10.9 seconds left in the third quarter against the Oklahoma City Thunder last night, James pushed his career total to 38,388 points and broke the record that Kareem Abdul-Jabbar held for nearly four decades.
James outstretched his arms, threw both hands in the air, then smiled. Abdul- Jabbar rose from his seat and clapped.
The game was stopped as some members of James' family, including his mother, wife and children, took the floor for a ceremony recognising the moment.
Abdul-Jabbar — one of many celebrities and sports stars who made sure they were there to see history — became the league's all-time leading scorer on April 5, 1984 and wound up retiring in 1989 with 38,387 points.
It was a record that some thought would last forever, with very few even coming close. Karl Malone retired 1,459 points behind Abdul- Jabbar, Kobe Bryant was 4,744 points shy, and Michael Jordan was 6,095 points away.
James passed them all, then caught Abdul-Jabbar, too. He did it in his 20th season. Abdul-Jabbar also played 20 NBA seasons.
And now, King James — a moniker he's had since high school — is the NBA's scoring king.
Abdul-Jabbar held the ball aloft, then handed it to James, the ceremonial passing of the torch. They posed for photos with NBA Commissioner Adam Silver, then with one another. James wiped away tears from his eyes, then addressed the crowd. "I just want to say, thank you to the Laker faithful. You guys are one of a kind," James said.
"To be able to be in the presence of such a legend as great as Kareem, it's very humbling.
"Please give a standing ovation to the Captain, please."
James then thanked his family and those who have supported him, including Silver and the late NBA Commissioner David Stern. "I thank you guys so much for allowing me to be a part of something I've always dreamed about," James said.
At least 16 different players have, technically, been the all-time leading scorer in league history — most of those coming in the opening month of the league's existence in 1946, when everybody was starting from zero and nine different players were atop the scoring list in the first 16 days.
But only six have ended a season officially as the all-time leader: Joe Fulks, George Mikan, Dolph Schayes, Bob Pettit, Wilt Chamberlain and Abdul-Jabbar.
James will be the seventh name on that list, and he's likely to stay there for a long time.
No active player is within 10,000 points of James, who is under contract for two more years and is on pace to become the league's first 40,000-point scorer sometime next season.