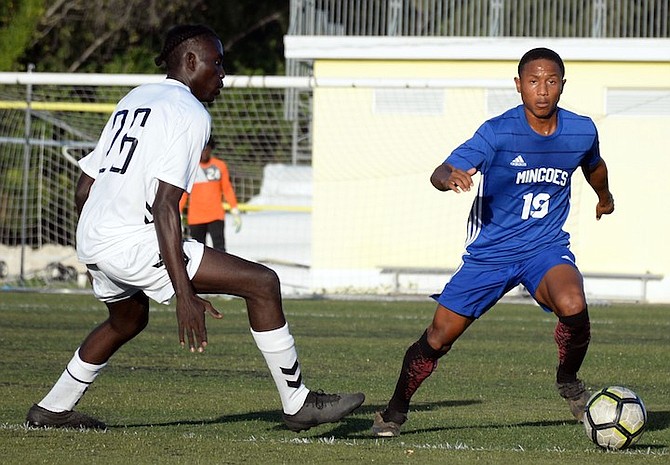 THE University of The Bahamas men's soccer team seemed as if it just could not stop scoring against Baha Juniors Football Club in Bahamas Football Association play on Sunday at the Roscow AL Davies field.
The Mingoes scored five goals each half against Baha Juniors, including a five-goal performance from Ronaldo Green en route to the 10-1 win for the Mingoes.
Green scored in the 11th, 44th, 45th, 80th and 90th minutes for the Mingoes. He now leads the league in goals with 24 over nine matches. "We came out tonight and played hard to get the win," he said.
"It was great to score so many goals but it's more important to get the win."
Green scored two goals off penalties. Midfielder Marc Ville started the scoring fest off for the Mingoes, connecting with the net in just the second minute of the match.
Winger Jeremy Holland connected on a toe kick in the 15th minute to put the Mingoes up 3-0.
Green, in addition to the 11th minute goal, also scored twice in the last minutes of the half to put the Mingoes up 5-0 at the break.
Out of the break, midfielder Nathan Wells scored after advancing deep in the box for the easy goal in the 58th minute.
Captain Marlon Barnes was awarded a free kick just out of the box in the 72nd minute of the match. The kick sailed over the wall and pass the opposing keeper for the goal.
In the 82nd minute, winger Jervane Turnquest had a brilliant bending attack that sailed in the upper right corner of the goal for his first goal of the season. "It was a great goal for me," Turnquest said. "I've been looking for that all season and to get it like that was really great. This sets us up for the harder matches coming up."