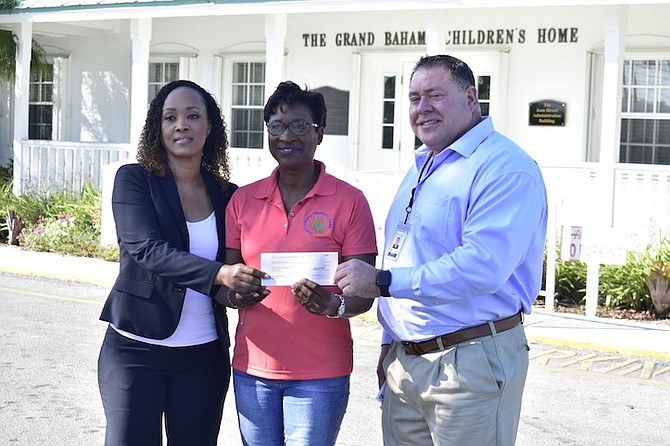 BY DENISE MAYCOCK 
Tribune Freeport Reporter 
dmaycock@tribunemedia.net 
Buckeye Bahamas Hub has committed to covering the yearly cost to care for one child at the Grand Bahama Children's Home through the "Sponsor-a-Child" initiative.  
The company's executives made a cheque presentation on Friday to GBCH Executive Director June Hutcheson, who is encouraging others to also sponsor a child.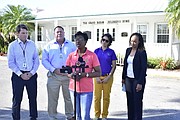 "We are grateful that we have Buckeye Bahamas Hub to sponsor a child for a year at the GB Children's Home," she said. "This speaks volumes to the commitment they have had to partner with us to be able to take care of our children who are here under not so good circumstances.
"We are very happy they have seen it fit to come and show the love and support for the home; we are just eternally grateful for this opportunity and hope that it continues." 
There are 24 children residing at the home, and the initiative to sponsor a child seeks to cover the cost required to feed, provide books, clothing, etc.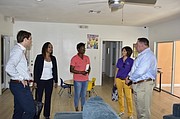 "The amount of $13,000 is what we estimate it would cost for a year for a child. We are grateful they (Buckeye) can do that," she said. "For anyone who would like to volunteer to do this, the cost is $250 for a week to sponsor a child." 
Ms Hutcheson said interested persons can do so online at info@gbchildrenshome.org, or they can come to the home on Jobson Avenue.  
She stressed that "every little bit goes toward helping our children to thrive".
"If anybody feels to donate their time, money, we are more than happy to have that happen," she said.  
Tom Nash, director of Buckeye Bahamas Hub, said the company is pleased to be a part of the initiative. 
"We are here because we want to help continue the mission that the Children's Home has taken on," he said. "They support children that otherwise would have been forgotten in society. And what they do here is tremendously important.
"And we are just thrilled to be part of that mission, and we hope this is a long relationship, not just something that ends here today. We will see what else we can do to contribute in different ways to help them provide opportunities for these children.
"I think the best thing for me, in the future, is one of these children working at Buckeye and giving back to their community and passing it forward. That is something I think would be a real win for the community and Buckeye."
Kim Pratt, assistant manager of government relationships at Buckeye Bahamas Hub, thanked everyone at the Children's Home for the work they are doing to provide a safe refuge for the children.  
"They are not here by any fault of their own and so we know that it takes the corporate community such as Buckeye to assist where we can," she said.