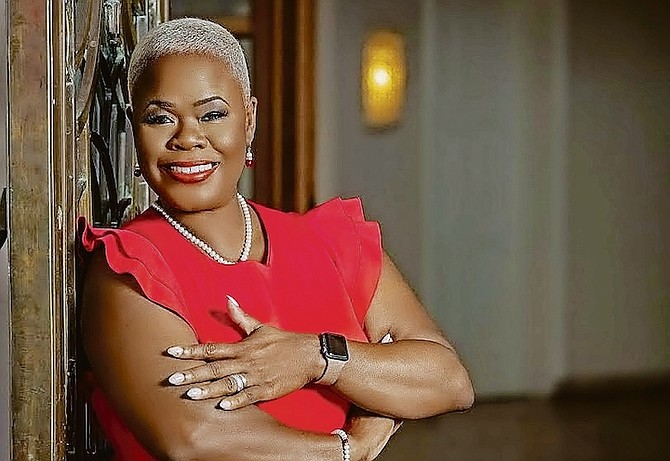 By FELICITY DARVILLE
SHE'S championing the cause of health administration in her country and around the world. Her work is changing lives in rural communities, touching women and girls, and connecting people with their roots. She is proving that Bahamian women can take the lead in major industries like healthcare on a global scale.
Coralie Adderley has had her finger on the pulse of public and private healthcare systems in The Bahamas and the United States for the past thirty years. Most recently, her pioneering spirit has led her across two continents with the International Black Women's Public Policy Institute to lead a team of top health professionals, creating birthing clinics to save the lives of more mothers and babies in remote areas.
Coralie is well known for serving as the chief hospital administrator of the Princess Margaret Hospital. In this role, Coralie helped to shape some of the major upgrades to the facility, including the groundbreaking for the Critical Care Block.
Coralie was also chief operating officer, then senior vice president of Doctors Hospital Health System. She has, therefore, had the unique opportunity to be immersed in the inner workings of the two major hospitals in The Bahamas.
She has spent her career contributing to the administration of public and private healthcare systems. This work continues to extend in the private sphere today, as she currently serves as the managing director for the Kidney Centre Ltd, the premier dialysis centre in The Bahamas.
During her journey in healthcare administration, Coralie began to realise the connections between great leadership and effective healthcare. She was working in an industry where people are under pressure daily. They are being called on to make critical decisions quickly in order to save lives.
Her work called for a specific subset of leadership skills - ones that require calm, resolute, and effective characteristics. Eventually, she began helping others develop their own styles of effective leadership in ways that worked for healthcare.
By passing on the knowledge that led her to success, Coralie was ensuring that another generation of effective leaders could take the helm. By the year 2012, Coralie founded her own international management consulting firm, Creative Leadership & Management Solutions (CLMS) and serves as CEO and senior consultant. Coralie's vision for CLMS is to be "the most respected and sought after management consulting firm in the Caribbean region". The goal is to yield tangible performance operational, financial and clinical results.
In her civic life, Coralie's impact is changing lives around the world. She is the director of global engagement and protocol appointment for the International Black Women's Public Policy Institute (IBWPPI), having been appointed in January, 2020. Her expertise in healthcare capital projects and programme development is helping to shape life-changing projects that the IBWPPI is engaged in around the world. The institute has already set up a successful birthing clinic In Feyasi, Ghana. Coralie is now preparing to lead a team in developing a strategy for a second birthing clinic that will be patterned after the success of Feyasi's clinic. This second clinic will be in Selma, Alabama, USA. Here, 42 counties have no prenatal services. The maternal mortality rate of black women in Selma is 50% higher than other states.
Led by well-known black women's advocate Barbara Perkins, President and CEO and cofounder Ka Flewellen, IBWPPI aims to advocate for Black women globally through acts of kindness and public policy.
In The Bahamas, IBWPPI has a Reading Room Initiative, a Young Ambassadors Programme, and a Boots on the Ground initiative. All of these projects fall in Coralie's portfolio as director. It allows her to bring the phenomenal women in IBWPPI to the beautiful shores of her homeland to participate in projects close to her heart.
IBWPPI established a reading programme at the Lillian G Weir library on Blue Hill Road, Nassau. The women provide books for students of all ages. This year, Coralie is excited that IBWPPI will be back in The Bahamas this summer to "launch a reading programme with wonderful incentives for students to read".
"The purpose of IBWPPI's Reading Room Programme is to create a literacy enriched environment for youth of all ages to develop their reading skills, with an aim at combating literacy" Coralie said.
"The programme is dedicated to promoting leisure reading as a key to unlocking a youth's full potential."
IBWPPI's Boots on the Ground initiative was also important to her: "Through this programme we assisted 57 families post Hurricane Dorian in the islands of Abaco and Grand Bahama," Coralie said.
"We provided emergency survival kits, heavy duty boots, medical supplies, and $36,000 in cash and gift certificates to families."
Coralie is a national and civic contributor having served as Chairperson of the National Women's Advisory Council (NWAC), an appointed body established to advance women's affairs and social matters in the Bahamas. She is also the founder and president of New P31 Ladies, a group established to support mentorship of professional women.
A distinguished international leader, entrepreneur and mentor, Coralie is driving new levels of team unification, pipeline efficiency, and organisational success.
"I am a firm believer in creating better business and community futures by instilling positive trajectories today," she said.
"I understand that the most successful outcomes are the ones that stem from the formation of strong, shared-value teams."
As women's history month comes to a close, Coralie's story of finding love, building her marriage and business, and walking in a purposeful career is one for inspiration.
Her sense of global citizenship was fostered early in life. Her parents, Dr Wendell McMillan and Dr Althea Moncur McMillan, leaders in the Seventh-Day Adventist Church, travelled throughout the region spreading the gospel. Wendell is a product of McQuay Street, Nassau, and her mother hails from Knowles', Cat Island. The McMillans were ministering to churches in Guyana, South America, when her mother gave birth to Coralie. They went back to The Bahamas where her sister, Laurel was born, before they made their way to Jamaica to continue their missionary work. Years later, they returned to The Bahamas, where her brother, Wendell II was born.
After this period in time, Coralie's family moved to the United States, where her parents sought their post Bachelor's degrees and then returned to The Bahamas to work. While all of the McMillan children spent their high school years in the USA, Wendell and Lorel would stay in the USA, But Coralie would come back home.
"I didn't have to come back home," Coralie explained.
"I was a US resident, my family was there, my parents were off working elsewhere. I chose to come back to The Bahamas. Both my siblings stayed in the United States. They married Americans. I came back home and found the love of my life - Ethan Adderley."
Coralie also found magic in her choice of career: "I always knew I wanted to work in healthcare. I started off in college studying to be a dietitian. I did two years of the sciences, but didn't feel a connection to becoming a dietitian. She stumbled upon healthcare administration towards the end of her sophomore year. I fell in love with it, and it's been a love affair ever since. I love what I do as a trained healthcare administrator."
Coralie is an anomaly in The Bahamas. Most professionals in healthcare administration started off in another discipline, such as clinical or financial areas. But Coralie holds both Bachelor's and Master's degrees in Health Services Administration.
"I was intentional in my internship at Jackson Memorial Hospital," she said.
"I wanted the experience of a big trauma hospital, similar to the Princess Margaret Hospital, because I knew I wanted to come back to The Bahamas to work and live."
"I have had great experiences in both the public and private sector. I chose to leave the public sector and go into the private sector to grow and to expand my knowledge base. I went to Doctor's Hospital, and when I felt my season there was up, it was time to go. My husband and I had not been married long at the time. I started looking to work outside of the country. I got the call to come to Princess Margaret Hospital to be the chief hospital administrator - the youngest one ever."
"I came in intending to do six years - I was on contract. But God blessed me with the opportunity to be a catalyst for the design and construction of the Critical Care Block, which I left at 50% completion. I am satisfied that it was my assignment for that season. I did not plan to start a consulting firm, but once my contract had ended at PMH, people just started reaching out to me - people who knew my work internationally and locally - and that is how CLMS was born."
In addition to her consulting firm, Coralie and Ethan's love of life and its sweeter side led to the creation of a business that are making bespoke, signature statements in their respective fields. In the culinary world, the Adderleys have a home-based business - Sweet Slivas Sorbet.
The company specialises in sorbets made from seasonal, tropical fruit. The sorbet is made in small batches to ensure reliable texture and flavour. They are committed to using the freshest ingredients available without the use of additives, preservatives and colourings. Sweet Slivas Sorbet has up to 18 flavours but customers can also order customised flavours for their special occasion.
Ethan and Coralie also own CLK Nubian Couture, a space where Bahamians can find unique, authentic one-of-a-kind African-inspired apparel and accessories for men and women.
"Each unique piece is a celebration of the culture and lifestyle that connects Africa and The Bahamas," Coralie explained.
"We provide a private concierge shopping experience by appointment only. All of our designs can be found online, and we have seasonal collections. CLK Nubian Couture supports projects for the empowerment of girls in The Bahamas, Africa, Guyana, Jamaica and Haiti."
Look for CLK Nubian Couture on Facebook and Instagram, or visit www.clkstyles.com. To support the International Black Women's Public Policy Institute, visit www.ibwppi.org. To taste original flavours at Sweet Slivas Sorbet, look for Sweet Slivas on Facebook. To contact Coralie about consulting and leadership training, email clmsbahamas@gmail.com.