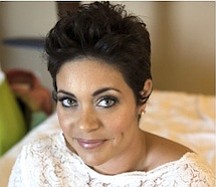 Bianca Carter
Stories this photo appears in:
MORE than ever, moms these days are looking for ways to save and make their dollar stretch. They're sticking to or creating budgets for their family like never before.
IT'S one of the first and most important decisions you will ever make for your child; a decision that will last them for the rest of their lives. What they are known as, what people call them, and all of the feelings and perceptions that your chosen name gives, will be the air around them during their entire life.

IT'S funny that by nature most of us wrap ourselves up in our own little world, safe and doing our own little thing, and living within the confines of our own situations and circumstances.
HAVING a baby is going to change your life in so many beautiful ways. The moment you find out you're pregnant you enter a totally different world, constantly bombarded with information, physical and emotional changes and a new type of worry.

LAST week, fans of David Beckham went nuts when a picture of his four-year-old daughter Harper sucking a pacifier was published. The photo sparked lots of negative comments about the consequences; speech impediments and deformation of the teeth caused by sucking a pacifier for an extended period of time. Beckham fired back telling his critics that no one has the right to judge another parent.

WHEW, you made it to the third and final leg of your pregnancy. Can't say that it's easy, but I promise, it's worth it.
ALMOST eight years ago, I gave birth to my first child, a boy. From that moment on, I learned how beautiful and amazing it is to be a mother of a boy.

IT'S A fact that pregnancy takes a toll on a woman's body. It can tire you out, make you feel sluggish and just plain 'blah' sometimes.
IF YOU'VE ever been pregnant before, you will know how eager people are to offer you some advice on being pregnant and what to expect after you have the baby.

EVERY Day, if we're lucky, we wake up to another day.
BRINGING home baby can be a bit intimidating, especially for first-time mothers. Even second-time mothers can feel a bit overwhelmed and intimidated to try to manage life from one child (in some cases a toddler), to two children.
IN life some things happen suddenly and without warning. Life can change in a matter of seconds; it's important to never take things for granted.

IT IS amazing that we live in a world that seems to be so much more tolerant of differences than before. We support causes, lend our time, and sometimes money to bring awareness to a whole slew of causes and coloured flags. We've become seemingly accepting of religious and sexual orientation differences for the most part. But have we really?

EVERYONE knows that pregnant women can be a bit touchy, but in their defence, they do have a very good reason – pregnancy hormones. For some, those pesky hormones make you feel like a 15-year-old adolescent, up and down just like a roller coaster.