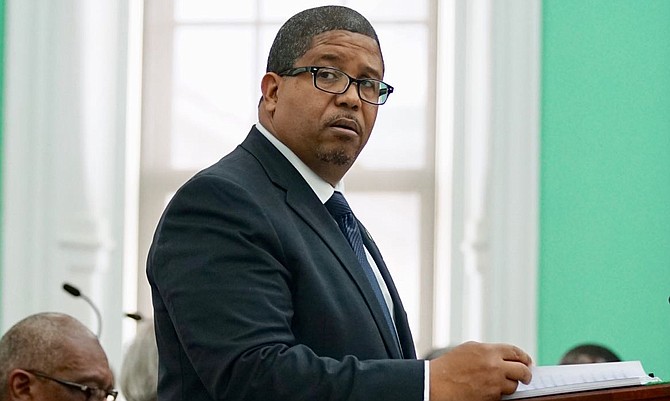 Minister of Finance Peter Turnquest delivers the Budget Communication. Photo: Terrel W Carey/Tribune staff
Stories this photo appears in:

The Bahamas "is as competitive as anyone else" in financial services, the deputy prime minister asserted yesterday, despite its latest fall in an annual survey of global financial hubs.

THE government's bundle of public finance management bills has advanced even closer to the Minnis administration's intended targets, as the Caribbean Regional Technical Assistance Centre (CARTAC) yesterday launched its introductory session on the dra

THE government intends to revert to the previous definition of owner-occupied properties that was in effect up until June of this year, Finance Minister Peter Turnquest said yesterday.

THE government has collected some $2.5bn in value added tax revenue since 2015, according to Finance Minister Peter Turnquest who accused the former Christie administration of mismanaging the money.

DEPUTY Prime Minister and Minister of Finance Peter Turnquest said the government withheld its intention to increase value added tax until last week because it did not want to influence the consumer behaviour of Bahamians.People everywhere have lamen

BAHAMAS Institute of Chartered Accountants President Gowon Bowe believes the government's plan to increase value added tax will create further distancing between the "haves and have-nots" and possibly create the conditions for class unrest, he told The Tribune.

Finance Minister K. Peter Turnquest delivered a stunning blow to consumers and businesses yesterday with a shock increase in the rate of Value Added Tax to 12 percent.