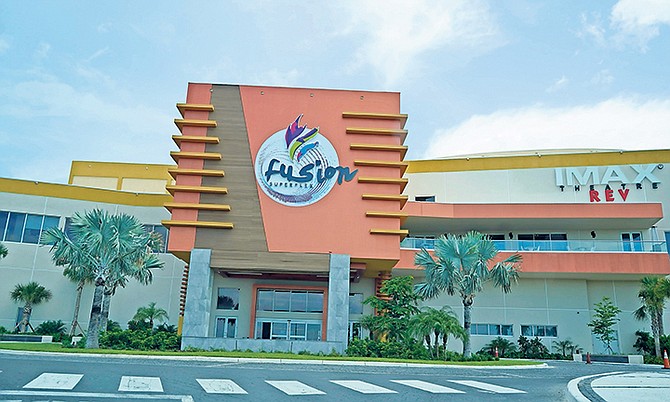 Stories this photo appears in:

The Fusion SuperPlex's chief executive yesterday said reduced curfew hours will provide "a much-needed jolt" allowing between "70-75 percent" of its 354 staff to return to work full-time.

The Fusion Superplex last night said 70 more workers will be recalled after the government gave the go-ahead to re-open its cinemas, its top executive saying: "The staff want to bring champagne in."

The Fusion Superplex was yesterday locked in urgent negotiations with Bahamas Power & Light (BPL) after its electricity was cut-off over a $506,000 debt despite fully complying with a payment plan.

DESPITE being given the approval from environmental health officials, Fusion Superplex officials say they are still uncertain when the complex's cinemas and entertainment facilities will reopen as they are still awaiting word from the competent authority.

FUSION Superflex's cash reserves are "nearly depleted" after being closed since March with the entertainment centre's CEO telling The Tribune the facility needs to reopen soon before the business suffers "permanent" damage.

The Fusion Superplex is "holding firm" and not made any decisions about staff terminations or financial restructuring as it awaits word from the Prime Minister on when it can open.

The Fusion Superplex will "have to make some serious decisions" on staff terminations and restructuring its finances if it is not permitted to open by early November, its chief executive warned yesterday.

DESPITE being shuttered for the last five months, Fusion Superplex will reopen once the government gives the nod for cinemas to operate.

The Fusion Superplex yesterday revealed it has "lost north of $6m" in revenues due to its COVID-19 enforced closure, but pledged: "We'll definitely be back." Carlos Foulkes, the cinema and entertainment complex's chief executive, told Tribune Busine

FUSION employees recently placed on unpaid leave amid the COVID-19 crisis have hit out at owners of the entertainment centre, saying they are tired of "excuses" about payroll.Last week, the superplex told its employees Fusion was facing a payroll def

WHEN Ben Brown went to the National Insurance Board to claim benefits recently, he was surprised and dismayed to learn that his employer, Fusion Superplex, allegedly had not paid the majority of his NIB contributions.

The Fusion Superplex was unable to meet the last staff payroll before the COVID-19 lockdown because debtors failed to pay the collective $1.2m they owe, its top executive revealed yesterday. Carlos Foulkes, its chief executive, told Tribune Business

FUSION employees have been told the company is facing a payroll deficiency and will be unable to satisfy salaries for this pay period.

FUSION Superplex has placed more than 350 employees on unpaid leave after it was blindsided by the government's COVID-19 lockdown.

A DOMESTIC dispute in the parking lot of the Fusion Superplex complex left a woman employee with injuries and a "person of interest" in custody, police confirmed yesterday. "There was a domestic incident there (Fusion), where a male assaulted a fema