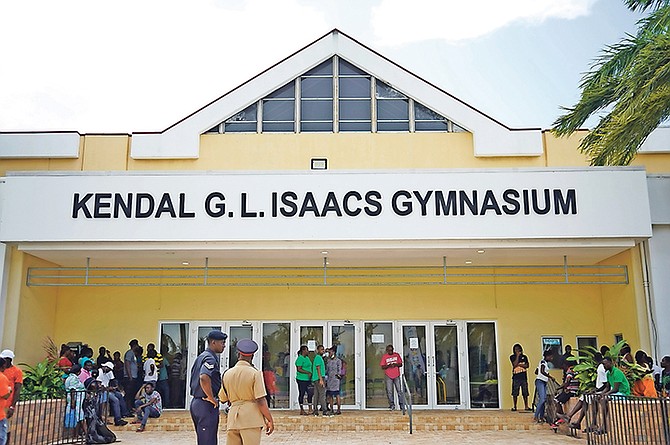 The Kendal GL Isaacs gym, where hurricane refugees have taken shelter after being evacuated from Abaco and Grand Bahama. Photo: Terrel W Carey Sr/Tribune Staff
Stories this photo appears in:

JUST a day after Prime Minister Dr Hubert Minnis announced that all "illegal" migrants will be banned from Abaco's Family Relief Centre, some storm victims living in shelters are calling for the government to show more compassion to those without immigration status, citing the move as a "heartless" one.

AFTER living in shelters for over a month, many evacuees still have nowhere to go.

AFTER one month of living in shelters, many evacuees are struggling to restart their lives.

SENATOR Ranard Henfield wants undocumented storm evacuees in shelters to be given freedom to reside and work legally in The Bahamas if they divulge information about their traffickers and comply with other requirements.

CONDITIONS at the Kendal G L Isaacs Gymnasium, which houses more than 1,000 Hurricane Dorian evacuees, was found to be unsatisfactory upon inspection by a group of officials.

TWELVE emergency shelters are housing 1,962 people, according to the National Emergency Management Agency yesterday.

FOR many Hurricane Dorian victims who were lucky to survive the monster storm, the uncertain process of picking up the pieces of their lives now begins.

ON most days, Success Jean would wake up at 5am, check on his infant children and set off to do construction work at the Baker's Bay Golf & Ocean Club on Great Guana Cay.