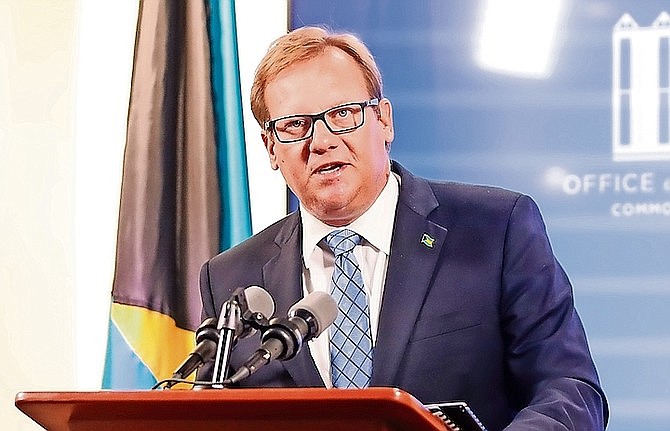 ATTORNEY General Ryan Pinder. (File photo)
Stories this photo appears in:
ATTORNEY General Ryan Pinder said the government is working to reduce the backlog of police-involved killing cases by increasing staff capacity at the Coroner's Court.
ATTORNEY General Ryan Pinder expected the Minister of Health to sign off yesterday on legislation to address marijuana before the draft bill is put on Cabinet's agenda.
ATTORNEY General Ryan Pinder said a bill addressing gender-based and domestic violence would be released for public consultation this month and is expected to pass Parliament this year.
FTX's US chief has admitted his attacks on The Bahamas' integrity were "misguided" by agreeing to work with the failed crypto exchange's local liquidators, the Attorney General argued last night.

SAM Bankman-Fried, former CEO of crypto giant FTX, was arrested by the Royal Bahamas Police Force yesterday and will likely face extradition to the United States, Attorney General Ryan Pinder announced.
DESPITE promises from the Davis administration to present the marijuana legalisation to Parliament before the end of the year, Attorney General Ryan Pinder said yesterday that this is "not likely".
ATTORNEY General Ryan Pinder denied on Friday that the government seized any assets from FTX Digital Markets, cautioning individuals not to spread "fake news".
The Attorney General said yesterday that part of the government's upcoming legislative agenda will be bringing "company laws up to date".
ATTORNEY General Ryan Pinder says he does not believe it will be appropriate for the country to pass legislation that outright denies bail to people charged with murder given a recent Privy Council ruling that declared the matter "unconstitutional".

ATTORNEY General Ryan Pinder said officials are seeing an influx of Cuban migrants into the country in higher numbers than before.

Insolvency practitioners yesterday said the Attorney General's ambition for The Bahamas to become "the near shore Delaware of corporate structuring" was both "achievable" and "appropriate" if the correct reforms are made.
The Government plans to solve "the harsh realities" of Family Island healthcare by doubling the number of new and renovated clinics that will be overhauled via $45.5m in development financing.