By KHRISNA VIRGIL
Tribune Staff Reporter
kvirgil@tribunemedia.net
MINISTER of Education Jerome Fitzgerald yesterday revealed that more than half of all government school students are awarded a leaving certificate versus a high school diploma.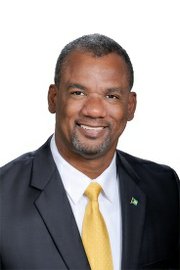 Mr Fitzgerald added that officials were moving toward standardising graduation requirements.
His comments came as the Ministry announced the official results and statistics of the BJC and BGCSE examinations at his Ministry on Thompson Boulevard.
While education officials were tight-lipped on publicising a national grade average, they revealed that this year more C's were awarded in the secondary school exams above any other grades to the 7,117 students who sat 27 subjects. There was a decline of 2.87 per cent in registered candidates when compared to last years, 7,327 students who sat the examinations. The number of A's and B's given also increased.
When asked why no average would be announced, Mr Fitzgerald said he was unsure of the reasoning.
"I would have to talk more within the Ministry," he said. "I haven't discussed it in the Ministry as for the reason why they decided to stop doing that, but it is something I would look into and I don't want to comment on that until I have a clearer understanding of that. I can tell you I have been focused on prioritising what I need to do as far as getting the schools up and running for September."
Last year, then minister Desmond Bannister revealed that students were still performing poorly in core subjects averaging D's and E's in the BGCSE English and Mathematics exams. His announcement sparked widespread public debate on the matter.
This time, education statistics revealed little change, with English showing an average of D and Mathematics with an average of E+.
English, which had 5,009 candidates, showed the same average since 2010. Mathematics however, with 4,711 candidates improved, compared to 2011 and 2010 which saw students average E-.
The BJC examination also saw a decrease of 4.31 per cent in candidates. This year 9009 students registered compared to 2011's 9,415.
Math scores improved for BJC from an E+ to D and English made little improvement showing an average of a D+ grade from a D.
Mr Fitzgerald said the government is still working to improve the results for years to come with a focus on foundational classes that include grades one to three.
"We accept that our reading, grammar and mathematics are weak and we know that we have to a create a stronger foundation, so starting this September we have doubled the reading periods for all grades one to three and increased mathematics periods by almost 50 per cent."
English, Biology, Mathematics, and Religious Studies remain the exams of choice for BGCSE candidates while BJC students heavily subscribed to Mathematics and Language.