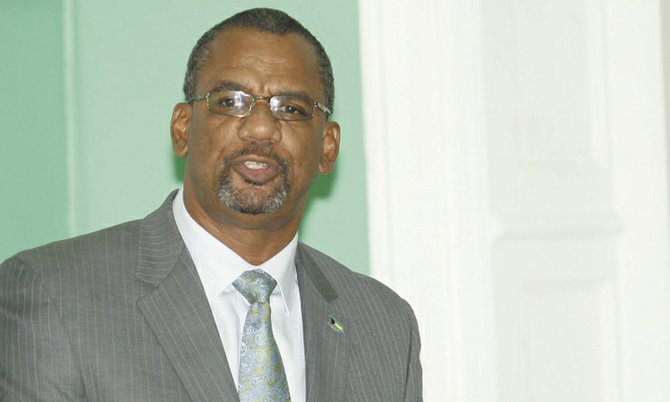 By KHRISNA VIRGIL
Tribune Staff Reporter
kvirgil@tribunemedia.net
EDUCATION Minister Jerome Fitzgerald yesterday insisted he was "encouraged" by this year's Bahamas General Certificate of Secondary Education (BGCSE) exam results despite an E average in mathematics and an English average of D+.
The 2015 Bahamas Junior Certificate (BJC) results were similar with the average grade in English decreasing from C- last year to D- this year. The average mathematics score for the BJC exam was E+ down from the average of D+ in 2014.
However, Mr Fitzgerald praised this year's results saying when compared to 2014, the number of candidates achieving grades A to C in five or more BJC subjects increased by 6.07 per cent.
In addition, he said this year the largest number of A to D grades was awarded compared to the last five years. This is due to a higher volume of participants sitting this year's BJC examinations because of new graduation criteria for ninth grade students.
The results were officially released yesterday during a press conference at the Ministry of Education, Science and Technology.
"The results of our national examinations reflect that once again, the teachers and administrators throughout our archipelago have been focused on demonstrating their students' successes across the ability range," Mr Fitzgerald said.
"National examinations are designed to show what students know, understand and can do after having completed a prescribed course of study.
"Therefore the grades awarded to students are indicators of their achievement and their potential and not the sum total of their worth."
He continued: "We would like to emphasise that we are focusing on subject performance and not a national average. Not all students take 11 subjects at the BJC, nor the 27 subjects at BGCSE and so to create a national average based on this information is not scientifically correct and would be misleading."
At the BGCSE level, 11 subjects showed an improvement in mean letter grade: art and design A rose from C- to C; art and design B rose from C+ to B-; art and design C rose from C- to C+.
Other mean grade improvements were: biology from D- to D; economics rose from D+ to C; geography rose from C to C+; history rose from D+ to C-; combined science from D+ to C-; electrical installation rose from C- to C+; clothing construction rose from D+ to C; carpentry and joinery rose from C- to C; French rose from C- to C.
There was a decline in the performance of six subjects, including bookkeeping and accounts, commerce, literature, music, office procedures and physics.
While there have been slight improvements, Mr Fitzgerald said officials have noticed that the highest achievers were those students who attended after school classes that focus on examination preparation. He said the ministry was challenged with getting students in New Providence and Grand Bahama to utilise the assistance.
"Our major disappointment I would reiterate is the fact that those students who did not perform well, particularly at the BJC level, we were not satisfied that they took advantage of the extra classes that were provided for them despite the fact that they were free of charge and despite the fact that we promoted (it) heavily within the schools and with the parents.
"We saw where some of those students who took advantage of it benefited and those who did not we are still having a challenge and so this year we have to look more closely to see what we need to do to improve the attendance of those students."
Mr Fitzgerald said while the turn around in the educational system is slow, officials must remain committed to across the board improvements.