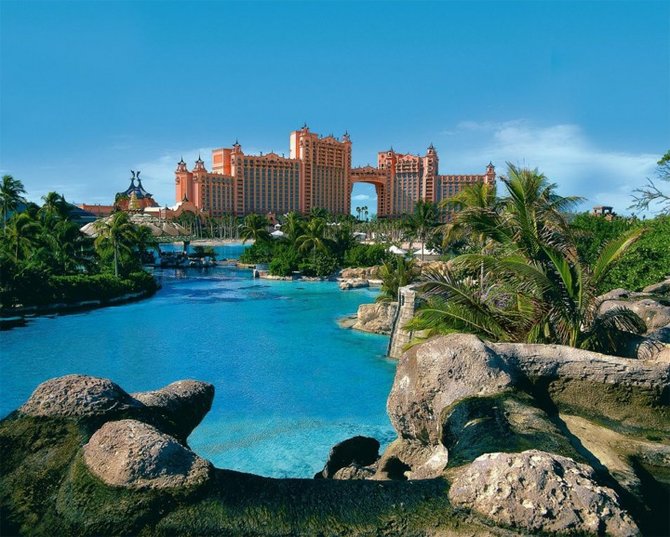 KERZNER International's president today confirmed Prime Minister Hubert Ingraham's statement that no employees will be laid off as a result of the ownership transfer of the Atlantis resort from Kerzner to Brookfield Asset Management of Canada.
In making the announcement on November 29, Mr Ingraham told the House of Assembly that he had had two meetings with Bookfield and several with Kerzner International to discuss the proposed transaction. He said Brookfield had agreed to continue with new investments in product of around $50 million annually, maintain the current employment levels of some 8,000 employees, and continue to market the Bahamas brand at their existing levels.
"As the Prime Minister has stated before," said Mr George Markantonis, president and managing director of Kerzner International Bahamas Limited, "there will be no employee layoffs as a result of this transaction. The same management team continues to operate the property and, as always, the employment of labour will be based on the general global economy and, more specifically, how our occupancies are impacted.
"We believe there are positive signs the trend will be upward, but time will tell," said Mr Markantonis.
He said that Kerzner will continue "to employ the same tactics in the slower fall season as we have always done before. When those occupancy rates are low, working hours are sometimes reduced and staff are encouraged to take vacations, but they are not laid off. These are not new tactics and they have nothing to do with the new ownership of the property. Rather they are just basic global hospitality management principles."
"If anything," said Mr Markantonis, "we hope to benefit from a multitude of initiatives and synergies that our new owners, through their extensive and diversified global holdings, can help us with. Brookfield is a company that has access to numerous resources. For example, the company has significant holdings in Latin America - Brazil, for example, which is one of our newest major target markets - and they have a significant Las Vegas presence with the Hard Rock Casino resort, which may be of great help to us in expanding our gaming data bases and attracting even more new casino business in the future. We look forward to sharing our ideas in the near future for the mutual benefit of all organisations involved."
Mr Markantonis said that "as unsettling as this process may seem to the general public we, on property, are looking forward to a very positive future. Brookfield's intent is to help us grow our customer channels, our global reputation and our returns to our internal and external constituents, both domestically and internationally."
Mr Markantonis emphasised that Kerzner International is still the management company and the same local management team is in place. "Nothing on property has changed," he said. "We have a high-end integrated resort to run and we will continue to run it as successfully as we have done in the past without compromising either our standards or our physical plant.
"Any other speculation in the press is, frankly, unfounded and just distracting background noise," he said.
Commenting on the fact that the deadline for the transfer of Kerzner International's shares to the new company is now overdue, Mr Markantonis said that "there has not been a delay for any specific reason except, as Ed Fields (senior vice president of public affairs), has previously informed the press, the holiday season understandably slowed things down a little."
"This," said Mr Markantonis, "is a very complex transaction and all parties are working to get it completed as quickly as possible."