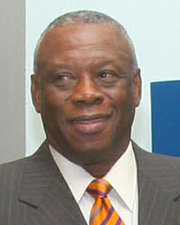 By SANCHESKA BROWN
Tribune Staff Reporter
sbrown@tribunemedia.net
RETIED banker, economist and patriot Alfred Jarrett, pictured, died early yesterday morning after a massive heart attack.
He was 69.
According to Bradley Roberts, a friend of the family, Mr Jarrett suffered from a lung disease for which he was prescribed medication that may have led to the heart attack.
He died around 4.30am at his home on West Bay Street in the arms of his wife.
As a former Chairman of the Bahamas Electricity and Bank of the Bahamas, Mr Jarrett was the "go to" man for many on fiscal and economic advice, including the Progressive Liberal Party, which he supported until his death.
Sonia Gibson, niece of Mr Jarrett, said her uncle was loved by many. Above all he was a family man who would do anything for his wife and children.
She said: "The only thing he loved more than the PLP and the Lakers was his wife and children. He was a patriot and he loved his country. He would help anyone who needed help and was quick to offer advice to anyone who would listen. This is still a very rough time for us and I am at a loss for words, all I can say is he was a great man and he will be greatly missed."
Deputy Prime Minister, Philip "Brave" Davis, in a short statement yesterday expressed his condolences to the wife and family of a man he described as a "country builder."
He said: "Ann and I express our condolences to Linda and the children on the passing of Al Jarrett, CMG. Our beloved country has once again lost a great Bahamian son. Mr Jarrett was a strong nationalist who believed in making life better for all Bahamians. He was a patriot with a sound mind to build a better Bahamas. May he rest in peace."
Long time friend Elcott Colbey told The Tribune that Mr Jarrett was a man who believed in country first and individual second.
"He was enthusiastic about learning. He was enthusiastic about life and since banking finance and economics dominated his professional life he was a keen observer of developments within the Bahamian economy. He was also quick to point out metrics that the ordinary Bahamian would not be familiar with," he said.
"He was very incisive of his analysis of the Bahamian economy and most of his projections usually turned out to be correct and since he was the former chairman of BEC he knew the operations intimately and he was very vocal about the problems that BEC had. He was my mentor because I too have an interest in international trade, economic developments, fiscal and monetary affairs of the country. Since we shared this common interest it was natural for us to speak daily, sometimes several times a day. I will miss him."
Friends of Mr Jarret expressed their condolences on Facebook hours after learning of his death.
Lavade Darling said: "Mr Jarrett just gave me his home phone number a few weeks ago, and told me to call any time if there was an issue I wanted to discuss with him. He was a mentor to many. I join all of you in extending sincere condolences to his family and the Progressive Liberal Party on his passing."
Ceo KR Collie said: "Man this is a blow! I have always looked to him for inspiration in my economic writings. He exposed the fraud of vargonomics and proved the PLP economic policy works by the numbers. He was a hero and a nation builder. You know I woke up at 4.20am this morning and could not go back to sleep. Now I see why. This was a shock, truly. I always looked forward to what he had to say. My condolences to his entire family."
It has been rumoured that Mr. Jarrett had just been appointed Chairman of the Central Bank.
He is survived by his wife Linda Jarrett and two sons, Marco and Lamont Jarrett, another son predeceased him.