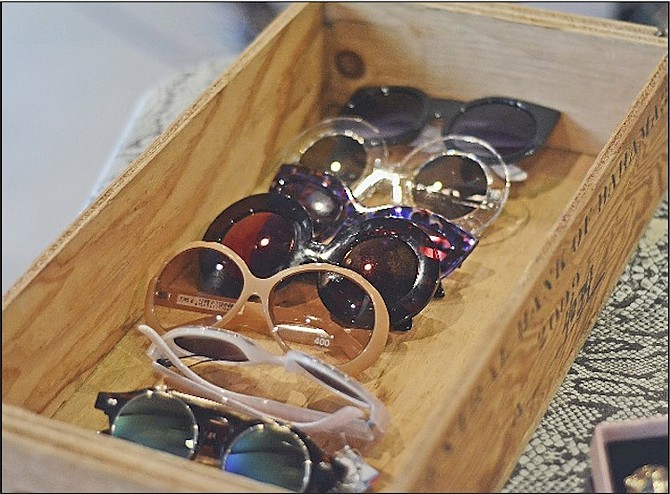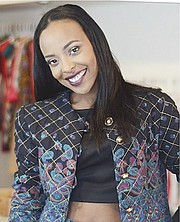 By ALESHA CADET
Tribune Features Reporter
acadet@tribunemedia.net
TRENDS come and go, but Cuveitier's Closet designer Lavonne Ferguson makes sure to put her own unique stamp on every style.
And never was this more evident than when the Bahamian stylist hosted the second annual Shop The CC's pop-up store, showing off modern designs with her signature vintage flair.
The Avista Coffee Shop Lounge in downtown Nassau was transformed into every woman's dream walk-in closet last Saturday as Lavonne displayed designer pieces, trendy accessories, home decor items and funky tech gear that included cool iPhone covers and cases.
"Shop The CC has a lot to do with what I like and find fashionable, and I think that it just describes myself," Lavonne told Tribune Arts and Entertainment.
"I like mixing modern with vintage. I think that you can go out in a vintage piece and never look like anyone else. It is more about the statement with the vintage that I offer."
What started out as a hobby for Lavonne has turned into a dream come true.
It was back in 2010 when she decided to create the Cute Confections, now known as The Cuveitier's Closet brand. The designer said she was inspired by runway trends and began making pieces for herself. Since the launch of her line, Lavonne's brand has evolved further than she ever imagined.
"I started an online company called Shop The CC that now has a melting pot of designers as well as myself. What I do is I put Cute Confections onto the website, and there you can get jewellery, clothes and different things from different designers. We have been growing really well in the past three years. It has been a really great experience and the update now is that we are back in the Bahamas. I live here now, having moved from Florida," Lavonne said.
Last weekend's pop-up shop, she said, was a way to reintroduce herself as a Bahamas-based brand, but Lavonne said as far as her buyers go, Shop The CC's clients are local as well as international.
"I just sent a package over to Qatar and when I looked that up that was somewhere in the Middle East and I just thought that was strange, but I still felt very blessed by that. It is letting me know that I am achieving the reach that I would like," she said.
The idea behind hosting the pop-up shop, Lavonne said, was that she was certain once patrons saw what she had to offer they could not pass it up.
"You know you won't be able to find it anywhere else, so it is something that you would want, covet and desire. You must have it in your closet. Those are the kind of the pieces that I like to provide for my customers; something that you cannot just pass up," said Lavonne.
The pieces that are offered in The Cuveitier's Closet are specially hand-picked by Lavonne; she calls them her statement pieces.
"I offer my new designer sunglasses that are called the Diane Sunglasses. It is just one particular design that I did where I studied online, so I am very proud of that," she said.
The young designer is also open to working with local artists, as she just recently designed a T-shirt inspired by the singer Sade with artist Kareem Williams.
"We brainstormed together and I just wanted it to look what my brand stands for, Cuveitier's Closet, just a woman who loves herself and loves going after what she wants – looking beautiful while doing so. I wanted to use iconic pop culture females, and Sade to me embodies a beautiful, strong soul. I am going to work with local artists every few seasons and I'll try to create different lines with them that are exclusive to Shop The CC," she said.
Lavonne said it was a risk starting her own business, but was worth every struggle and challenge.
"I say with every risk you take comes great success. I say go ahead and do it because there is nothing more you'll love failing at than something you love. I just feel like once it is a passion the success will come if you just keep at it because it is still worth it," she said.
"I still have the same vision that I had from day one, which is that I see this going really far and I see me doing really well internationally, and it is not that I want to be a huge brand, I just want to do what I love doing and for people to respond to that. With that energy, I see it happening for me regardless just because I love it."
Lavonne encourages Bahamian fashionistas to keep up-to-date with The Cuveitier's Closet via the website www.shopthecc.com and blog site thecc-lifestyle.com. She is also preparing to have her work showcased in the Baha Mar lifestyle section boutique in 2015.
"Right now I like that we are online because it creates an event for my shoppers to come out to," she said.
"I want them to feel special, so when I host these events I do feel like it's a chance for interaction. Maybe at some point later on I would like to have a store, but for right now I like that we are only available online."