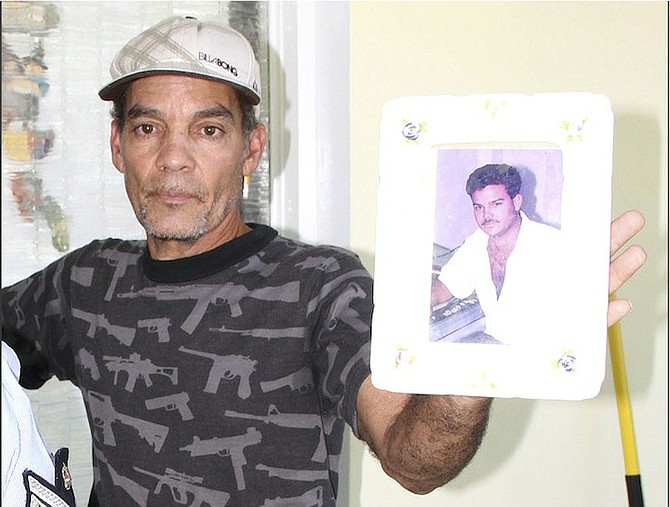 By SANCHESKA BROWN
Tribune Staff Reporter
sbrown@tribunemedia.net
A 44-year-old man was shot and killed early yesterday morning attempting to protect his elderly parents from armed assailants, pretending to be police officers.
Police say the victim, who has been identified by family members as Andre Cartwright, was at his Blair Estates home around 1:40am with his mother and father, both in their 60s, when three men kicked in the front door to their house.
According to reports, when he heard the noise Mr Cartwright, got his licenced shotgun and went to investigate. He encountered the three suspects, one of whom was armed with a handgun.
There was a brief exchange of fire, which resulted in Mr Cartwright being shot multiple times. He died at the scene. One of the suspects was also shot; however, he and the other men escaped in a silver coloured Honda Accord.
Shortly afterwards a woman driver arrived at the Princess Margaret Hospital with a man suffering from gunshot injuries to his chest. He was rushed into surgery and is listed in critical condition.
Responding officers took the female driver, of Rocky Pine Road, into custody for questioning. They are also on the hunt for 18-year-old Kevin Andrews, of Faith Avenue, in connection with the murder. Following another fatal shooting last night, the country's murder count for 2014 now stands at 97, according to The Tribune's records.
At the home of Mr Cartwright yesterday afternoon family members gathered to remember a man they called a "hero".
A relative, who did not wish to be named, said during the attempted robbery the suspects claimed they were police officers and demanded Mr Cartwright or his parents let them into the house.
"They busted through the main door and that is what woke Andre up.
"He got his shotgun when he heard them trying to get in through the second door that separates the bedrooms from the rest of the house," he said.
"If you know Andre you know his mother meant everything to him and he was trying to protect her.
"He did not believe they were officers.When they busted through the second door, they just started shooting and his dad was standing right on the side of him and he blocked him and protected him until the men left; that is when he collapsed.
"His dad tried to do CPR, but it was too late.
"I don't understand how this could happen. I know it sounds cliched, but he was nice guy, a good guy, a family guy. He had a big heart and would do anything for his family. Since the break-ins started happening, he was always very cautious, always very protective of his home.
"His parents say he saved their lives, they feel like they would be dead if he did not step in. This is a very sad situation."
According to residents in the area, over the past few weeks there have been a series of break-ins in Blair Estates and the surrounding areas involving men claiming to be police officers.
In fact, The Tribune understands the neighbourhood watch sent out a memo last week encouraging residents to be on the look out for the "fake cops".
The Tribune attempted to contact the police to determine if there was an increase in home invasions in this area or if there were any other robberies by men claiming to be police officers; however calls were not returned up to press time.
Minister of National Security Dr Bernard Nottage said while "home invasions are not new" the government is doing everything they can to "overcome them".
He said: "What we are doing is providing the law enforcement officers with police cars so that they are available should these matters be reported.
"It's really difficult for us to have vehicles and people in every street, but we will review what has happened in this case and devise programmes to deal with it.
"The review of the statistics do not show that crime has increased but there are too many violent crimes and we are looking every day to overcome them."
Anyone with information on this homicide is asked to contact police at 911 or 919, the Central Detective Unit at 502-9991 or Crime Stoppers anonymously at 328-TIPS.