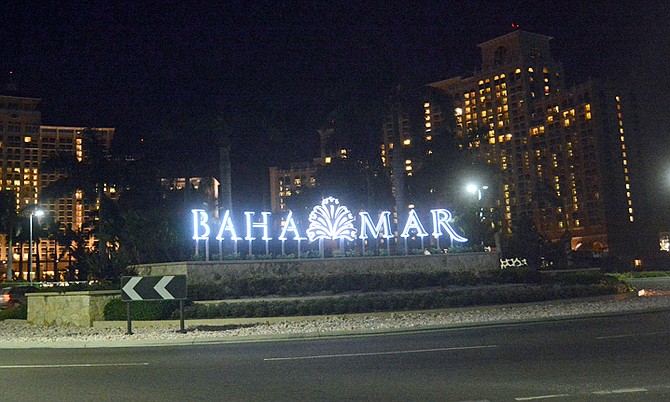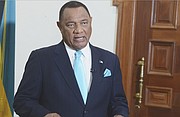 By SANCHESKA DORSETT
Tribune Staff Reporter
sdorsett@tribunemedia.net
PRIME Minister Perry Christie yesterday insisted that not only will Baha Mar open on time but the site will be turned over "sooner than planned" and more jobs will be created "much sooner than anticipated".
In an interview with The Tribune, Mr Christie said when the $3.5 billion resort opens on April 21, he hopes the Leader of the Free National Movement (FNM) Dr Hubert Minnis will walk up to the contractors and say "well done".
Dr Minnis, in a Facebook post last week, pledged that his party will "engage and execute a real sale" of the Baha Mar resort "to a qualified and respectable purchaser who believes in Bahamians," should the opposition party win the next general election.
Dr Minnis also said an FNM government would ensure that the buyer utilised only Bahamian labour to complete the beleaguered resort, adding that he doubted the project will open on time.
Yesterday, Mr Christie said he is anxious and excited to see the resort finally open, but most of all he is "happy" that thousands of Bahamians will have "sustainable, meaningful employment".
"The government works weekly in meeting with developers towards ensuring that everything remains on point. We have had other meetings with the Ministry of Works to ensure that the deadlines are met and so we are very happy and we are pushing and we are comfortable with what exists and we are obviously leaving the bookings and what happens on the 21st to the developer and the operators," Mr Christie said.
"I worked very, very hard with a team of people to make this happen and regardless to what criticisms exist the reality is we are now on path where thousands of Bahamians will have meaningful, sustainable employment. It begins with at least 1,500 and some 700 or 800 are already hired. So hundreds of people are now on site and going through adjustments and orientation for the opening and I am so happy about that and I think the country is happy about that."
He continued: "The rating agencies will be watching it very carefully, the IMF also very carefully because it will have exponentially a major impact on our country and as a result of it more confidence will be reposed in other islands to make viable destinations."
Mr Christie said "everything is on track" and the developer is making a "considerable effort" to assist our country in any way they can.
"Clearly they could have waited until November and open with the winter season but we are led to believe that things are going so well that the site will be turned over, with respect to the other hotels, more sooner than planned. So therefore you will find tremendous activity leading to more jobs being created ,much sooner than we anticipated therefore  we are going to see a major positive impact," Mr Christie said.
"Everything is on track and we are anxiously awaiting the increase in the number of jobs, weekly they are bring people on staff. Things are happening and the confidence is there. People know that it is happening, it will be very good and that is why I am hoping Dr Minnis himself will go down and congratulate the contractors and say 'well done, well done'."
Mr  Christie announced the official sale of Baha Mar to CTF BM Holdings, a subsidiary of Chow Tai Fook Enterprises last December, at the time stating the resort was set for a phased opening beginning in April, 2017, and a full completion by this fall. It has since been revealed that the sale has not been finalised and that the opening date for the Rosewood hotel brand, owned by the Baha Mar buyer, has seemingly been delayed to Spring 2018.
In December, Mr Christie did not disclose the sale price of Baha Mar, adding that details of the deal are still sealed by the Supreme Court at the request of the Export-Import Bank of China.
The government has since announced plans to table the sealed Baha Mar documents ahead of the April soft opening.