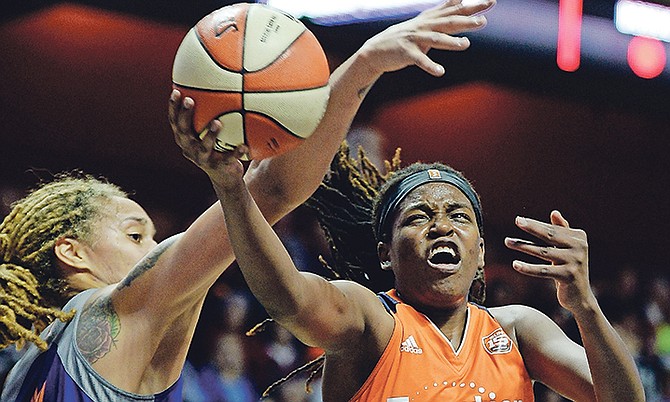 By BRENT STUBBS
Senior Sports Reporter
bstubbs@tribunemedia.net
NOBODY expected Jonquel Jones to blossom into the superstar that she has become in the Women's National Basketball Association this year.
But Curt Miller, her Connecticut Sun head coach, said the 23-year-old Grand Bahamian and the second Bahamian to play in the WNBA has only scratched the surface of her game.
"It was an incredible year two of her career," Miller, the WNBA Coach of the Year and Basketball Executive of the Year, told The Tribune in an interview as he looked back at Jones' performance this year.
"Obviously, after returning from Korea and having a first successful international season, she played with so much confidence and with the opportunity that presented itself here with the offseason injury to one of our starting post players, it just opened the door for her."
In a record-setting rebounding season, Jones was named the 2017 WNBA Most Improved Player as the second-year pro became the third Sun player to earn the honour since it was first presented in 2000.
Jones received 32 of 40 votes from a national panel of sportswriters and broadcasters. The 6-6 Jones set WNBA single-season records for rebounding average (11.9) and total rebounds (403), surpassing the marks established by Tina Charles in 2010.
Jones also set a WNBA single-season standard for total defensive rebounds (280), breaking the record set by Breanna Stewart in 2016.
As a starter in all 34 games, Jones raised her scoring average from 6.8 points last season to 15.4 this year and lifted her rebounding average from 3.7 to 11.9. She registered 20 double-figure scoring games, twice the number she tallied last year. Jones also improved her three-point field goal percentage from 33.3 to 44.6 (25-of-56) and increased her free throw percentage from 73.9 to 81.8 (135-of-165).
In addition to leading the league in rebounding, the former George Washington University standout tied with Minnesota Lynx centre Sylvia Fowles for the top spot in double-doubles with 20, up from two in her rookie season. She also finished sixth in field goal percentage (.534, 181-of-339).
Jones was a first-round draft pick by Los Angeles in 2016 before being acquired by Connecticut on draft night. The Bahamas native entered the 2017 season as the player most likely to have a breakout year, according to a vote by WNBA general managers.
In honour of being named the WNBA Most Improved Player, Jones received $5,000 and a specially designed trophy from Tiffany & Co.
Miller said a lot of what Jones was able to accomplish was because of the situation she found herself in, not having to look over her shoulders to see who will come off the bench to replace her with 2014 WNBA Rookie of the Year Chiney Ogwumike out for the season.
"It was an incredible year and it was just remarkable what she did on both ends of the court," Miller said. "She's now on everybody's radar and she has a chance to continue to grow and blossom into one of the world's best.
"I think she has only scratched the surface and you will see her improve in areas that she was able to play well in. I think she's more comfortable on the defensive end and now having a year under her belt in guarding the best in the world, I think she will only get better offensively."
Once she can develop some go-to moves, Miller said he anticipates that Jones will only get better and with her consistency shooting the ball on the outside, she will only improve.
"The biggest thing that surprised me is how well she handled the physicality," he said.
"There's no doubt that we thought she would be a talented player, but we thought that it would take some time getting used to just how physical this league is.
"But she handled it and she will only get stronger as she gets older and matures a little more in her body. I think she's handled her progress faster than anybody could have imagined. They tried to beat her up inside, but she's handled it very well, faster than anybody could have projected this year."
With Ogwumike expected to be healthy and back in the Sun's line-up for the 2018 season, Miller said they would be depending on Jones to continue to make her presence felt in multiple ways.
"We love how we played this year with her (Jones) and the five and Melissa Thomas at the four, so adding another post player like Chiney Ogwumike, we can really play all three together and produce a big line-up. It gives the ability to use a three-headed monster.
"We know Chiney and JJ are versatile enough that they can play with each other and either one of them can play with Melissa, so we have a lot of flexibility and our depth immediately improves with three quality players. So we will explore playing all three of them at the same time and even resting one while the other two are playing."
The only thing that Jones and the Sun didn't do this year was to make it to the WNBA final. They got eliminated in the playoffs by the Phoenix Mercury.
Now that the WNBA season is over, Jones has signed a contract to play in China. She was due to report immediately after the WNBA season.