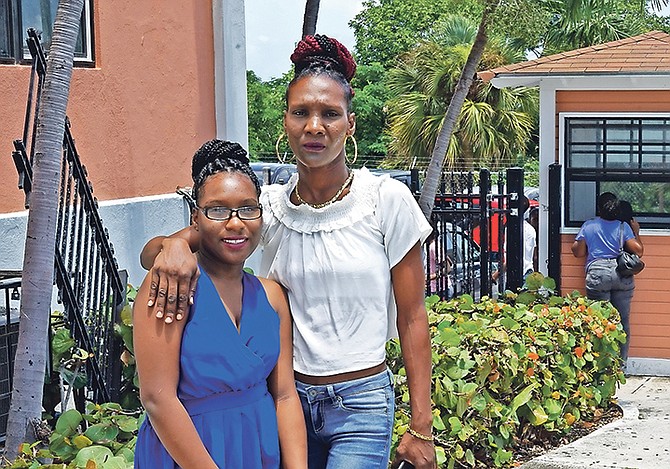 By AVA TURNQUEST
Tribune Chief Reporter
aturnquest@tribunemedia.net
A STATELESS teen suffering from a life-threatening brain cyst who needs to travel to the United States for treatment remained hopeful yesterday that officials will move swiftly to regularise her status.
Without a passport or travel document, 15-year-old Taranique Thurston cannot get treatment at Jackson Memorial Hospital in Florida for the fluid collecting in her brain.
Her mother Ginette Caty, 34, was naturalised as a Bahamian citizen in 2013 – more than a decade after she had applied at the required age of 18.
Yesterday, Taranique told The Tribune she hoped to meet Prime Minister Dr Hubert Minnis so she could make her appeal in person. She admitted she felt saddened by negative comments on social media concerning her situation.
Reader poll
219 total votes.
The Tribune was advised by a senior government official that Taranique's file is under review; however, Ms Caty had not been contacted up to press time.
Ms Caty said: "I just don't want to feel like I'm alone...my child needs urgent medical care. They just don't understand. In 23 days, it will be my daughter's birthday, August 24."
The distraught mother has been told that her daughter will have to wait until her 18th birthday before she can apply for Bahamian citizenship. 
Due to her mother's naturalisation process, Taranique is currently registered in the Bahamas as a non-Bahamian born to a foreign mother and Bahamian father, who are unmarried.
On Monday, Ms Caty and Taranique spent nearly three hours at the Department of Immigration after they were told by a high-ranking official that her daughter's file would be reviewed.
However Ms Caty said the pair were initially refused entrance, and later told to go to the Haitian Embassy.
Taranique reiterated her appeal in a short video made later that day.
"I am 15-years-old," she said. "I was diagnosed last year with fluid around my brain. My mother is Bahamian, she was born here. My father is a Bahamian, he was born here.
"I was born here, I consider myself a Bahamian citizen," the teen said. "All I'm asking is the government help me to get citizenship so that I can get a Bahamian passport to travel to Florida and get my fluid out of my brain. Because if I don't, it might be a chance that I die, but I'm only asking that the government help me to get a passport so I live."