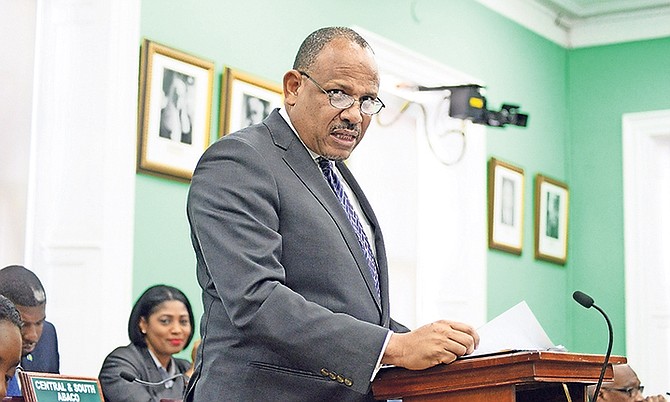 By MORGAN ADDERLEY
Tribune Staff Reporter
madderley@tribunemedia.net
HEALTH Minister Duane Sands yesterday suggested the government consider a nationwide HIV testing campaign in the wake of a Ministry of Health report that estimated 1 in 50 people in The Bahamas has the virus.
"We should be demanding that every single adult in The Bahamas knows their HIV status," Dr Sands told The Tribune yesterday.
On Wednesday, The Tribune reported on Index Mundi's statistics that the Bahamas ranks 17th in the world for HIV/AIDs adult prevalence rate.
This is the highest rate in the region, and highest in the world outside Sub-Saharan Africa.
"A lot of people have been mortified by the reality of the national HIV prevalence," Dr Sands said. "But that surprise or that response fails to acknowledge the fact that we didn't get here by accident."
One major factor Dr Sands attributed the prevalence of the disease to is the national tendency toward conservatism -- a conservatism that does not necessarily translate to behaviour.
He added that solving this problem, is going to require a "dramatic shift" in how we view the "actual practices of Bahamians".
"I think we have to first of all understand that the level of conservatism as it relates to human sexual behaviour has not served us well," the Health Minister said.
"Two, we need to be a lot more progressive in terms of teaching our young people, and our not-so-young people, about the real risks of sex."
"We need to make available condoms or barrier methods universally. And that requires a conversation about how far we should go."
He continued: "We should be demanding that every single adult in The Bahamas knows their HIV status. Every single one. Whether you're married, unmarried, single, or believe that you're in a monogamous relationship."
When asked how often individuals should get tested, Dr Sands suggested a campaign.
"I certainly think in the first instance, we ought to have a campaign that every single Bahamian who is sexually active gets tested within the next 12 months. Now, in terms of the frequency subsequently, that would vary from individual to individual."
Those with multiple partners should get tested more often.
"There are many things that we acknowledge about life in The Bahamas, but we don't acknowledge the fact that sex is the national pastime," Dr Sands said.
"We further don't acknowledge that Bahamians engage in sex with multiple partners, that we engage in homosexual and bisexual relationships, and if we do, then we have a proclivity to stigmatise men who have sex with men and commercial sex workers."
The Health Minister also acknowledged that there are other sexually transmitted infections (STI) people have.
Unfortunately, the database is not as "robust" or "validated" as the local data on the prevalence of HIV.
However, Dr Sands said, "There is a direct correlation between the transmission of HIV and other STIs," adding that people who carry HIV generally also carry chlamydia and herpes.
Noting that people also suffer from syphilis, gonorrhea, and other STIs, Dr Sands reiterated that everyone has a right to quality healthcare.
He said that his ministry will be "ramping up" its capacity to test anyone who wishes to be tested at little or no cost.
He added they are working to make testing available with a level of confidentiality and discretion so people are less afraid to get tested.
"There are not only blood tests but saliva tests that are quite reliable, that don't require any discomfort on the part of the individual. And where there results can be made available within 15 or 20 minutes."
Dr Sands added that making testing available at any health clinic is one of the plans for 2018/2019.
The Health Minister also said there strains of HIV in the country that are resistant to some therapies.
"The other problem that we have is notwithstanding the fact that we have universal availability of antiretroviral drugs, we now know that there are strains of HIV in The Bahamas that are resistant to first- and second-line therapy," Dr Sands said.
"And so, we are now having to expand the potency of medications available to Bahamians for the treatment of HIV. And if we don't do this, then what happens is that these resistant viruses will spread throughout our community."
While first-line therapy is available and free, the fact that there are "small numbers of individuals" who are infected with resistant viruses means the country has to access new drugs, which are "dramatically more expensive".
Dr Sands said that the more resistant strain is not cause for alarm. However, he said Bahamians should be concerned about what has been our reality "for more than 15 years".
"We have, once again developed a level of complacency. And a part of reminding Bahamians of what is happening in our community is a call to action. That, hey, it cannot be business as usual."
"That any sexual relations with any partner ought to be predicated by responsible behaviour. Which means Know Your Status and Know the Status of the individual that you're about to have unprotected sex with. "
"Let me take this a little bit further. There are individuals involved in relationships with persons who they believe to be monogamous. But those individuals are not. They may be having sex with multiple partners. And so, every body ought to know their status. And you ought to know the status of every person you're sleeping with."
Dr Sands also reiterated that HIV can now be a "chronic disease". However, living with it requires management.
"In order to do well with HIV, it requires continuous engagement with a competent, capable, compassionate physician or healthcare team. It's going to be monitoring the number of viral particles in the blood [etc]."
It is only when you have control of the infection that you can lead a normal life."
"For those individuals who are not HIV positive but who are engaged in high-risk behaviour, you ought to avail yourself of prophylactic treatment."
"If you're going to be having sex with men or sex with commercial sex workers, or sex with multiple partners."